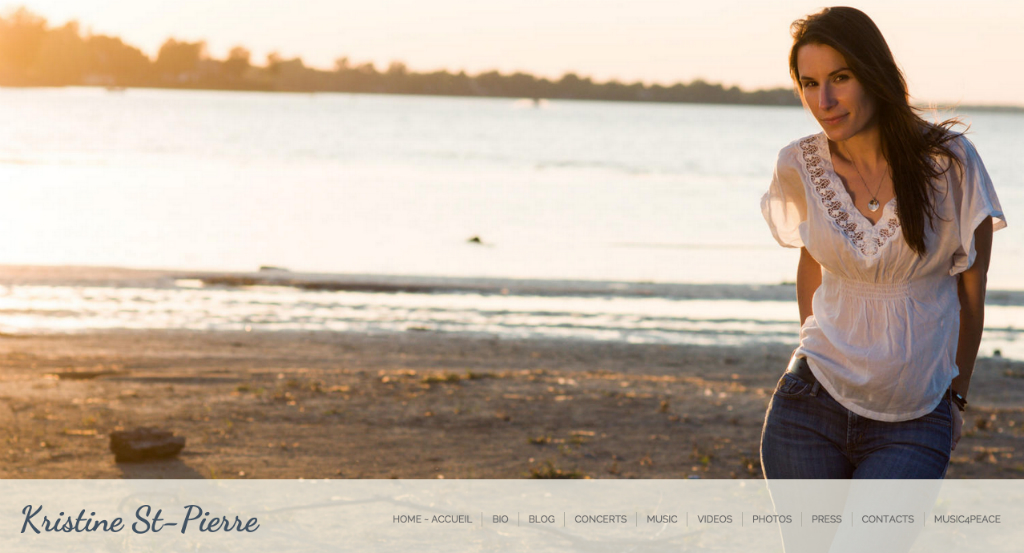 We recently spoke to Bandzoogle member Kristine St-Pierre about her big upcoming show at the Ottawa Bluesfest. She's also a new mom and gives some great insight and advice for other musical moms out there. Enjoy!
Q: How long have you been a Bandzoogle member?
4 years this August!
Q: How did you first hear about Bandzoogle?
I actually don't remember. It was likely through another musician or word of mouth. I do remember, however, signing up for a trial and looking at the different examples.
One example that stuck in my mind was Delaney Gibson's website. I remember going back to her website over the years and seeing all the changes. I think seeing the different website examples was what sold me on the site.
[Musician Website Love: The Many Websites of Delaney Gibson]
Q: What's your favorite Bandzoogle feature?
Well, I must say, I love how the Bandzoogle team is so helpful! Whenever I have a question, it is always answered very quickly. I also love how the team takes the time to get to know its members.
As for the website itself, what I love is how easy it is to navigate and to make changes. And just when you think you could use another feature, a new update is announced that addresses that very concern!
Q: You're performing at the Ottawa Bluesfest on July 18, congrats! How did you get that gig? Do you have a booking agent or manager? Or do you book shows yourself?
I applied - the festival has an application process for artists from the Ottawa area. I don't have a booking agent or manager (though I often wish I did!). I book my own shows.
[How to Get a Booking Agent to Book Your Band]
Q: Being from Ottawa, how does it feel to be playing such a large local festival?
It feels awesome! I apply every year, but never got in. This year, I just figured I wouldn't get selected, but then I got an email so it definitely feels good. I had the opportunity to play Bluesfest last summer with the band I'm a part of, Old Whiskey Road, but this year I get to play my own material.
The show is part of the Acoustic Series at the Rideau Centre, so it's not on the festival grounds per se, but I'm super happy to even be considered among all the other local acts. Plus, it's a free show so hopefully it will entice people to come!
Q: It seems like the Ottawa Bluesfest is particularly supportive of local acts?
It is. I believe there are 49 artists that are from the Ottawa area this year so I think that's a good number. (I actually just counted this year's Bluesfest performers and it's around 200, so 25% is definitely welcomed!).
Q: You're a new mom (congrats!), has that changed the way you approach your career at all?
Thank you! It's a tough question.
One thing that has changed is the fact that I don't worry as much about where I'm at in my career. Before becoming pregnant, I felt like if I didn't achieve a certain goal by a certain date, then I would lose my momentum or my career would slowly disintegrate. But I've realized that while it's important to set goals and expectations for yourself, it's also important not to beat yourself up if you don't achieve them right away. I'm learning to take my time.
I also think that having my daughter really forced me to focus on what's important and to stop wasting time on what's not. That meant not booking as many shows and turning down others. It has forced me to prioritize and focus on the shows that are most important. It's also different now, as every show needs to be discussed with my partner to make sure he's available to bring Ava or stay home with her. There's definitely much more planning involved :)
Kristine St-Pierre sings the National Anthems at an NHL game between the Ottawa Senators & Tampa Bay Lightning - while 8 months pregnant!
Q: Has having a baby inspired any creativity/new songs?
Mmm yes and no... I feel like I have new things to say, but at the same time, I'm having a hard time finding enough time to sit down and concentrate on writing or playing. BUT, it has inspired me to learn lots of kids songs! I also started a music for babies and toddlers group in Orleans where I live, and it's been a lot of fun for me and for my daughter. So, in a way it did inspire creativity!
Q: Have you been bringing the baby to shows/on tour/in studio, etc.?
I've had a number of shows since giving birth and I've been able to bring her to all but one. Now, I do want to say that she's a really good baby and she loves listening to music, so it helps! I've also brought her to a few practices (the quieter ones) and she just listened or slept (in between feedings of course :)
As for touring and the studio, yesssssssss!!! Although I am slowly realizing how much more planning (and most likely time) all this will take! But I'm hoping she'll enjoy it. My hope is to involve her in as much as I can and maybe she'll develop a love for singing! (though I'm pretty sure she already loves it!)
Q: What's been the most challenging part about having a baby and continuing to work as a musician?
Realizing that I can't do it on my own. As I said above, every show needs to be discussed. Some shows we bring her, but many are late or in loud bars, so my partner stays home or we ask our parents to babysit. Going on tour will require lots of planning and I will likely not be able to leave for long periods of time.
Also finding the time to do it all :) I want to spend as much time as possible with my daughter, but at the same time, I need to make money, practice, write new songs....
Q: Any advice for musicians who are also young parents/soon-to-be parents?
1. Slow down on your own terms. Many people told me to 'slow down' during my pregnancy - whether it was playing shows or even going on tour. I felt great so obviously I didn't want to stop doing everything I love. And my advice would be to keep doing what you love. I ended up playing shows until 3 weeks before my due date. You will know when it's the right time for you to slow down. The same applies to when you have your child.
2. Not be too hard on yourself. We all know that having children is not easy! And as new or soon-to-be parents, we are constantly learning. So it's important not to put to much pressure on ourselves and to take some time to breathe and enjoy the special moments with our child.
3. But at the same time, I'd say to keep doing what you're doing and try to involve your child in as much of what you're doing. Going on tour, to the studio, smaller shows, etc. That's what I'm trying to do because 1) I want to spend as much time with my daughter as possible, and 2) because I want her to be a part of my music life as much as possible.
Q: What's coming up next for you? New album? Tour?
I'm currently in writing for a new album. I've been focusing primarily on writing French songs as I'd like to put out a French album, but an English or bilingual album is also in the plans. And a tour for sure. But we will see when and where. I'd like to have new material before hitting the road again.
Thanks for taking the time to chat with us Kristine!
You can check out Kristine's website and music at http://www.kristinestpierre.com
If you're in the Ottawa area, catch Kristine at the Ottawa Bluesfest Saturday, July 18 @ 12:00PM at the Rideau Centre!
Why not share this with your friends?
Build a stunning band website and store in minutes
Promote your music on your own unique website.
Sell music & merch directly to your fans. Keep 100%.
Grow your fan base with built-in marketing tools.