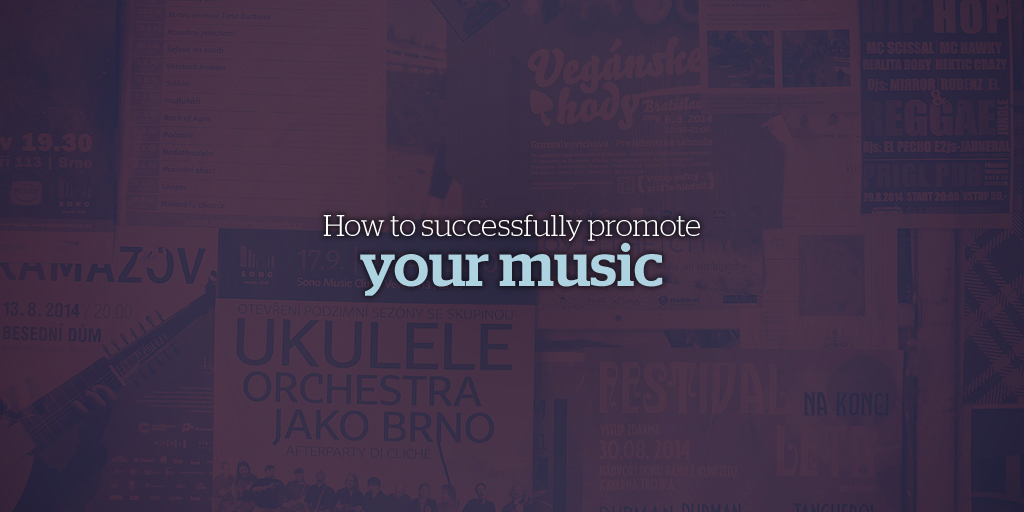 Guest post by Joy Ike ​
Before Facebook and the era of social media, it was estimated that the average person was exposed to some 2000 ads every day - billboards, television commercials, signs in grocery stores and storefronts, etc, etc.
Since then, that number has probably doubled. This makes promotion very tricky. How do you successfully promote your music when there is so much competition? Below are 6 things you must do to stand out in a sea of clutter, make a dent with your music, and continue to grow your fanbase.
Personalize
First and foremost, no matter what it is you're promoting, the key is to sound like YOU. Sound like a human. Don't be a robot or take the tone of a marketer or that dude on the TV commercial who reads the fine-print at top speed.
You never know what feedback you're gonna get when you share a new song, video, or show details. Promoting is a difficult task as it is. When you use phrases like "Only $20 for a limited time", or "get yours now!", you just sound cheesy and superficial. Make sure to sound like a human. Sound like YOU.
Use a Newsletter
"Email marketing is 40 times as effective as Facebook and Twitter, combined."
Your newsletter is not just your greatest tool; it is your best friend! No one can keep up to speed with every post in their news feed. No one reads every tweet or every status update. They just can't. Who has that much time in the day?
When you send a newsletter out, it should be an extension of your presence. It should take on the same tone that you use on stage. It's the longer version of a 140 character tweet. It tells a fuller story of that photo you shared on Instagram. It tells the backstory behind the music video you just released.
Newsletters inform your fans of what's to come, tell them what happened in the past, and fill in the gaps to create a more cohesive story of who you are as an artist. Newsletters are essentially your opportunity to brand yourself.
By the way, Email marketing is 40 times as effective as Facebook and Twitter, combined. Artists, writers, corporations, organizations...they all use it. They realize it's so much more powerful than social media.
[The Complete Guide to Email Marketing for Musicians]
Think of Your Fans
Sounds silly, but it's what works. Instead of thinking about how you want to do something, think about what your fans really want you to do. I would liken this to a live show. You might have a really excellent cover of a Beatles song. Problem is, you're playing to a demographic that is more likely to enjoy Paul Simon. What are you gonna do? Hint: Play Paul Simon!
Promotion is just like this. Instead of posting yet another photo of a product at your online store, post something that is more engaging. Maybe that means your update will have nothing to do with merch. Maybe instead of talking about yourself or your music, you ask fans to share their favorite song. It might not seem like promotion, but that's the kind of stuff that really engages people, brings traffic to your page, and comes off as more personal.
Know When to Post
The key to promotion is knowing when to do it. You won't see a diaper commercial come on during a sports game. It's just not gonna happen. In the same way, you can't post about your show at midnight when the average person is asleep. Your posts need to happen during high-traffic times and to the right audience. They also need to happen when people can adequately respond to them.
Need to tell a long drawn out story about something that happened at your gig last night? Don't do it at 9am when the average person is beginning their work day. 9am posts are great for questions like "Hey, what cover should I do at this Fridays show?".  Posts like this not only serve as a reminder about the show, but they also get your fans posting about their favorite songs and tunes they think would be perfect for your voice. 
Same goes for your newsletter. Don't send a newsletter out on Friday morning! You'll get plenty of Out-of-Office responses. Statistically the best times to send newsletters are Tuesday and Wednesday - in the heart of the work week when more people are checking their email.
Plan Ahead
Good promo has a lot to do with planning well. Artists who plan well get the best feedback from fans. If your next show is 6 weeks out, planning well means dropping a "save the date" post on your social media for fans who need that extra heads up.
It means sending posters to the venue 3-4 weeks out so you can get the attention of everyday foot traffic. Planning ahead means communicating with other artists on the bill so that everyone knows the facts and can also do their part in promoting the show. Planning means the Facebook invite is created 2 weeks out and shared with your band mates and other bands on the bill so they can share.
Planning ahead means spacing out your social media posts so your fans have no excuse for not knowing about your show. There's a fine line between too much and not enough. Find it!
Tell Your Story
Last but not least, tell your story! This pretty much wraps up this blog and reiterates the first point. The one thing that distinguishes you from every other performer is your voice. Your voice (not your singing voice) is unique. You have a story that no one else has. How you shape that story, tell that story, and invite others to identify with that story, is what makes you real to your fans. It's what makes you human, and keeps fans sticking around for the length of your career.
[5 tips for developing your personal blogging voice]
Promoting your music is essentially finding creative ways to tell your story - through content, how you brand that content, and how you share that content.
Joy Ike is a full-time singer/songwriter based out of Philadelphia, PA. She is also the founder and primary writer for Grassrootsy, one of the most-read music business blogs on the internet. She believes the greatest tragedy in the world is having a talent and keeping it to yourself.
Bandzoogle websites have built-in mailing lists and the tools you need to step it up. Sign up free now!​
Why not share this with your friends?
Build a stunning band website and store in minutes
Promote your music on your own unique website.
Sell music & merch directly to your fans. Keep 100%.
Grow your fan base with built-in marketing tools.