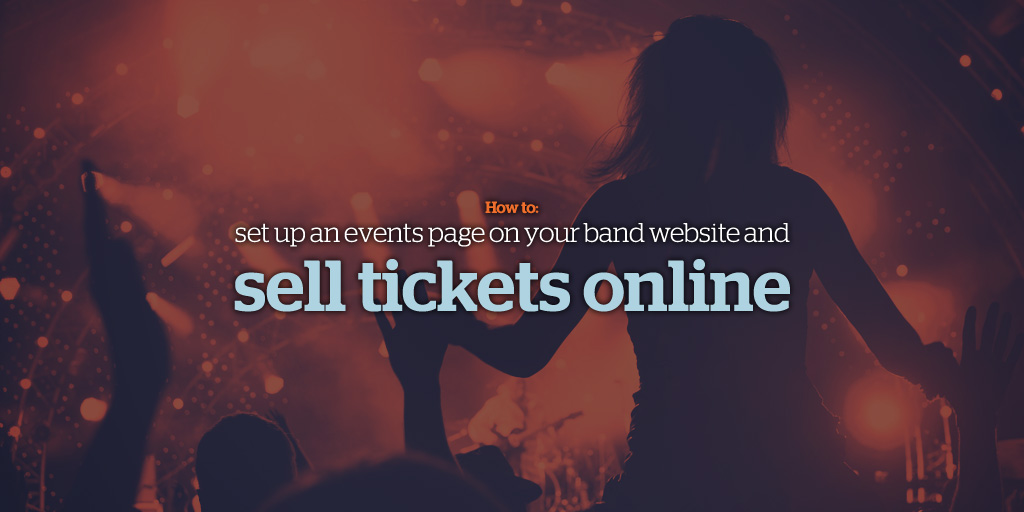 You're created an engaging Homepage, built a great website bio page, and added your perfect music page. Now you're ready to set up an Events page on your band website, and we've got some tips to get you started.
Keep the page name simple
Call your events page something that people will recognize in a glance when looking at your website menu. Something like 'Events', 'Shows', or 'Gigs' is a good option. That way, people will be able to quickly locate the page they are looking for.
This will also help with Google. If someone is searching for your band name, plus 'shows' it's more likely to return a match to your 'shows' page.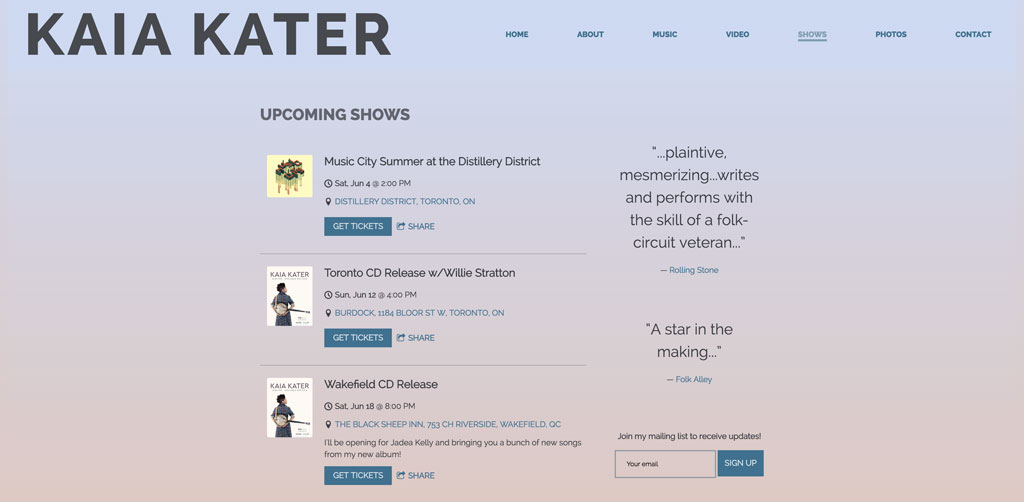 Add relevant information about your shows
Make it easy for your fans to find out where you are playing next. Round up all the information you have about your upcoming shows, and place it into an Events feature.
Date: Be sure to add the day of the week, date, and year.
Time: Include the time of your show, plus any other details related to timing. If the doors open early, or if you're on at a specific time slot, include that. You can also add the end time if it's specified.
Venue: Add the name of the venue and the address. We'll provide a Google map for you, when your event is clicked on.
Event Flyer: Add a poster to your event that will display beside the text info.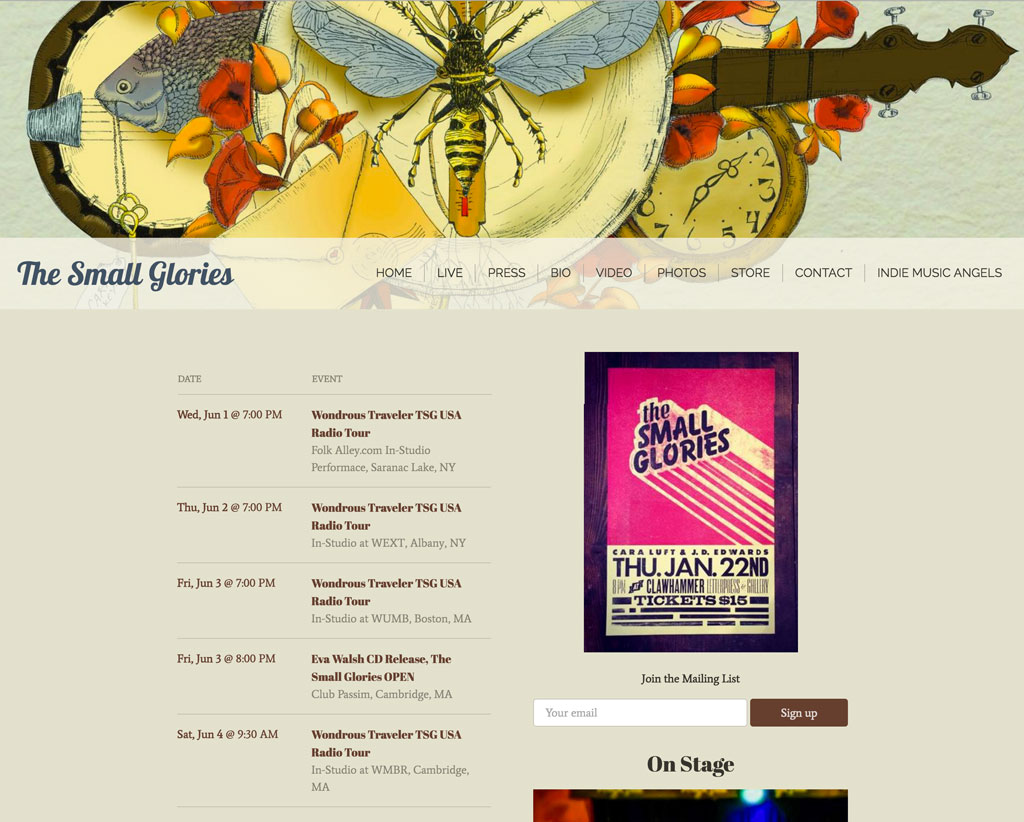 Sell tickets to your shows online
Want to sell tickets to your shows online (and commission-free)? It's quick and easy to do in the events feature. Click on an event to add the price and receipt info. You can track inventory so you don't oversell. When a customer buys a ticket, they'll be send a ticket by email that they can print to show at the door.
On your end, you'll have a password-protected guest list of all tickets sold, to use at the door of the venue. The page is mobile-friendly, or you can print it out.
[17 ways to make money selling tickets on your website]
Make it visually interesting
One of the best ways to make a page look great is with photos! Choose a few of your professionally taken live shots, and add them into a photo gallery on the page. You can place them below your events listing, or beside in a column (this takes just second with our drag and drop visual editor!)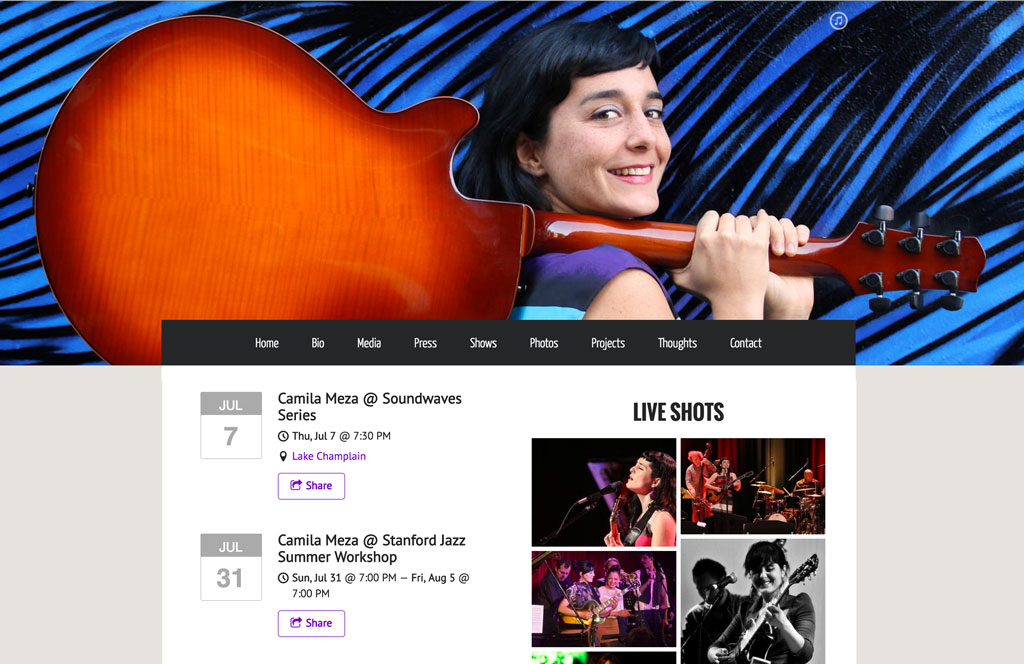 You could also add a photo gallery with previous show posters.
Another option to make the page more visually interesting is to add a live video beside your tour dates. This will help give fans and bookers a great impression of your live show. Just be sure that both the visuals and audio are good quality!
You can choose different ways to display your events - a table, a list with image, or a calendar. Just like your design, you can change the event layout anytime, and your dates will display in the new format right away!
Add a Call-to-Action
Your events page is the perfect place to add a call-to-action directing people to book you. You can place a link to your contact page, or your EPK page. If you're currently accepting house concerts, private events, or parties, note that on your page.
[How to Book a Tour without a Booking Agent]
Keep events updated
Best of all - it's easy to update your events at any time. As a busy, often on the go musician, you've got some options to take the stress off. You can set up recurring events at the same venue (weekly on a certain day, or monthly), and you can re-use previous locations so you don't have to look up the address all over again.
Plus, if you use a service like Bandsintown, you can easily integrate those dates with just a couple of clicks. Once you have, any dates you add over at Bandsintown will populate automatically on your website here.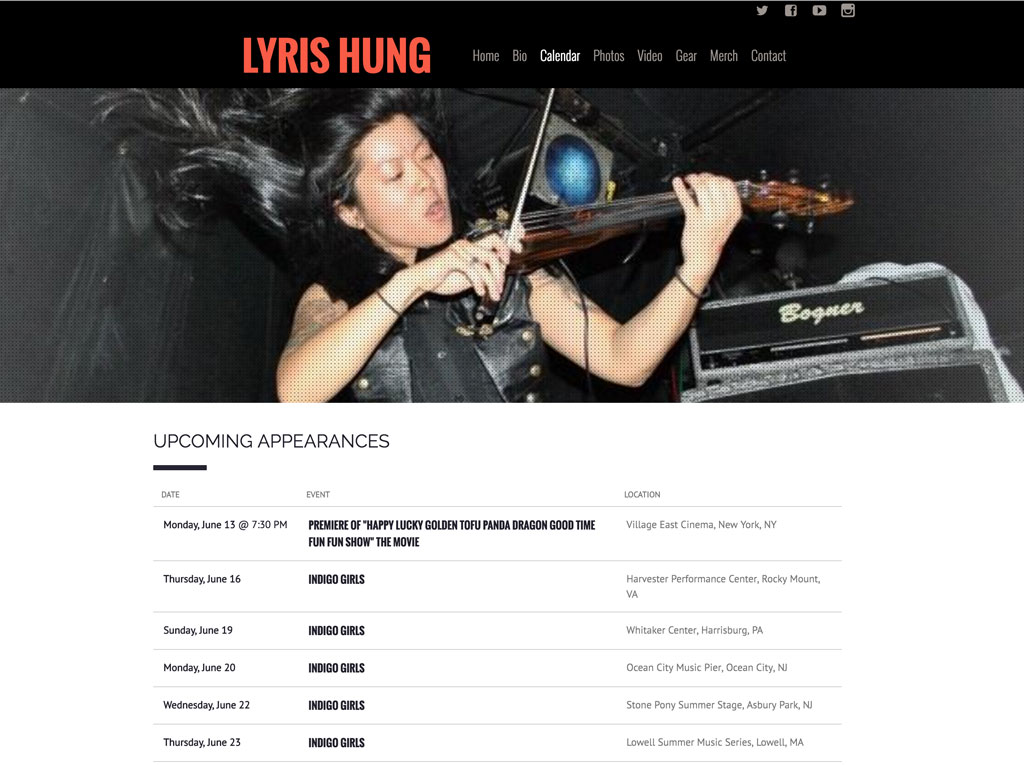 Don't leave the Events page blank
On the other hand, if you don't have any upcoming events, don't leave the page blank! Add a note letting your fans know you're currently booking shows, or recording, instead of playing live.
You can also set a number of your previous events to display. This will let bookers know you're still a working professional, even if your touring schedule is inactive at the moment.
[How to Get a Booking Agent to Book Your Band]
Creating an uncluttered events page with relevant tour dates and information will help your fans find out where you're playing next. Keeping it up to date and visually interesting will help give booking agents a professional impression of your band.
Build your own website with tour dates, and sell tickets online commission-free now! Sign up to build a website with built-in ticket sales.
Why not share this with your friends?
Build a stunning band website and store in minutes
Promote your music on your own unique website.
Sell music & merch directly to your fans. Keep 100%.
Grow your fan base with built-in marketing tools.