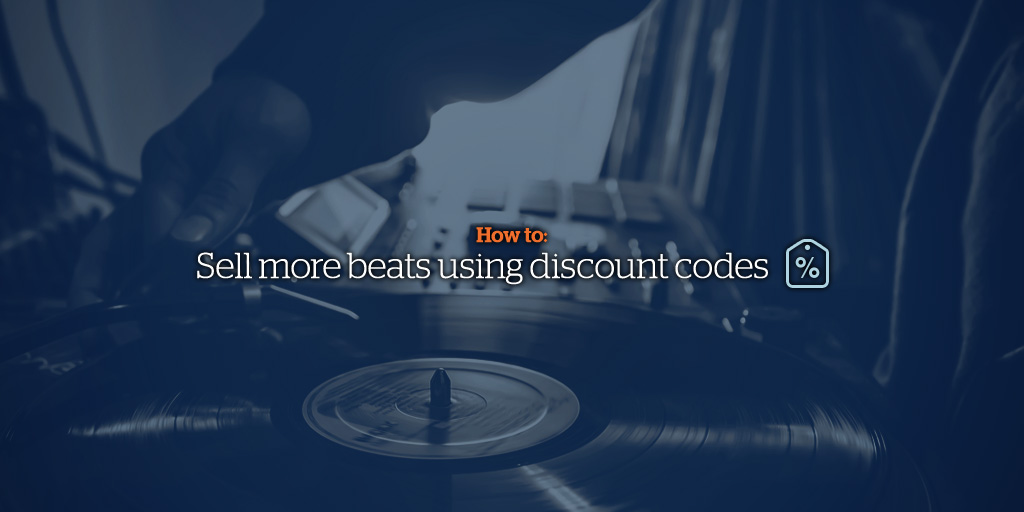 Bandzoogle's latest Store feature update lets you create, manage, and share discount codes with your fans and customers who shop through your website.
As a beats producer, discount codes can be a helpful tool to increase sales through your website. Here are a few tips to get you started using discounts as part of your promotional strategy!
[How to Build a Website to Sell Beats Online]
Why would you want to discount beats?
Providing exclusive rebates through a discount code can make new clients more keen to use your beats.  It can give you a pricing edge on the competition, and it can make your existing customers even more happy with the service you provide.  
Depending on the licenses you're applying to your sales, beats can be a higher investment purchase. So a discount code can give customers the feeling of getting great value at a really good price, while helping you sell more of your beats.
And beat producers aren't the only business that offers discounts on products they sell. It's a tried and true method to help you clinch more sales, and make the relationship with your client base that much stronger.
[New: Use Airbit to sell beats on your website]
What are the goals for your discount codes?
Having some idea of what you want your discount codes to do for you is a really good start. Some common goals when you're going to share them out are:
1 - You're looking to increase your short term sales.
2 - You'd like to reward loyal customers.
3 - You want to promote new beats.
Once you know your goals for your promo codes, you can plan how to distribute them.
1. Boosting short term sales
If your goal is to increase short term sales, then you'll probably need a more 'time based' promotional campaign. Example: 'For a limited time, get 15% off' and send that out through an email blast and across social media.
[How UnbelievableBeats.com Makes Money from Free Beats]
The discount code option lets you manage multiple codes, and this includes the ability to set the codes as 'active' or 'inactive'. So if your limited time offer is 1 week, when the time is up for your promotion, click the discount code option in the music feature, then the code in your list. From there you can then uncheck the 'active' option.
This will disable the code so it can't be applied to future purchases from your site. Until of course, you decide to run another discount promotion and re-activate it!
2. Reward loyal customers
If you're looking to reward your loyal customers with an exclusive discount, it will likely involve reaching out in an email campaign and providing the discount code in your message. Your loyal customers should DEFINITELY be on your list already!
All Bandzoogle plans come with a built-in mailing list tool! Sign up free now.
These are customers that you're hoping will keep using your services and buying beats from you, so in your message:
3. Promote new beats
Top flight beat producers are constantly releasing new material on their websites. Promoting new material can give your customers the sense of 'I found it first'. Giving them a deal on new tracks with a discount code can make those customers feel like 'I found it first, AND I'm getting a great deal on it too!'
You should first consider posting all of your newer beats to their own separate page on your website with a track list. This way, you can simply swap out older tracks for new ones as you produce them. This can also add to the exclusive feeling when you let your customers know about your new productions.
Like discount promotions to loyal customers, sending a discount code from an email campaign is a great place to start. But you'll probably want to go for more reach than just your mailing list. Be sure to also share your discount code across social media, like your Facebook and Twitter pages.  
Bandzoogle now provides an 'in status' player on Facebook. So when you promote the track and the promotion code by clicking a 'share' button on your music player, customers can preview your new beats right from their Facebook feed. Again, don't forget to include the code with a quick commentary about the promotion and discount when you post the status!
Naming your discount codes
When you create a discount code, try to keep the name easy to remember. Your customers will find it pretty simple to apply a discount from your site checkout. But don't make it harder by having them type out a long and complicated discount code!
Avoid special characters and spaces as well. This will help make sure there are no mistakes when entering it. And make sure the code reflects the promotion you're running, like MORE4LESS for your short term goals. Or BEATSVIP for your loyal (and hopefully repeat) customers.
How much should you discount?
Every retailer that uses discounts, not just beat producers, can struggle with this. The core reason you're providing a discount on anything you sell is based on your goals you set for the promotion.
Ultimately, you want to make a reasonably attractive offer without completely giving away your goods for free. So discounts - unless you're going out of business - should never be excessively high.
Think about it. If you sell an exclusively licensed beat for $300, that's not total profit you're gaining.  There are costs involved, including your production time, equipment, and skills. So consider those when offering a discount. Anywhere from a 10-30% discount is reasonable, depending on the campaign goals.
Two rules to remember are: if you give too low of a discount, it's not attractive enough to convince a customer to purchase. If the discount is too high, you might come across as too desperate for a sale.  
Your customers are paying for professional work. So slashing prices too heavily can make your customers think your product's quality is not up to par. Be reasonable, without feeling like you won't make anything in the process.
We hope this helps you sell more beats from your websites!
Build your own professional website in minutes and offer discount codes to sell your beats! Sign up free with Bandzoogle now.
Why not share this with your friends?
Build a stunning band website and store in minutes
Promote your music on your own unique website.
Sell music & merch directly to your fans. Keep 100%.
Grow your fan base with built-in marketing tools.