The average time first spent on a website is less than a minute. This means when someone gets to your band's page, you want to be sure to grab their attention right away.  
Fantastic header image that portrays your style? Check. Lots of content and great music? Also check.
Now you need to direct your visitors' attention to what you want them to do! Think about someone giving your site a quick scan. You want to make sure they find the most important information.
Their eyes will gravitate towards text and a button. With this in mind, make it count by adding a call-to-action.
Why are call to actions useful?
A call-to-action is just that - a way to guide people's attention to something specific that you want them to do while visiting your website.
If you add a call-to-action that ties in nicely with your theme, it will be an effective way to increase video views, increase your album sales, or get donations to your crowdfunding campaign.
Plus, adding a button over your Homepage's header image or video header makes for a modern looking website that's enticing to click on!
[How to Build the Perfect Homepage for Your Band Website]
Use a Call To Action to Promote your Music
To effectively use a call-to-action, you'll want to keep it short and sweet. Choose a font that's simple, and a color that matches your website. It should be eye-catching, but still coordinate with your theme.
Choose what you want to promote based on what makes sense for your band. Are you going on tour and wanting to sell tickets? Are you dropping a new album soon? Here are some great ways to use a call to action:
Music sales: Link to your music page with a store that's pre-selling your music, or to your current album. You could also link to a Store page to sell physical copies of your CD.
[The Complete Guide to Selling Your Music Online]
Video: Get more video views by asking people to watch your latest video, then link the button to your Videos page. Make sure your latest video is right at the top!
Email signup: Link to a page that contains an email signup form, or a music feature giving away a track in exchange for an email address to build up your list.
Crowdfunding: Link to a page that has a Store feature selling merch or crowdfunding items, or an integrated PledgeMusic campaign.
Sell Tickets: Get more people committed to your show by linking to your Events page where you can sell tickets to an upcoming gig.
[17 ways to make money selling tickets on your website]
Styled to match your template
Once you've settled on what you want to draw attention to, add text - a header, subheader, then button text. The button text will be clickable and lead to a link you will choose. It can be any of your pages, an external page, a file, or an email address.
By default, the button will match your chosen template. Get creative and switch up the color of the button, or make it an outline, adding a clean font for a modern look.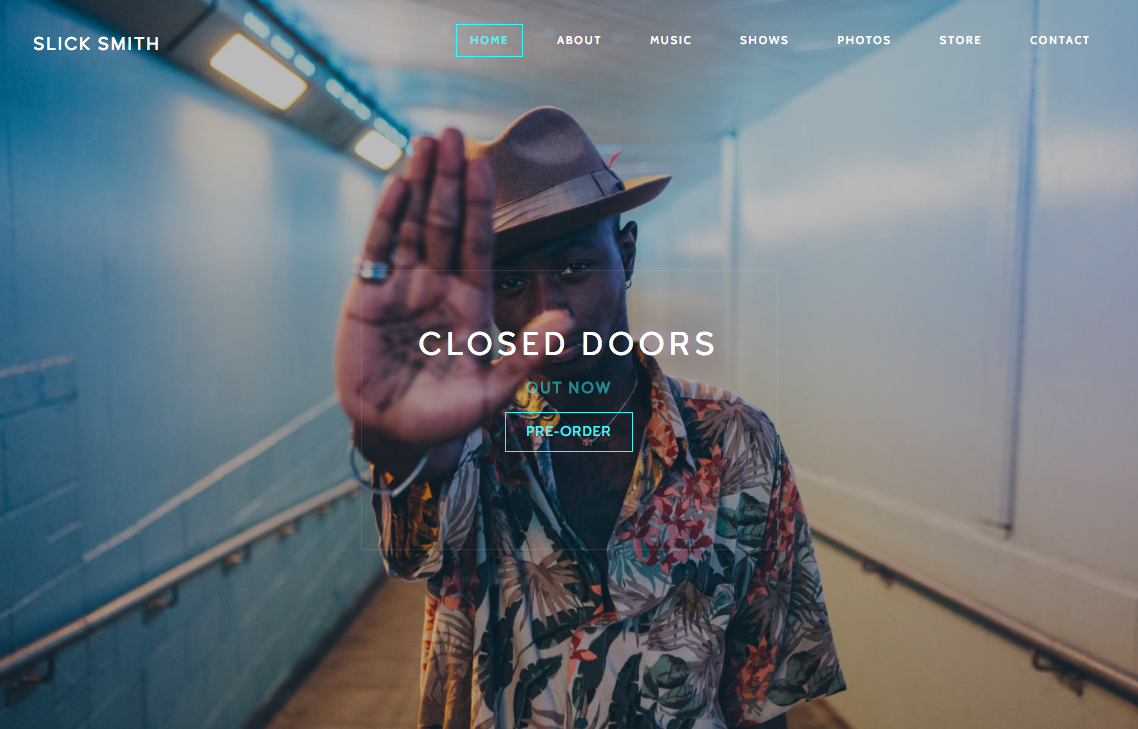 The call-to-action feature is available on the Encore theme, the Portside theme, the Zenith theme, the Beckett theme, the Trident theme, the Resonance theme, the Nocturne theme, and the Billboard theme.
Change it up anytime
Once your tour is over, promote a new single instead. Changing up your call-to-action is as easy as typing new text. You can also choose a new font, font color, or button color with a few clicks.
Mobile ready
Just like all of our features, the call-to-action will work beautifully on a phone or tablet, making it easy for your mobile visitors to click and watch, listen, or buy.
Make the most of the few seconds that you have to draw your fans' interest. Adding a call-to-action will boost your sales while giving your website a fresh, modern look.  
Build a beautiful website that promotes your music with a call-to-action. Try Bandzoogle free today!
Why not share this with your friends?
Build a stunning band website and store in minutes
Promote your music on your own unique website.
Sell music & merch directly to your fans. Keep 100%.
Grow your fan base with built-in marketing tools.