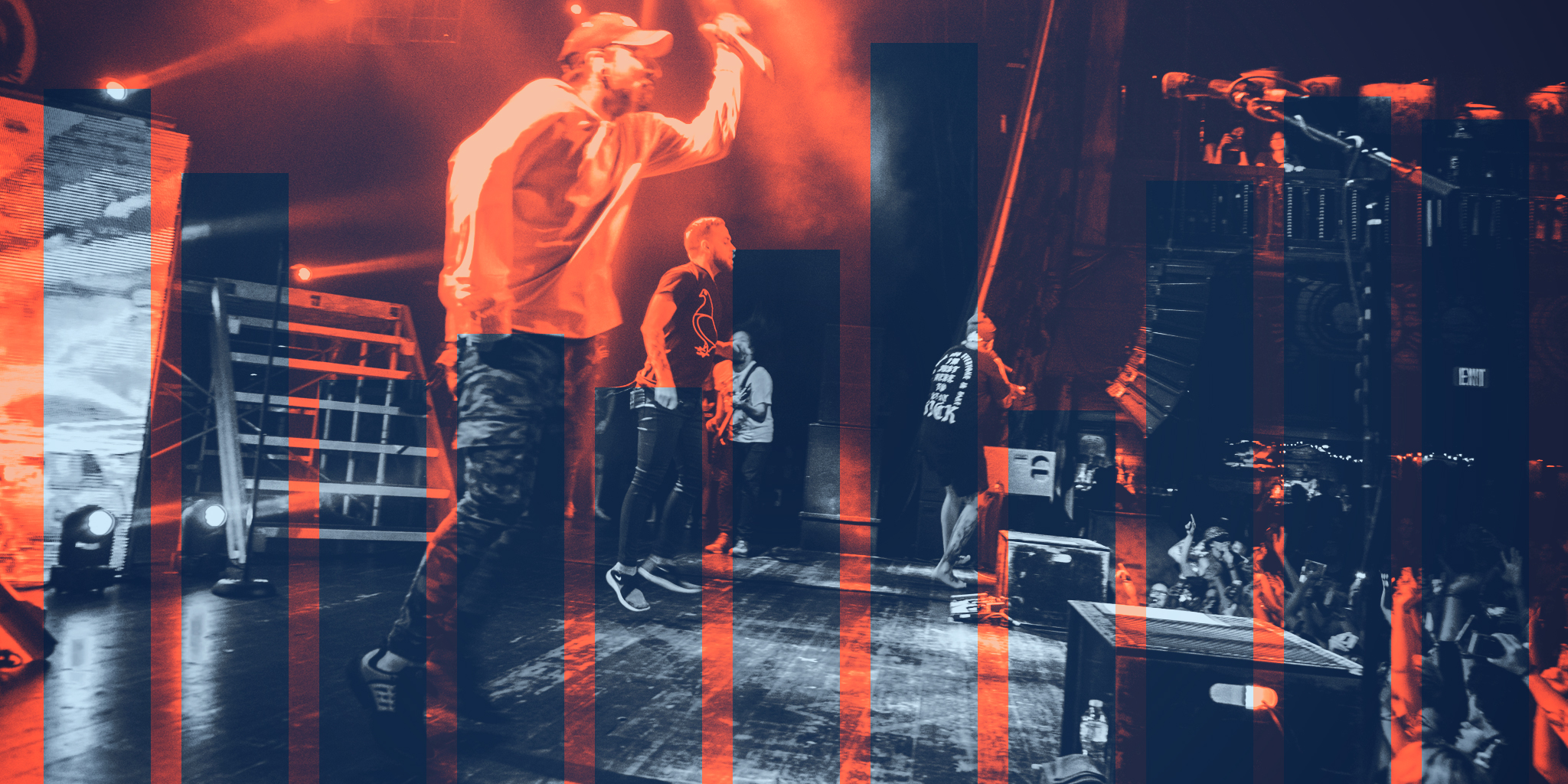 Website analytics is available for you to gain valuable data on your fans, music sales, and more.  The following tips will give you an idea of how best to use the data listed in your Bandzoogle 'Reports' tab so that you make the most out of your time.
Getting Started
Before you dive in, create a plan. It's best to start by writing down some goals. Choose a target number for the year for each category: visitors, fans, plays, and sales. Then work backwards to break down your goals by quarter, month, and week. The numbers should be attainable but should stretch a bit past your comfort zone to make you reach for them. These tips will help you stay on track.
Data Tracking
When checking your stats, use the following checklist. This will minimize the time spent on data tracking but maximize your promotion efforts. If you're getting the results you want, repeat the same promotion tactics or increase your goals. If you aren't getting the results you want, check out these lists for insight on how to adjust your plan:
Visitors
How many unique visitors came to our website?
[Unique Visitors: The number of visitors that came to your website, with multiple visits by the same person filtered out]
Get more people to visit your website by using teasers on your social media accounts. Example: Allow them to listen to a snippet of your latest song on social media, and link to your website for the full track.  
What locations are my visitors visiting from?
In the 'Visitor locations' section of your Bandzoogle 'Reports' tab you can see both a heatmap and list of where site visitors are located. This gives you an idea of where most of your fans are, so you can set up gigs in that area. If you are trying to get fans in another area you can focus your marketing to people there. Example: Boost Facebook posts in specific areas, comment on forums and blogs in those areas, and work with venues and businesses in those communities  to become better known.
What pages are most popular with visitors?
Check the 'Top pages' section in the Reports tab to see which pages on your site are most heavily visited. The homepage generally gets the most traffic, so use summary posts  there to direct visitors to see more content on other pages. Example: Add a few blog post summaries to your landing page and have a 'see more' link to direct fans to your blog page for more articles.
If a page consistently doesn't receive many (or any) views, consider unpublishing that page. You can also sprinkle content from  it onto other pages. Tip: It's best to limit your menu to 8 tabs or less. Anything more is usually overwhelming for fans to navigate through.
Which websites brought visitors to my website?
This data indicates which website the visitor was on when they clicked to get to your site. It's great for confirming which of your promotion efforts are working best. Prioritize getting your website link on as many external sites as possible - these links are  very important for SEO (search engine optimization). Example: Get your website link on Google, YouTube, Facebook, a venue website, another band website who you collaborate with, etc.  
What search terms did fans use to find your site?
This is reported in the 'Search Terms' section. These are the keywords or phrases a person used to find your website.

Sometimes a fan specifically looks for you with these keywords. It may be your name, one of your song titles, or other distinguishing keywords for your music.

Other times a person may be doing a Google search for a keyword or phrase and one of your website pages shows up in search engine results. When they click your link and are directed to your website that search term shows up in this section of the reports tab.

Tip: Use appropriate keywords and phrases throughout your website pages. That is what search engines like Google and Bing will index and use to create search engine results.
For more information on SEO, please download our free 100+ page eBook "A Complete Guide to SEO for Musicians"
Fan Data
How many new mailing list members have you added?
This information is listed in the 'Fans' tab of the Bandzoogle Reports page.You'll want to continue adding new members often. Using the annual goals you set, check to make sure you are gaining new fans consistently. If not, you'll want to bump up your promotion efforts.
Is your fan base growing?
Make sure you are not only adding new members, but not losing current members. If you see a dip in your fan base, consider changing your email campaign format, or send a survey to current fans on what they'd like to hear about most. Tip: Offer a free download in exchange for mailing list sign up. This encourages people to get on your list.
Have you been sending email campaigns consistently?
This is the best way to stay in direct contact with fans. You can let them know about your latest music releases, upcoming gigs, and new photo uploads. To hold your fans' attention you can even include info about other things happening in your music genre. Anything that will bring value to your fans will be what keeps them opening your email. Tip: Plan to send one email campaign a week. This will keep your name in the minds of your fans and let them know you are active in the music scene.
Music Plays Data
What are your most popular tracks/albums?
This is where you'll want to determine whether the tracks are popular because you promoted them more or if fans simply enjoyed those songs more. A good indicator is the download number. If a lot of people listened to a track but didn't download it, most likely those are the ones that were just heavily marketed. Tip: When you see both the play number and download number are consistent on a song or album this is a sign it's a hit!
Which songs had the most partial plays or skips?
Partial plays and skips don't necessarily mean visitors didn't like your tunes. They may just be in a hurry and want to quickly hear what each song sounds like while on your website. That said, it is possible there are some songs that fans just aren't feeling. This is where fan feedback is important. When the fans have spoken, write new songs in the same style as the previous ones they really enjoy. Tip: Use a poll feature on your website or social media asking to rate any new releases.
Where are your fans listening from?
This is similar to the Visitors tab under the locations section. This map, however, takes it a step further. It shows you which fans took the time to press play to  hear tracks while on your website. This is a more solid indicator of who's really interested in your music.
Music and Merch Sales Data
What items sold most/least?
Selling merch and other digital files is a great way to make extra income. Many musicians sell t-shirts, hats, and stickers in their website store. You can sell things like sheet music, ebooks, and video lessons as well. You'll want to consistently track sales to see which items are most popular with your fans. If your t-shirts are your best seller, for example, consider adding new styles or colors. Tip: With our store feature you can easily set up items in different colors and sizes.
Were sales better on certain days/months?
If you notice a spike in sales, take a look at the dates and see if there's a pattern. If there are a lot of sales on a particular date, try to correlate that to any recent online promotions or features you were part of. If you notice a large amount of album sales for the month, check to see whether there's a boost in new mailing list members as well. It may very well mean your fan base is growing organically and your promotion efforts are paying off! Tip: If you don't have any spikes, consider putting items on sale for a short period of time to encourage people to buy.
Did you reach your music and merch sales goal?
Without setting a numerical target you'll be promoting your music aimlessly. Once you set your annual goal, break that up into monthly and weekly targets. As you check the data periodically you'll see whether those goals are being met. Set aside some time each month to write down what's working and what's not. From there you can brainstorm ideas to meet or exceed your objectives.
Bandzoogle lets you create a professional website in minutes with all the music promotional features you need including a blog, mailing list, and social media integrations. Try Bandzoogle now!
Other Considerations
Annually
Take time to analyze your results at the end of each year. Annual data tracking should be used to see what worked and what didn't for the previous year. This will help determine what to focus on for the upcoming year. Where you were successful, keep doing those things. Where you fell short, troubleshoot ideas on what to try next.
Daily
Avoid the trap of checking your visitor or song play stats on an hourly or daily basis. Instead, use the aggregate data on a weekly or monthly basis to see trends and use them to your advantage.
Exceptions:
Sales and Fans
Sales: Flash sales that are only available for a day. (Example: 50% our latest album, today only)

Fans: Quick promotion efforts that are time-sensitive (Example: Get our new track on our website in exchange for your email address, today only!)
Note: Daily stat numbers can shift  as bogus traffic (like spam bots) get filtered on a schedule throughout the day. Because of this it's best to look at one day's data at least 24 hours after it passes. If you still feel compelled to check daily or hourly visitor stats you can do this directly through Google Analytics.
Why not share this with your friends?
Build a stunning band website and store in minutes
Promote your music on your own unique website.
Sell music & merch directly to your fans. Keep 100%.
Grow your fan base with built-in marketing tools.