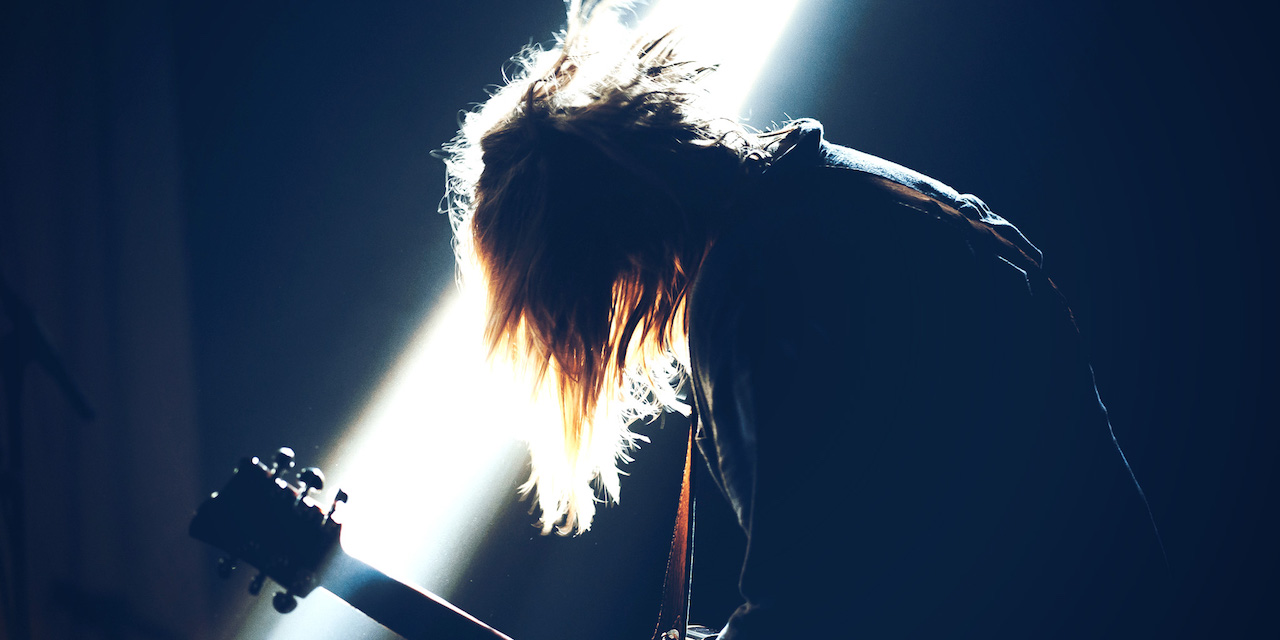 Need a place for your fans to gather? We will, we will rock... your music website! Social media is a wonderful place to promote your music, but you still need a homebase for fans to get away from all the distractions. With your own website, the focus is all about you.
If you want a website but don't know if you have the skills to make one, let us reassure you. We have thousands of non-techy members who have built awesome websites. It all starts with choosing from our numerous rock music website templates.
Once you choose a design, adding features and content is a breeze. Let's take a look at some examples to get you comfortable with the process.
Home
Get started with a homepage. This is the first page visitors will see, so make it stand out. The easiest way to do this is with a large professional header image. A great photographer can capture some awesome shots at your live performance. These are nice to use in the header because it shows you in action like this example from Nathan McNevin and the Silence Factory.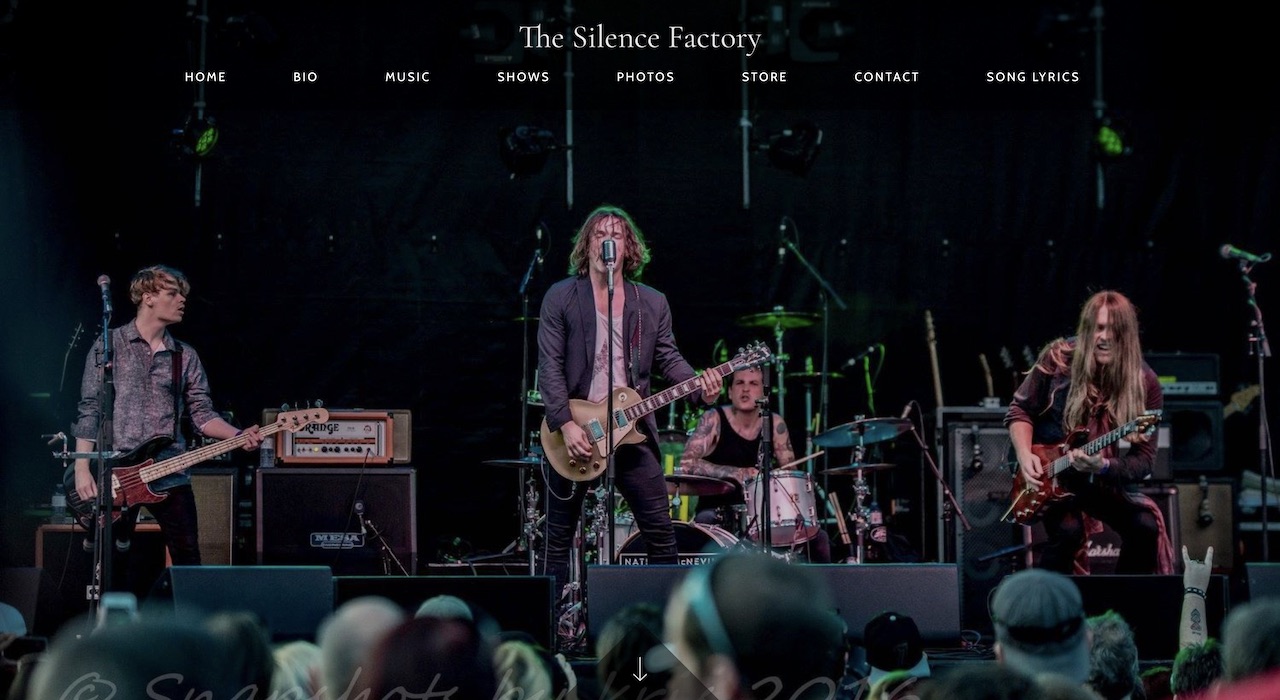 Another important homepage element is a call-to-action (CTA). You can see what it looks like here on Exit Plan's website header.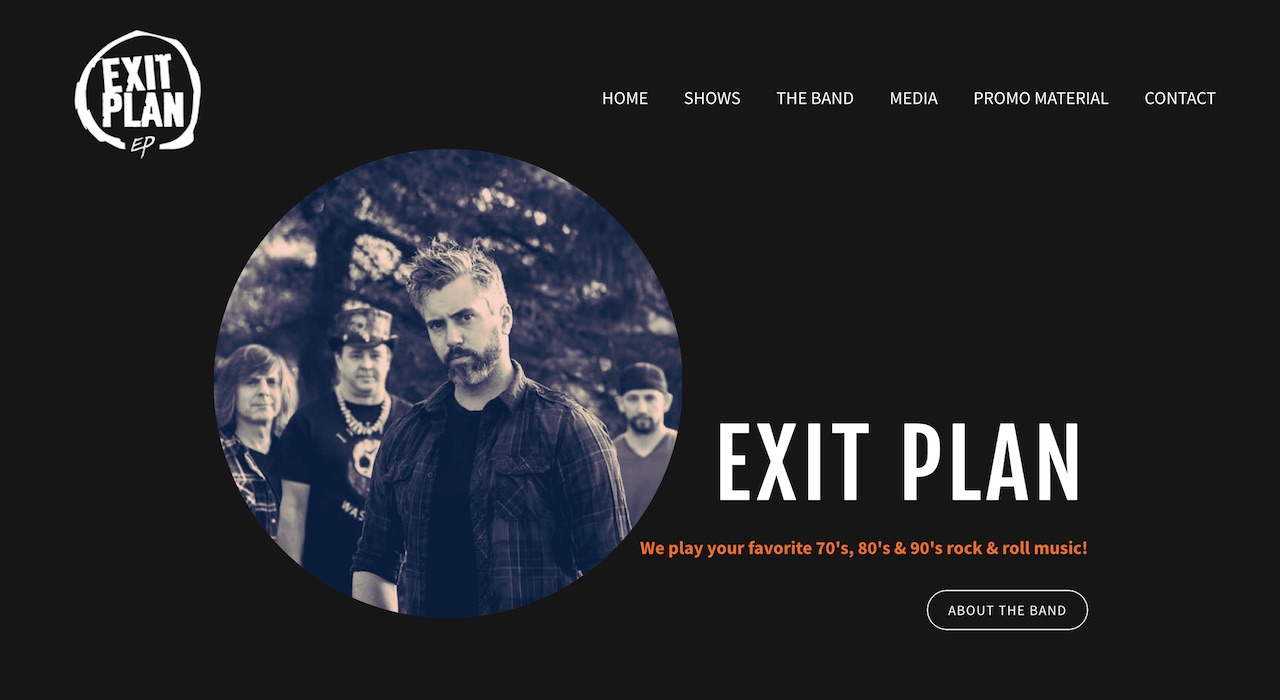 With our built-in header CTA, you can add a heading, sub-heading, and button link. The button link is the action part because fans will click on it to get to another page. You can link to a page on your website, external site, file, or song.
Bio
The bio page should include both text and images. If you have a long page of text only, fans may not take the time to read it all. If you add an image in between each paragraph it will give the page visual interest and break up the monotony of the page.
Another way to go is to use one of our templates with a full page header. Alt-rock band, RedLegs, uses our Prismatic theme to show an opaque view of the band with an overlay of their bio text.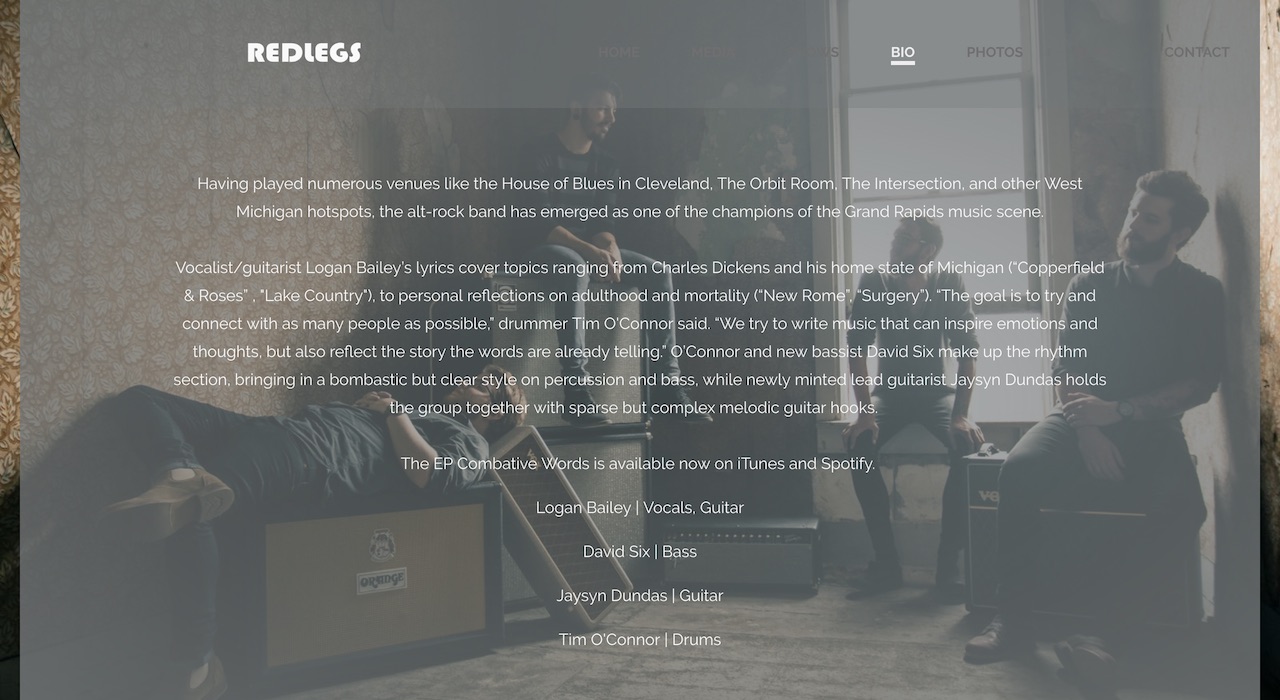 With a solo artist, the full page will be about you. With a band bio though, you'll want a full group bio, then individual bios for each member as well. This gives fans more insight on how each member fits into the group.
[How to write an effective musician bio]
Shows
It's not enough to post shows only on your Facebook page. Make it easy for fans to see all your upcoming events with a shows page on your website.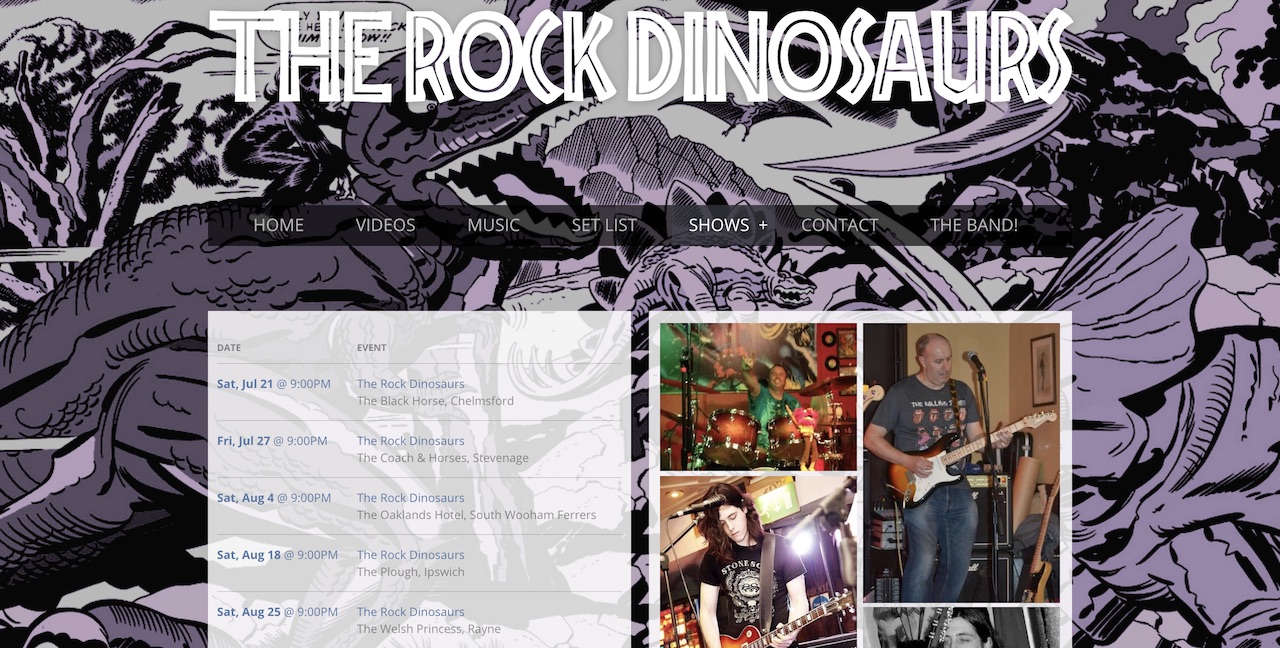 Include the date, time, venue location, and any additional information relevant to the show. It's also a great idea to add images and videos to the side of the page. This shows fans what they'll get if they come to see you live.
Consider selling tickets from your website as well. This will help you avoid high fees from ticketing agencies for you and your fans. With our built-in ticket feature we don't take a cut of your ticket sales (or any music/merch sales either!)
Music
Fans come to your website to hear more of your music, so make it easy for them to listen. Your music page should have a discography of all your albums. Each album should also list all the songs in that album. Here's a great example of a nice music page by high-energy rock band, Of Limbo.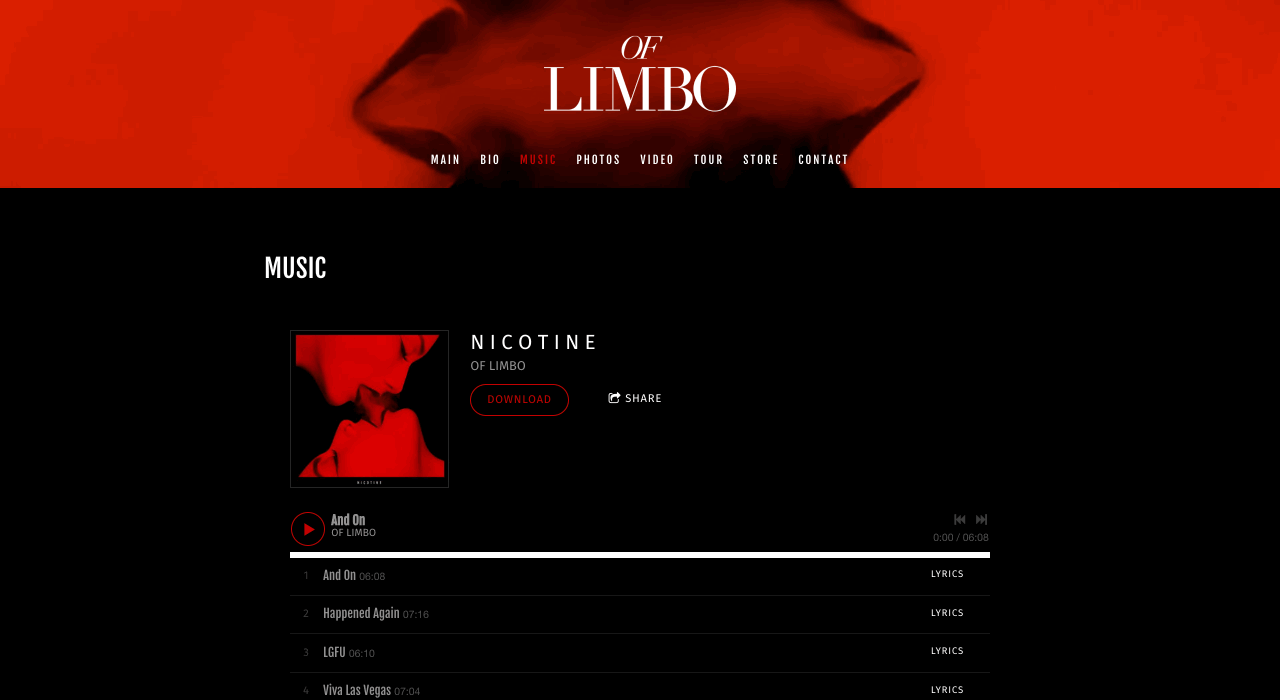 With our music feature you can give tracks and albums away for free or set a price. You can even allow fans to set a price if you'd like. To encourage fans to get on your mailing list you can select the option for 'free in exchange for email' as well.
[How To Create a Perfect Page to Sell Music on Your Website]
Another cool option is to use a video header. Of Limbo has a unique header that gives life to their latest album cover. Pro plan members can add a video header to any page. This will add movement to your website and something for fans to talk about.
Create your own rock music website that's mobile-ready and easy to update anytime! Try Bandzoogle free today!
Store
A good way to make additional income is through selling merchandise. New York based band, Gilbert, have a stylish music/merch page.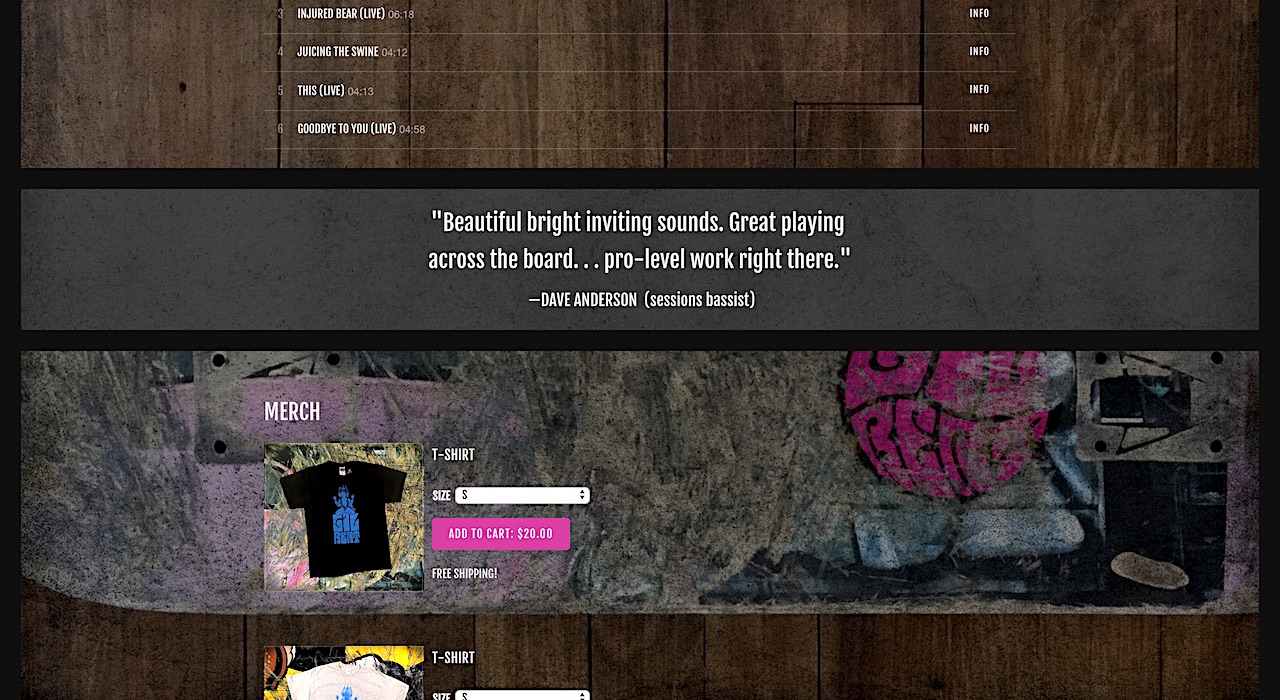 They list their latest tracks for streaming at the top of the page, a quote, then their merch. In this example they're selling t-shirts and stickers, but you can sell all sorts of things. We've seen other members sell hats, mugs, jewelry, bandanas, and more. You can even sell non-physical items like video lessons and sheet music pdf's.
[The Ultimate Guide to Selling Band Merch Online]
No matter what you sell, the layout of the page must be neat and organized. To achieve this, use sections for different categories of music and merch. With our styled sections option you can make each section a different color or even add different background images.
Photos
Rock is a genre with a lot of emotion. A photos page can show off all the awesome image captures at shows and studio sessions. We love the photos from powerhouse rocker, Aisha.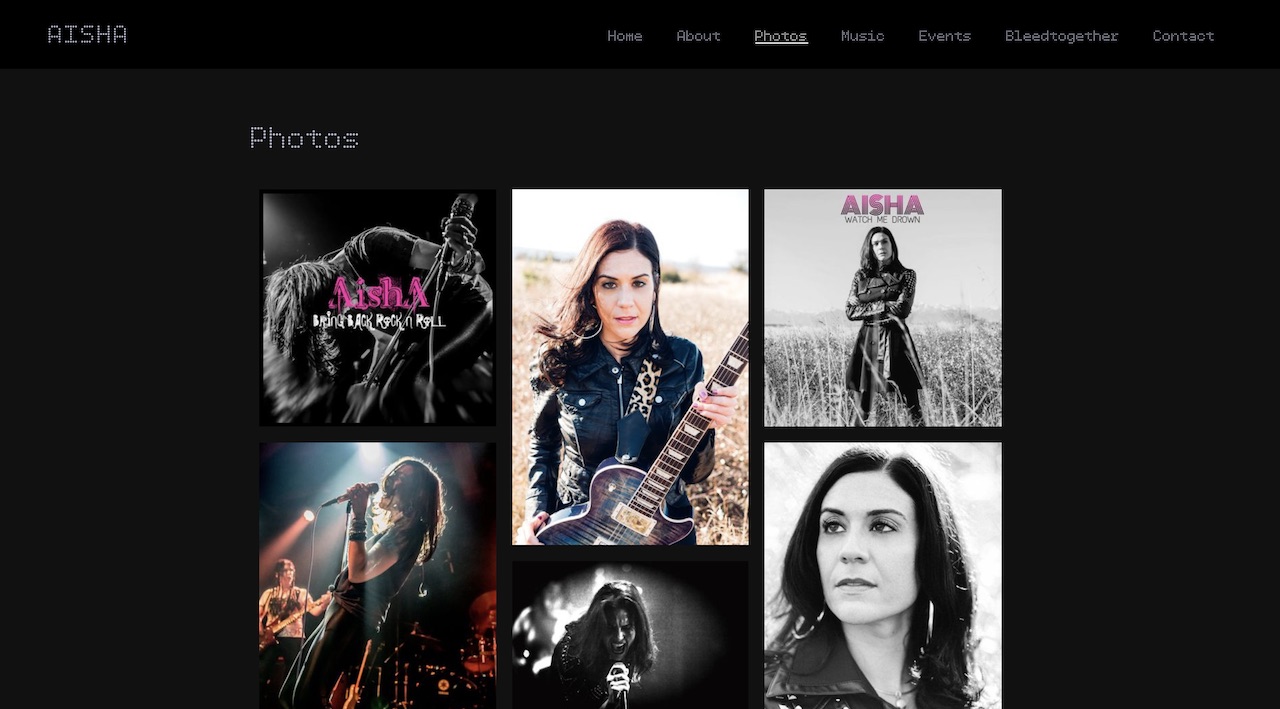 Photos can make or break your website, so start with professional images. You can have a promo photos section, performance photos, and photos from the road.
Another fun option is to add a section for fan photos. This will show you with your fans and they'll want to come back to see if they made it onto the page. We also have an Instagram integration to make it even easier to show off more photos along your musical journey.
Press Kit
An electronic press kit (EPK) is a summary view of all the important features from other pages. This allows industry professionals to quickly scan one page to see if they'd like to work with you.
Folk/Rock singer Abby Feferman uses our pre-made EPK page design to deliver a nice press kit layout.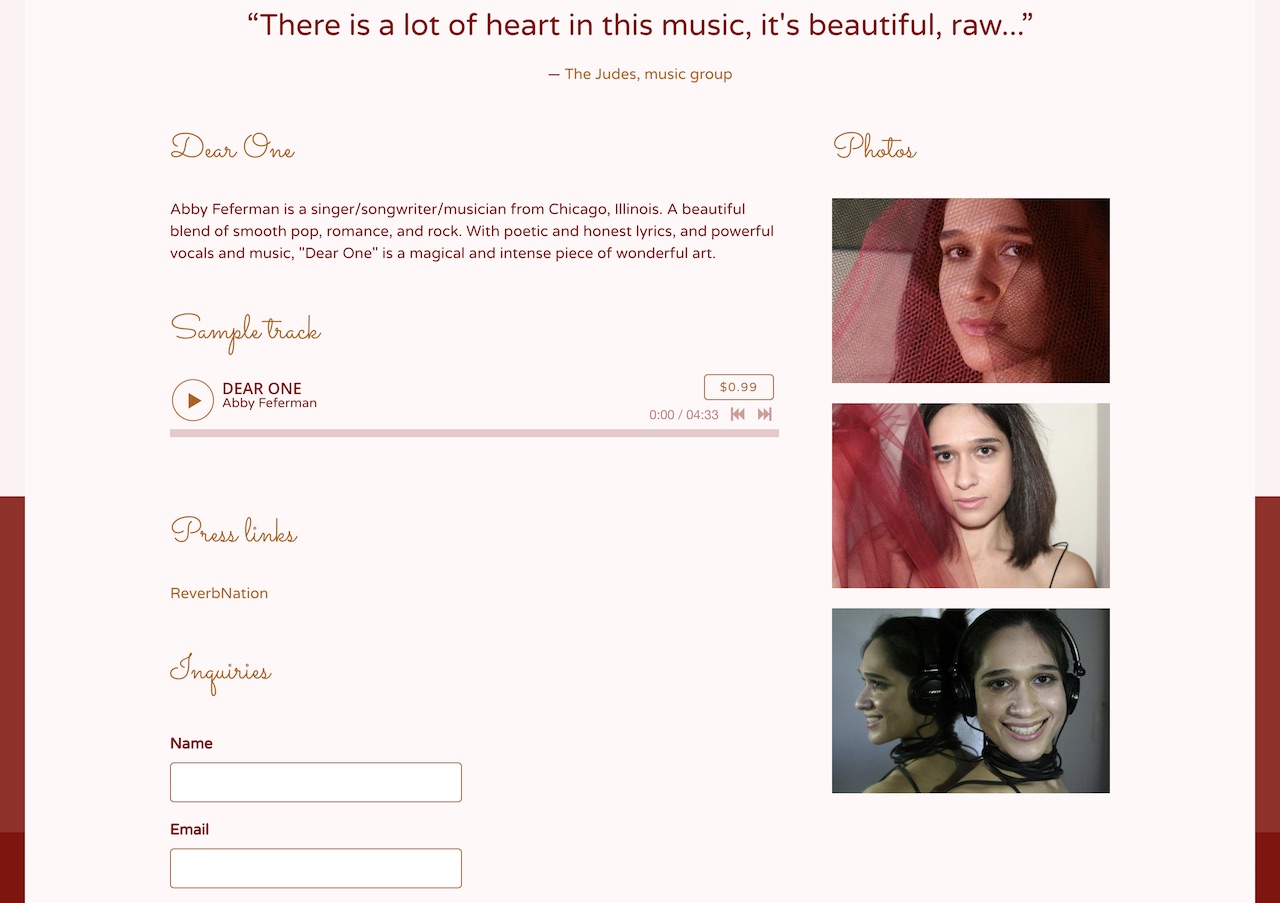 A successful EPK page will include:
A short, yet detailed bio (including awards and accomplishments)

A few high resolution images (downloadable)

A couple of your most popular songs

A high quality video

Press quotes

Contact form
Having this all on one page saves time for busy professionals who are looking at dozens of other rock artists or bands as well. They will appreciate you making it easy for them to see everything at a glance.
[How to easily build an EPK using Bandzoogle's Preset Page Templates]
Contact
For industry and fans alike, you always want to make sure they can get in touch with you. A simple contact form will do the trick. You can see a lovely example from Geoff Wilson of rock group Grady and The Willow Tree.
Using our new Anthem template, they headline the page with colorful drawings and a logo. Next, they use a custom form and mailing list sign up form. That way fans can contact them, but also get on the mailing list for any updates about shows and new music.
To round out the page they include social media icons. This gives a nice transition from leaving the website to carrying on to the band's social media pages as well.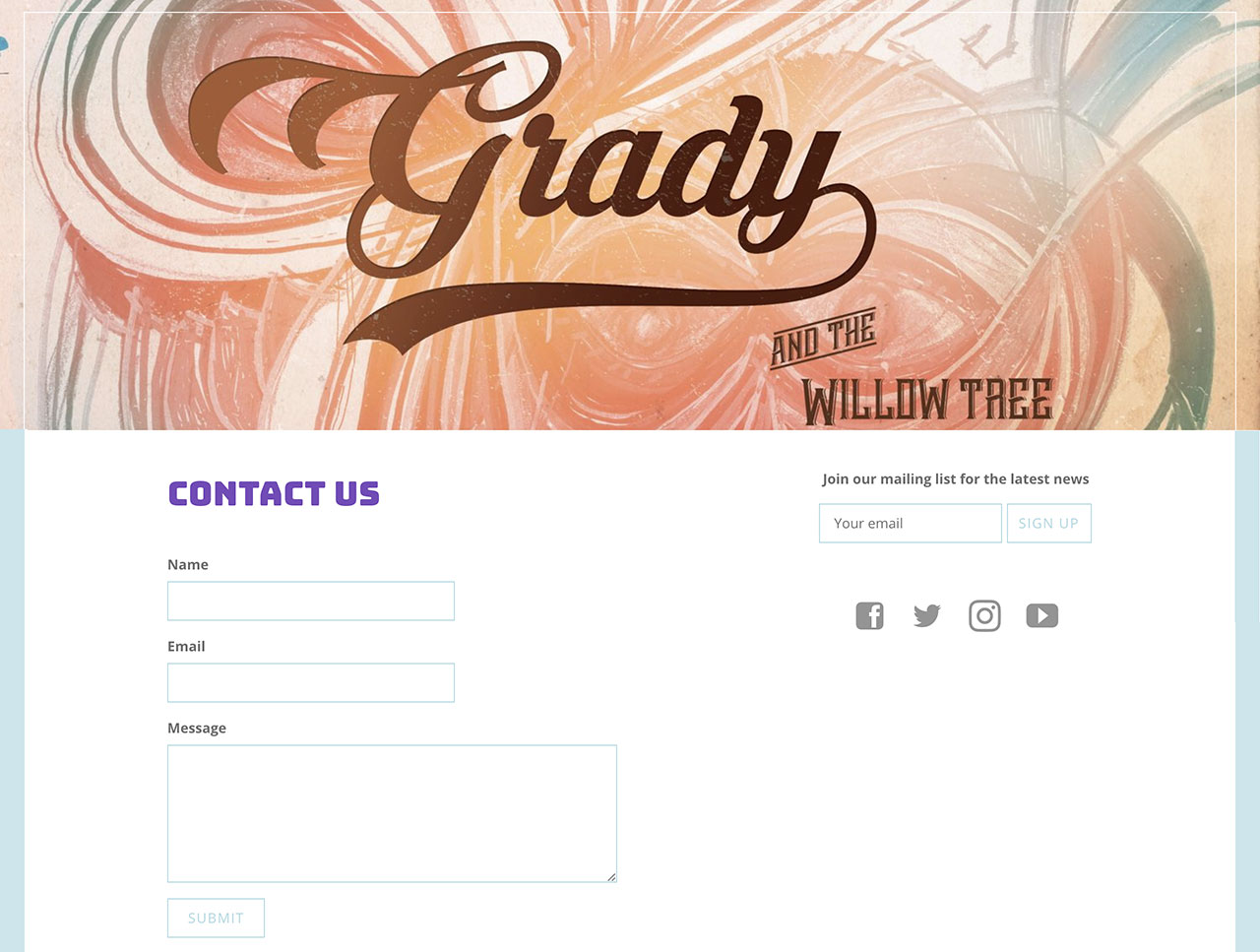 If you stick to these main pages you'll have an awesome rock music website design in no time! These website examples should give you a blueprint, but you can see even more on our Examples page, and the Beautiful Band Websites section of our Blog. If you need a bit more guidance check out our free online guide How to make a website for your music
Why not share this with your friends?
Build a stunning band website and store in minutes
Promote your music on your own unique website.
Sell music & merch directly to your fans. Keep 100%.
Grow your fan base with built-in marketing tools.