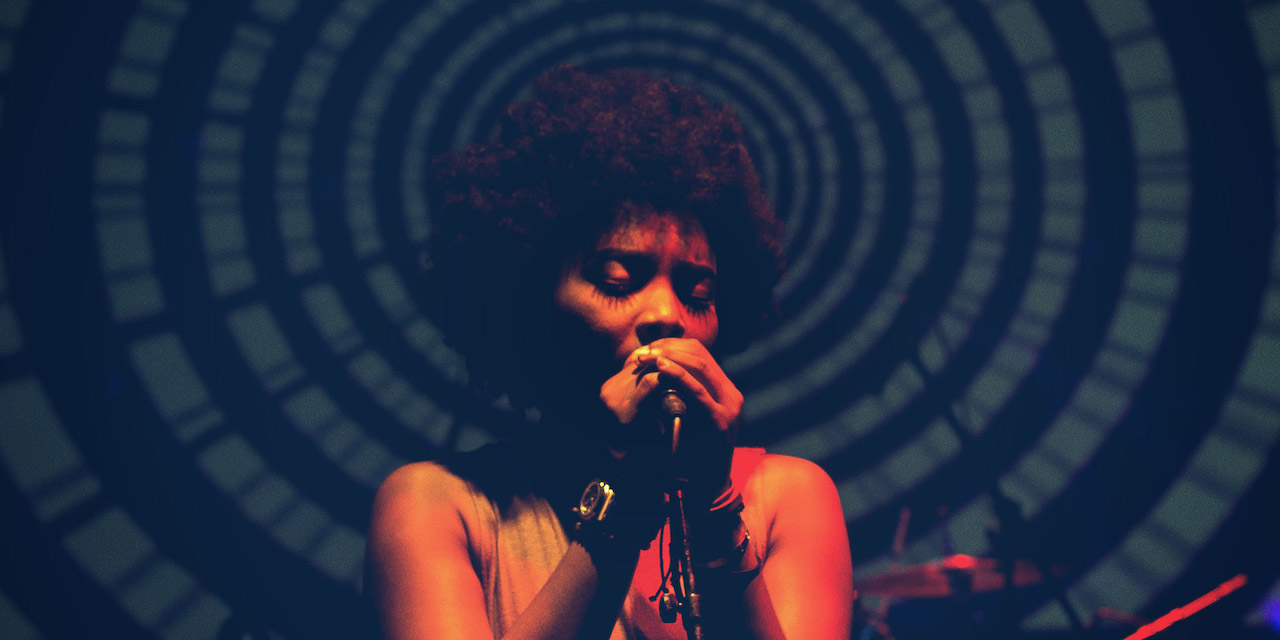 Pop music is mainstream, but your pop music website doesn't have to be. Regardless if you power pop, pop rock, bubblegum pop or any other type of pop, your website can be as unique as your voice.
If you're worried that it's too difficult, let us put your mind at ease. Our pop music website templates are easy to work with. You don't have to have any special coding skills. In this post we'll go over the common pages you'll need and how to get it set up.
Home
Pop is the genre that everyone loves to love. The music is catchy and the artists are stylish. Your website homepage is the equivalent of your onstage entrance at a live performance. It's got to be exciting and inviting.
The image you use in your header can make or break your website. A bad image can create a negative impression of you. Instead use a professionally taken image like that of pop singer-songwriter, Justin Brown.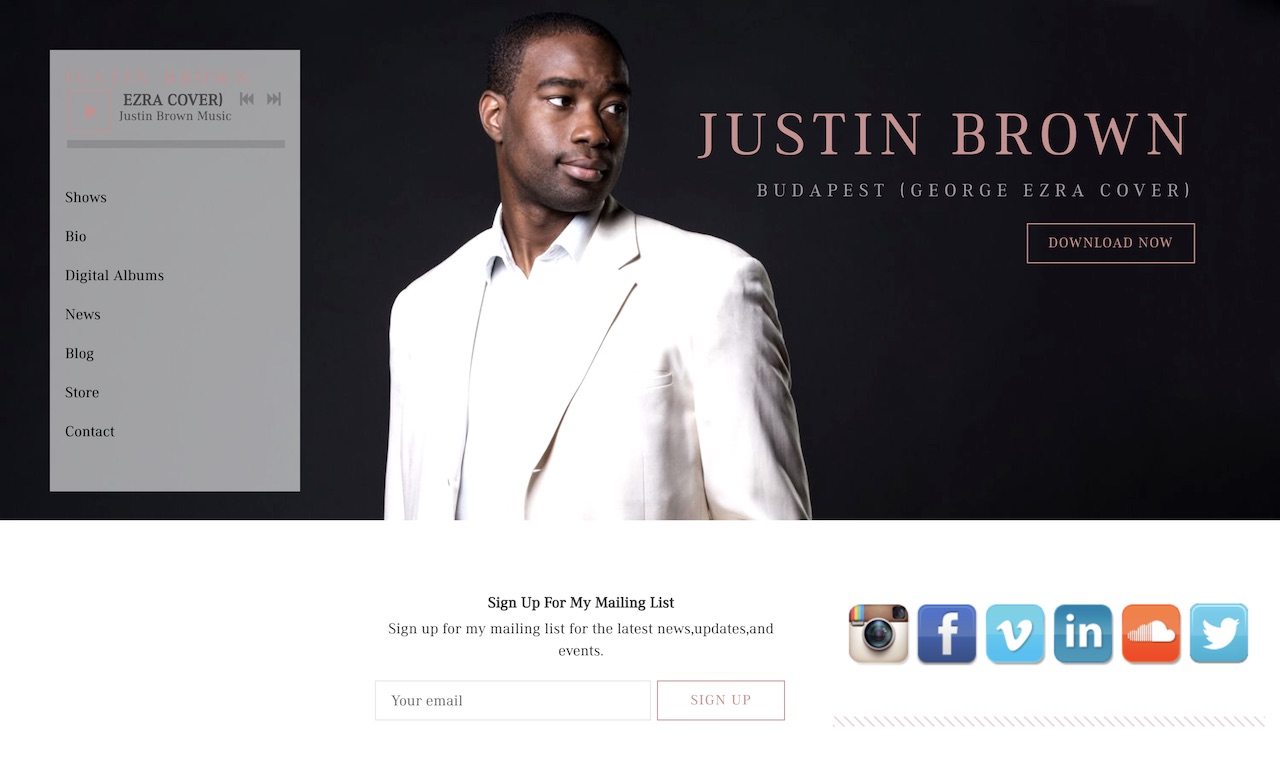 He uses a high-resolution image so it looks crisp and clear. His header title is also easy to read and the colors work well together. Another element to add is a call-to-action (CTA). A CTA is an action you'd like fans to perform when they hit your site.
On Justin's website his CTA is asking fans to download his new song. With our built-in CTA option you can add anything you'd like to the header area.
About
Everyone wants to be a popstar but not everyone has the talent for it. Fans live vicariously through those who do. They're enamored with the life of a performer and hearing day to day details of a musician.
An about page is a great way to include your fans in your musical journey. Pop icon, Tiffany, gives us an example of a great bio page.
She highlights her major accomplishments, what she's working on now, and weaves in personal details throughout. A full bio is especially important for media purposes. When you have a full page bio it gives industry professionals a lot of information to use for things like blog articles and interviews.
Music
Pop is a genre you can't get enough of. Make sure you fill the page with many songs for fans to listen to. Pop band Waking Ugly does it right on their music page.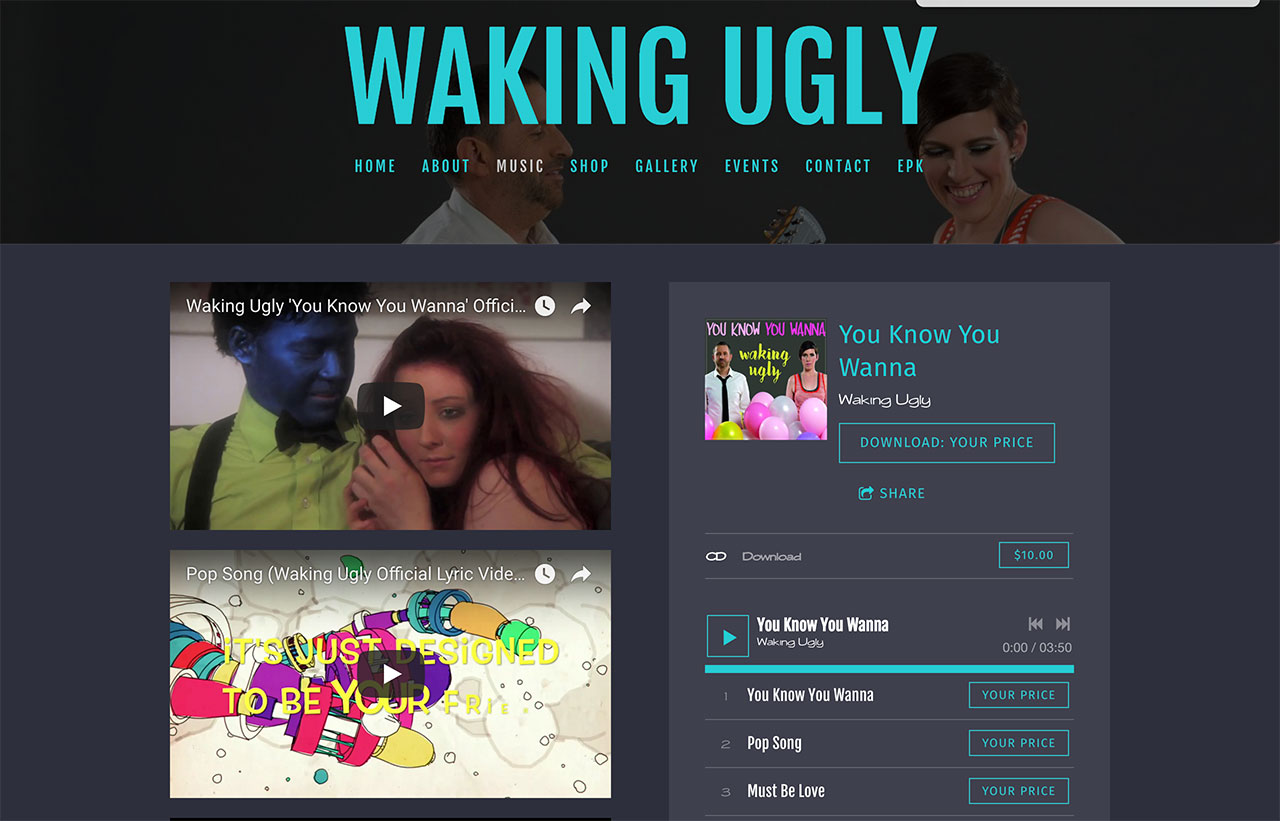 If you have more than one album, add your full discography to the page. That shows fans you've been around for awhile and have lots of content. Another idea is to add videos to the music page as well. This gives fans the opportunity to see you in action while listening to your music.
Sell your music directly from your website with our built-in music feature. You can set any track or album to free, free in exchange for email address, fixed price, or pay-what-you want (where fans choose a price.)
[How to promote and sell music online using Bandzoogle]
Events
Pop shows are fun! Make sure fans know where to find you with an events page. Provide details of the date, time, and venue for the show.
You can also sell tickets from your website. This option will send fans a printable ticket and you'll get a guestlist to give to the door person at the venue.
An events page is also great to display non-traditional events. Myles Erlick is not only a pop singer, but also a dancer and actor. He's currently the series lead on Family Channel's "The Next Step".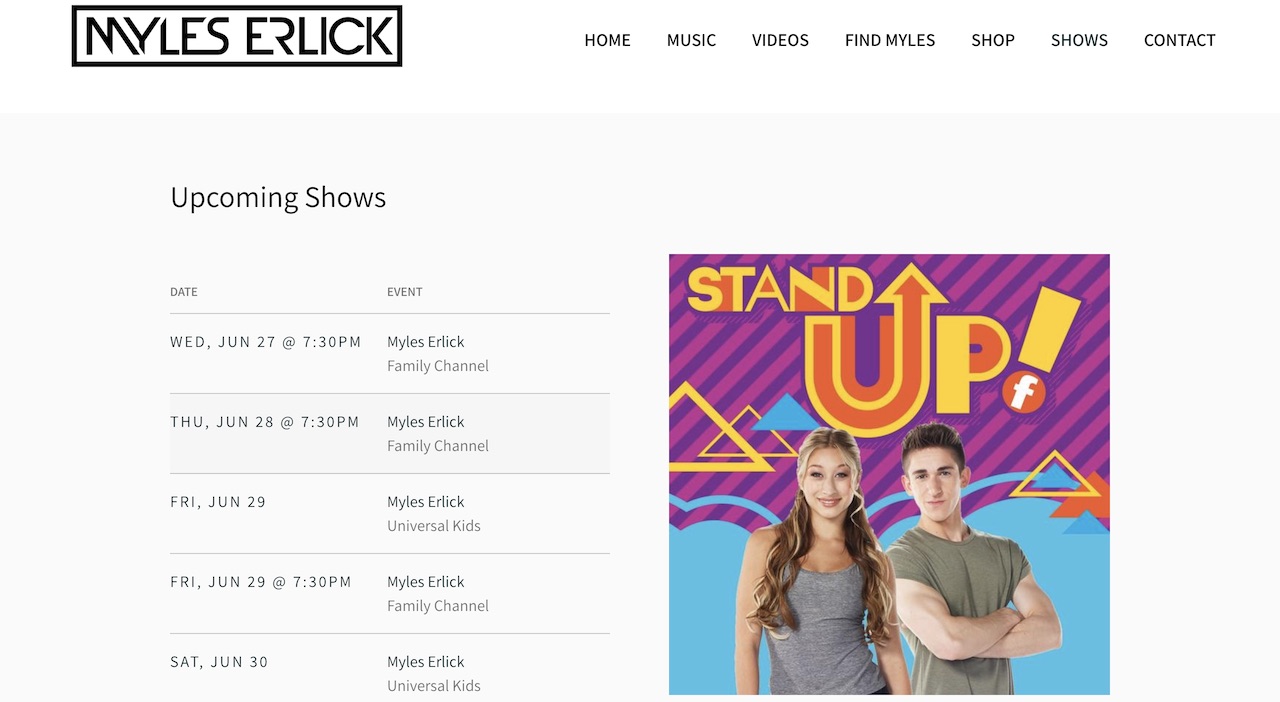 This isn't a live performance, but he still wants fans to watch it. Using the events feature, Myles let's fans know when they can see the show.
Create your own pop music website that's mobile-ready and easy to update anytime! Try Bandzoogle free today!
Store
Being a full-time musician requires you to make money in various ways. Besides music and event ticket sales, you can also sell merch. Popular voice-over artist and singer, Samantha Newark, makes the most of this on her shop page.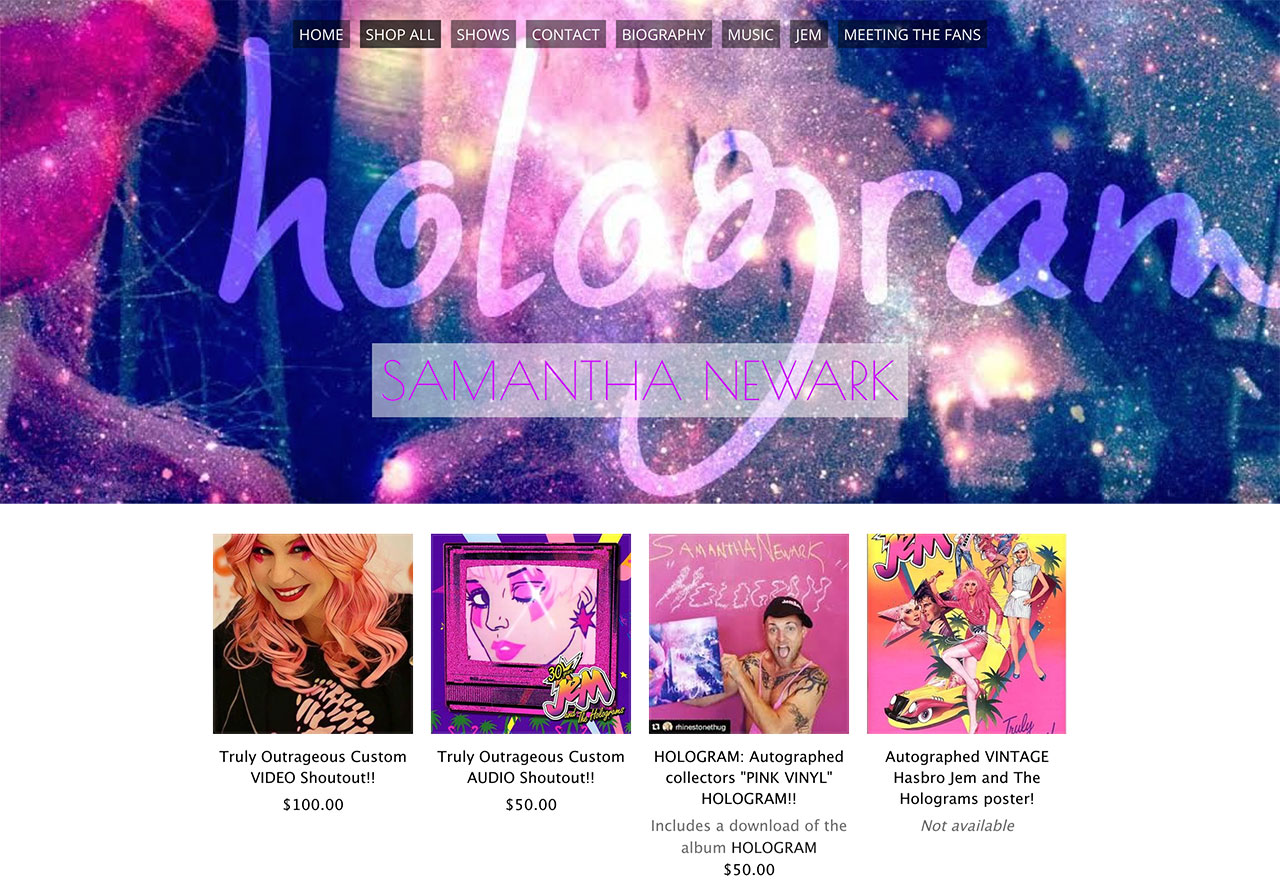 Samantha has a cult following from her voice-over work on "Jem and the Holograms", "Transformers", and feature film "Hook". Fans are crazy about these shows, so she has items that make them feel included. She offers autographs, shoutouts, posters, memorabilia and more.
You don't have to be part of a feature show or movie to offer cool things to your fans. Consider offering t-shirts, hats, and stickers with your logo. Super fans love being part of the crew and will gladly show off their loyalty with your merch.
Photo/Video
Fans enjoy seeing what you're up to. Having dedicated photo and video pages gives them something to view.
Pop pianist and singer, Elisa Kate, gives fans plenty to look at with the various slideshow photo albums on her gallery page.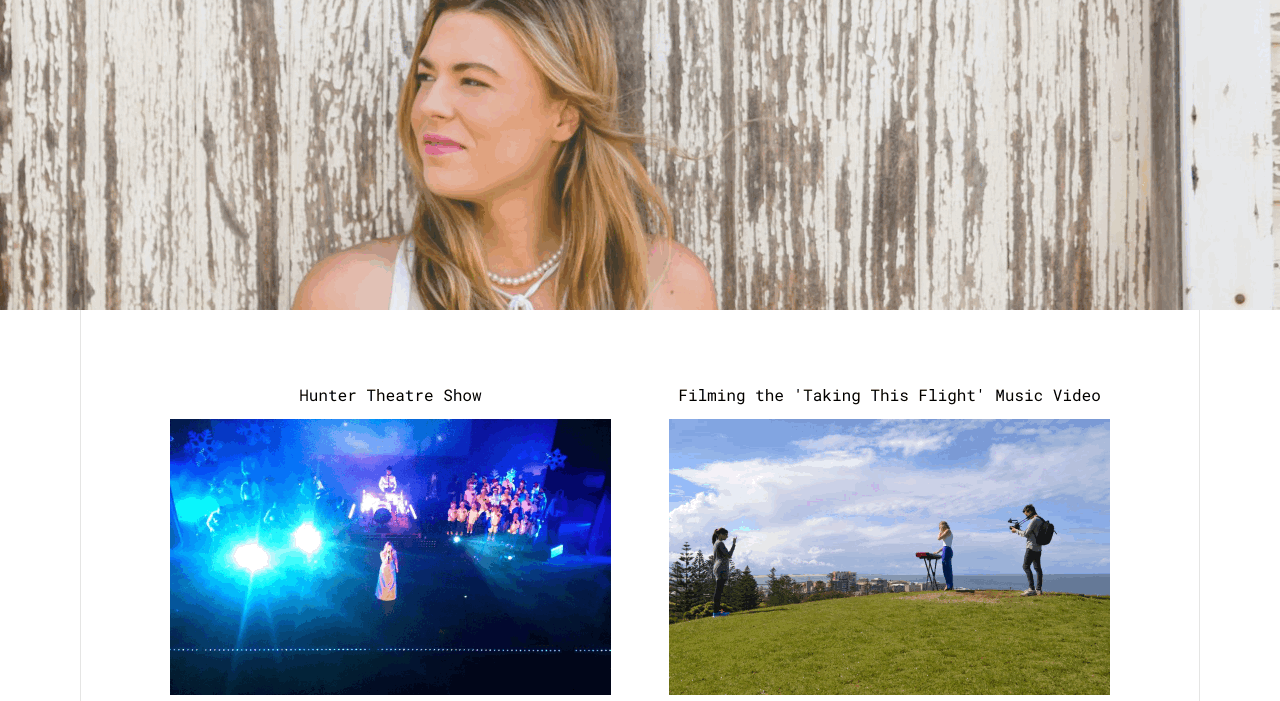 Each photo album is from a different show, photo shoot, or music video taping. Using the slideshow option makes the page visually interesting. Other options include grid or tiled view for a more uniform look.
Press Kit
Pop performers are in high demand because the music appeals to so many people. Promoters, venues, and industry pros search online to find new acts for different productions and events.
If they happen to hit your website, you want to make sure it's easy to find what they're looking for. Because they're looking at many artists and bands they have limited time. This is where an electronic press kit (EPK) comes in.
An EPK is one page on your website with a summary of who you are and what you do. We can see a great example on the press page of pop/folk songstress, Sonali.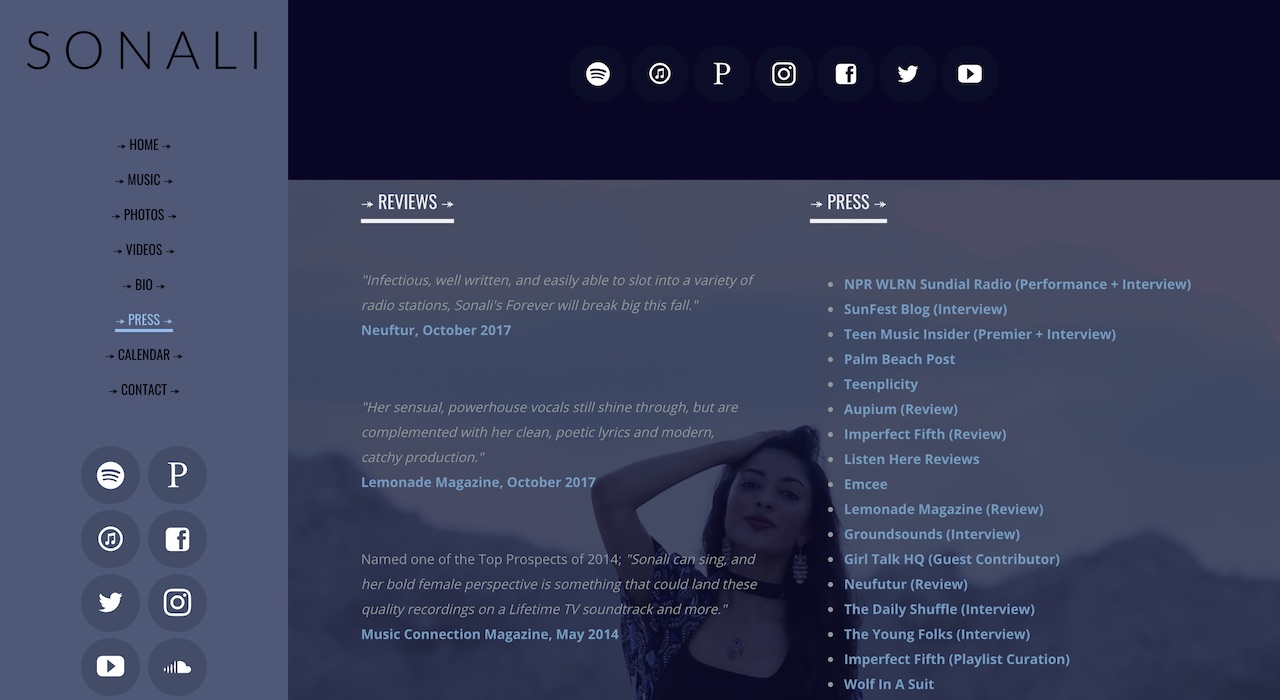 An EPK page should include a short bio, a couple of hi-res images, a video, a few of your best songs, and some press quotes. You'll also want to include a custom form so they can get in touch with you for more information.
Contact
The last page on a successful website is the contact page. Here you'll want to include a custom form that asks for name, email address, and message. This will get sent to your email inbox so you can reply to the sender. You can also include another mailing list signup form as one last opportunity for fans to get on your mailing list.
With any pop music website design on Bandzoogle you can include a video header. This is a good way to add more movement to the website. Pullman Standard gives us a cool falling fireworks type video. It makes even a mundane contact page look exciting!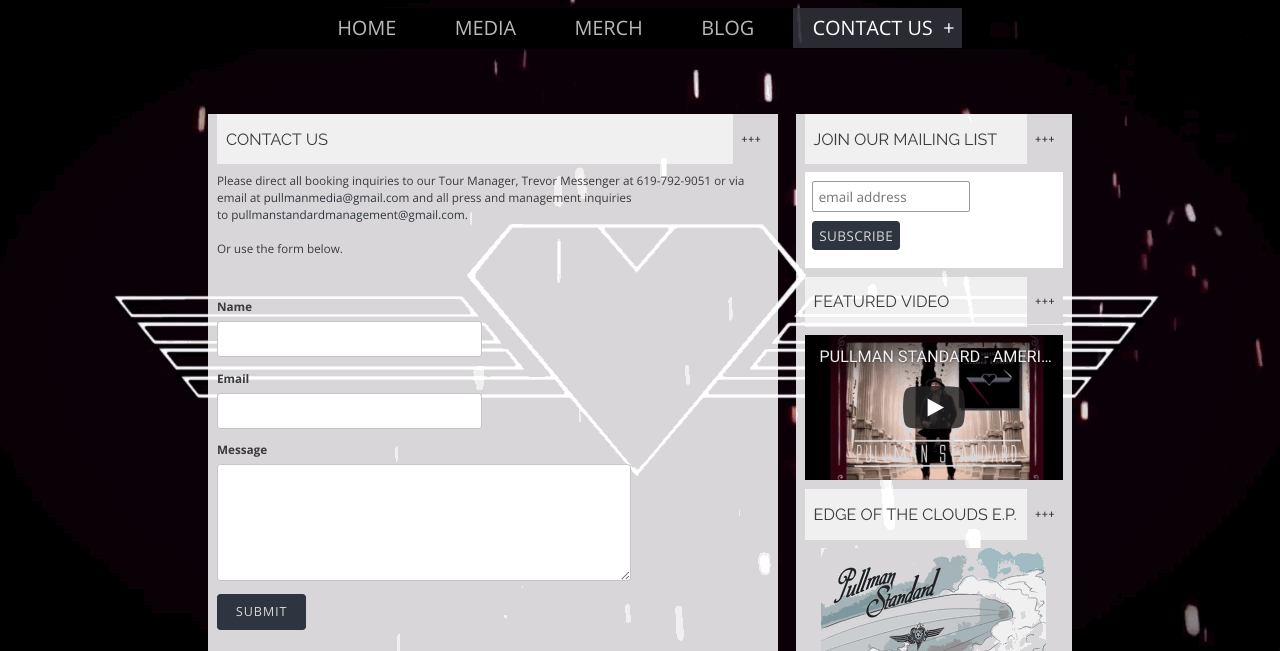 These website examples should get you going in the right direction, but if you want more (and who doesn't, right!?) take a look at our Examples page and the Beautiful Band Websites section of the Bandzoogle Blog. For more details on how to build a stellar music website check out our online guide How to make a website for your music. Before you know it, your pop website will be up and running for the world to see!
Why not share this with your friends?
Build a stunning band website and store in minutes
Promote your music on your own unique website.
Sell music & merch directly to your fans. Keep 100%.
Grow your fan base with built-in marketing tools.