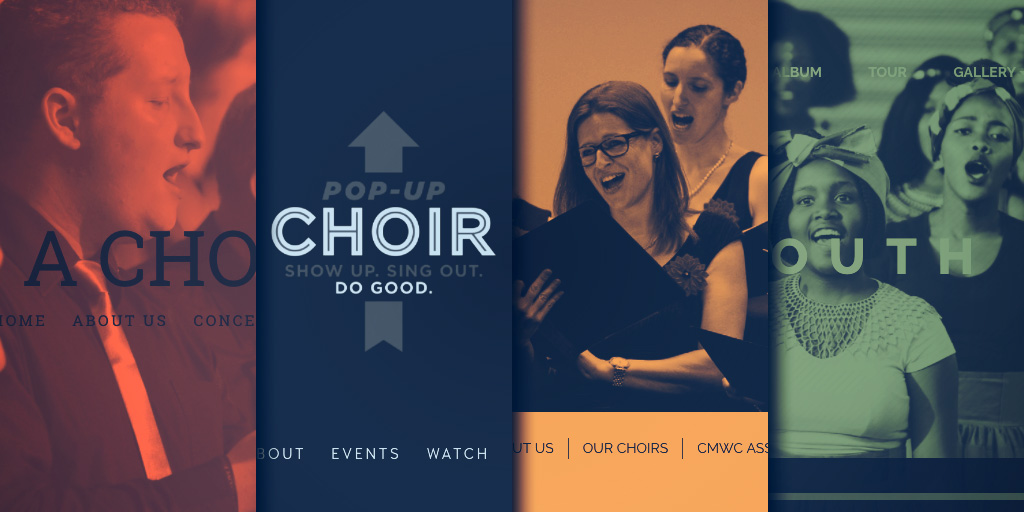 From a young age choir holds a special place in our hearts. It's where we started learning about music theory, harmony, and teamwork. What starts out as a high school elective can quickly turn into a lifelong love. The way the music comes alive with many moving parts gives a larger than life sound that can't be beat!
Blending voices is the fun part, but you also have to think about the business side as well. How do you get your choir out there for people to hear? This happens with promotion, and having a website can help. With the right choir website design you'll attract fans and clients to you. Let's take a look at what you'll need to get started.
Homepage
When you're checking out choir website templates, you'll want to make sure it offers a large header image to show off the whole choir.
A Choired Taste gives us not one, but four beautiful header images on their choir website. With our slideshow header option you can add up to five rotating images or even a video in the header area.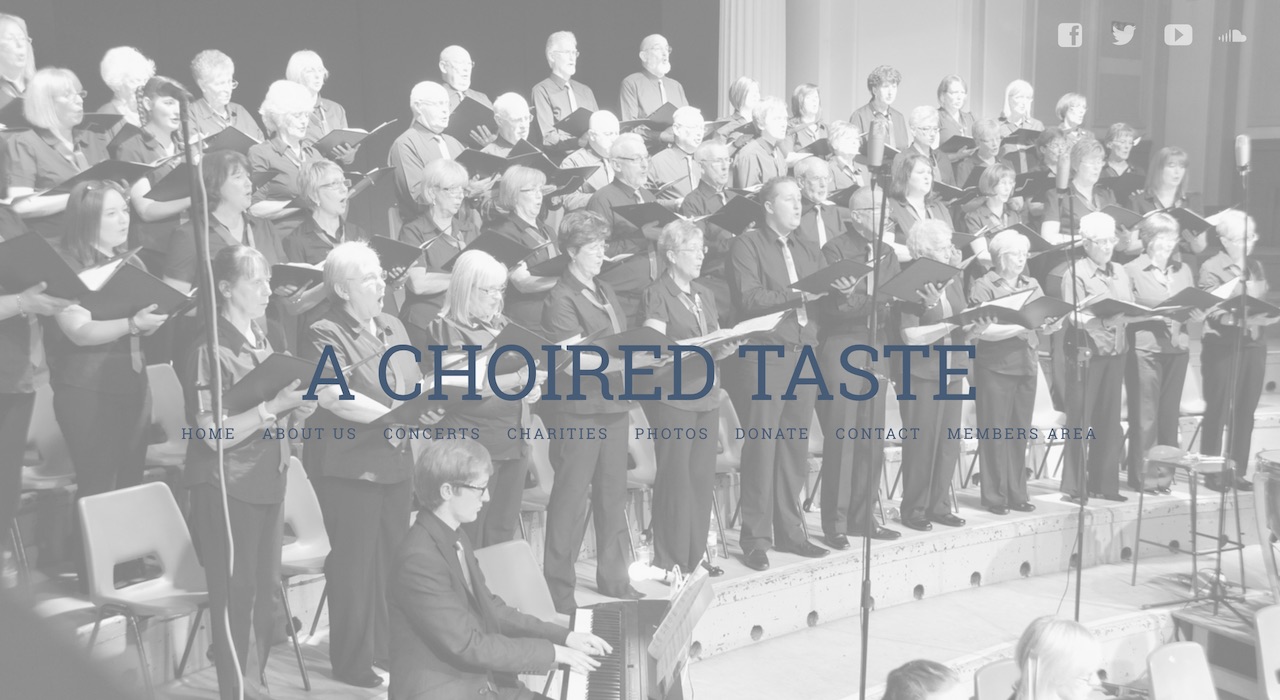 In addition to a stand out header image, the homepage needs a mailing list sign up form, some latest news, and a video sample of your choir performing. If your choir has won any awards, it's also a good idea to put the accolades at the top of the content area. This makes your choir stand out above the rest.
About
People love to read behind the scenes stories, so make sure your website has a substantial About page. The Naramata Community Choir does a great job here on their 'Our Story' page.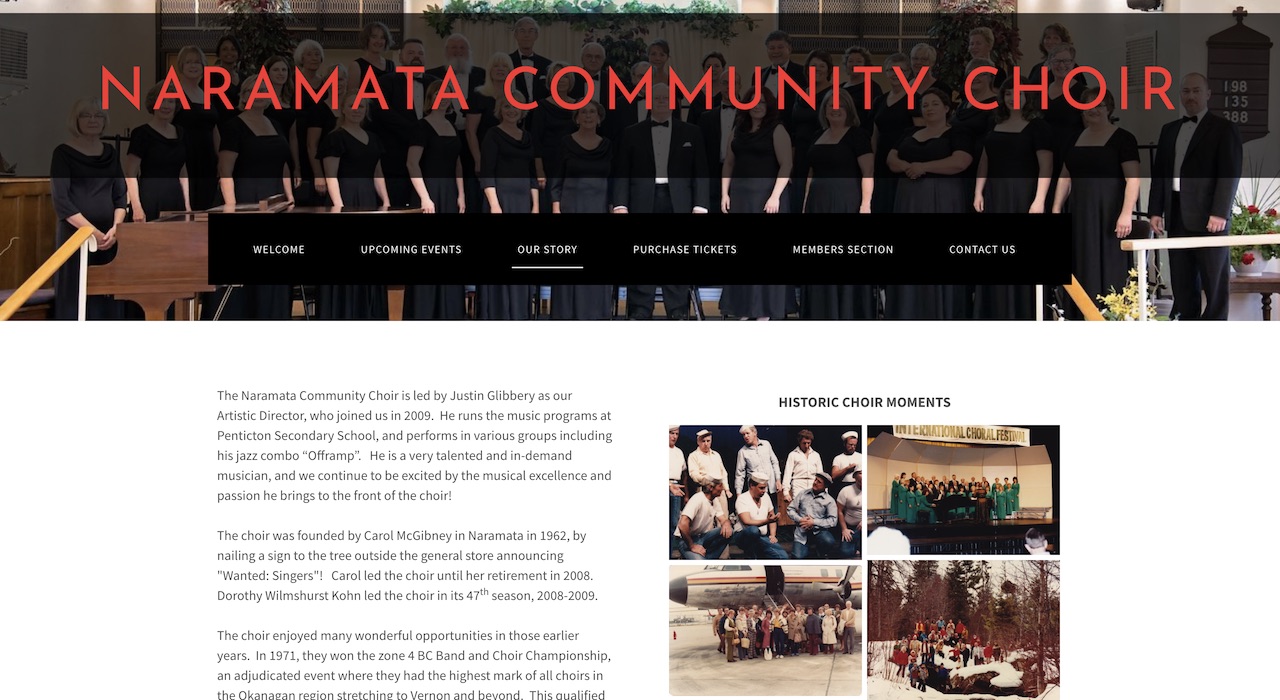 They start with the origin of the choir, note special highlights and end with current events. We also love that they've included images of historic choir moments. This gives visitors a look into the choir's journey over the years.
A successful About page is written in third person. This is more professional and also makes it easy for media professionals to use parts of it for articles and blog posts.
Create your own choir website that's mobile-ready and easy to update anytime! Try Bandzoogle free today!
Shows
After all the practice sessions, it's time to blow your audiences' socks off! You'll need a Shows page to let everyone know where they can watch the performance. A shows page should be organized in an easy to read format. It will include all the pertinent information and a nice event image.
To get the ball rolling, sell tickets right from your website. This is easy to do with our built in Events feature with ticket sales option.
The Bristol Hippodrome Choir is a great example of how to get the most out of their events. They sell regular tickets as well as options to purchase concessions.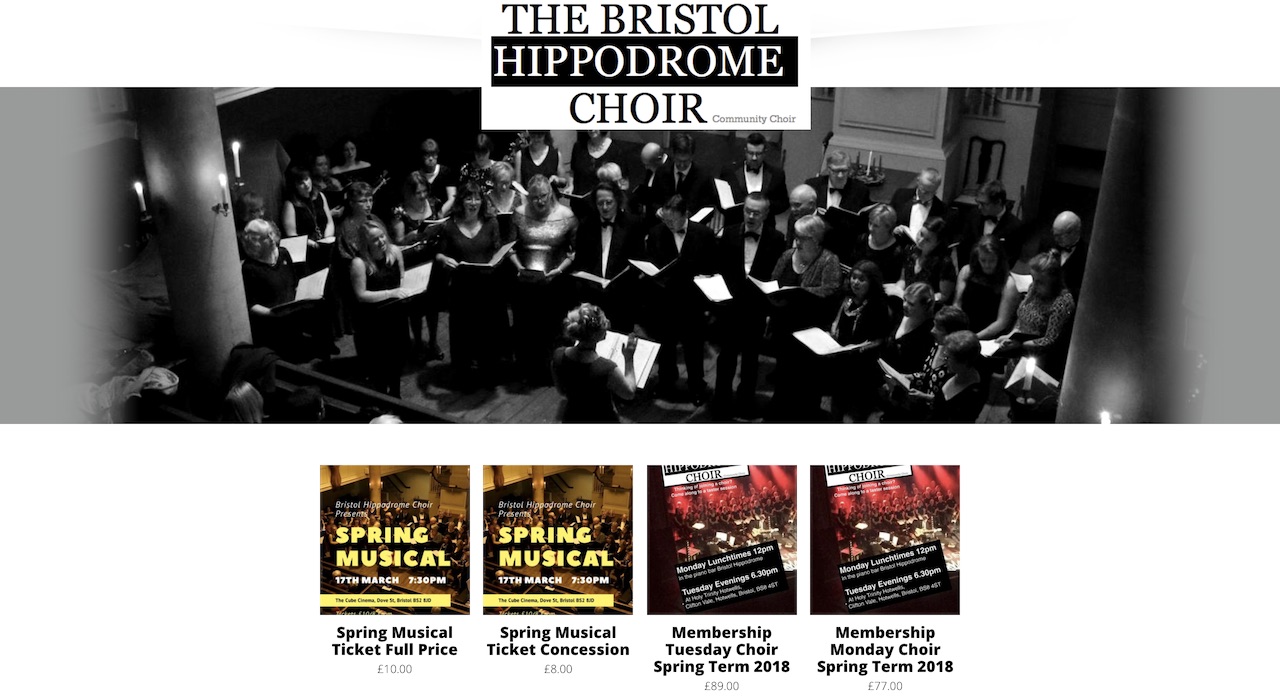 Another way to use the ticket feature is to sell memberships to join the choir. This makes it easy to collect member dues each year as well.
[How to set up an Events Page on your Website & Sell Tickets Online]
Music/Store
After seeing your show, fans will want to replay the experience over and over again. Give them what they want by selling your music online.
Ghostlight Chorus makes it easy to buy both digital and physical items from their Store page. The built-in music feature allows fans to preview songs before they buy.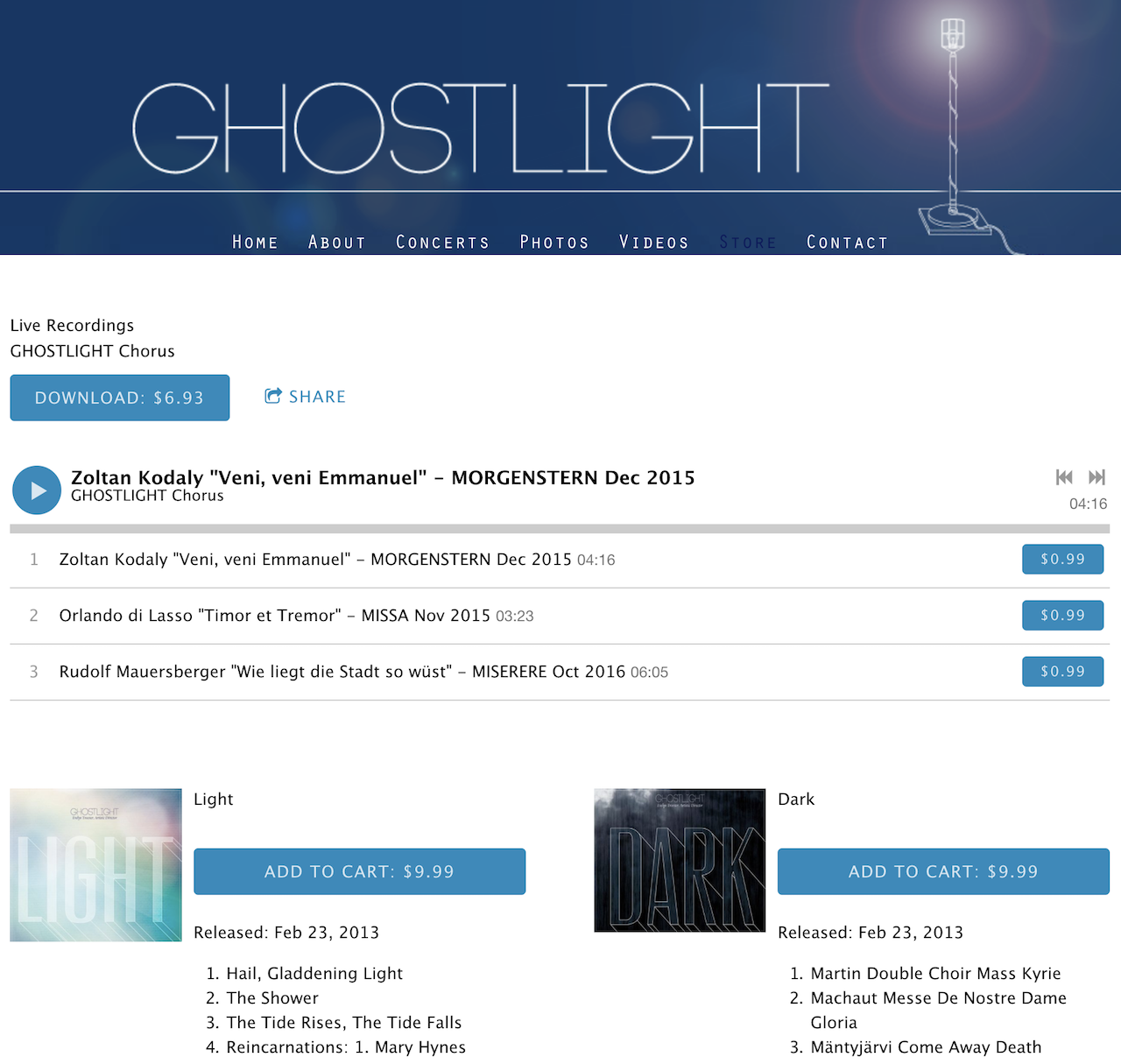 The store feature allows them to purchase the physical CD as well. You can sell any type of merch you'd like. Consider selling sheet music, t-shirts, or even videos of your performances.
[How to Create a Store Page to Sell Music & Merch on Your Website]
Photos/Video
With so many choir members, there's lots of opportunity for fun! A photos page shows all the great moments at practice, on the road, and at events. You'll also want a section for promotional photos as well.
A photos page is also a place for to highlight members. The Ndlovu Youth Choir has some excellent group and individual member images on their gallery page.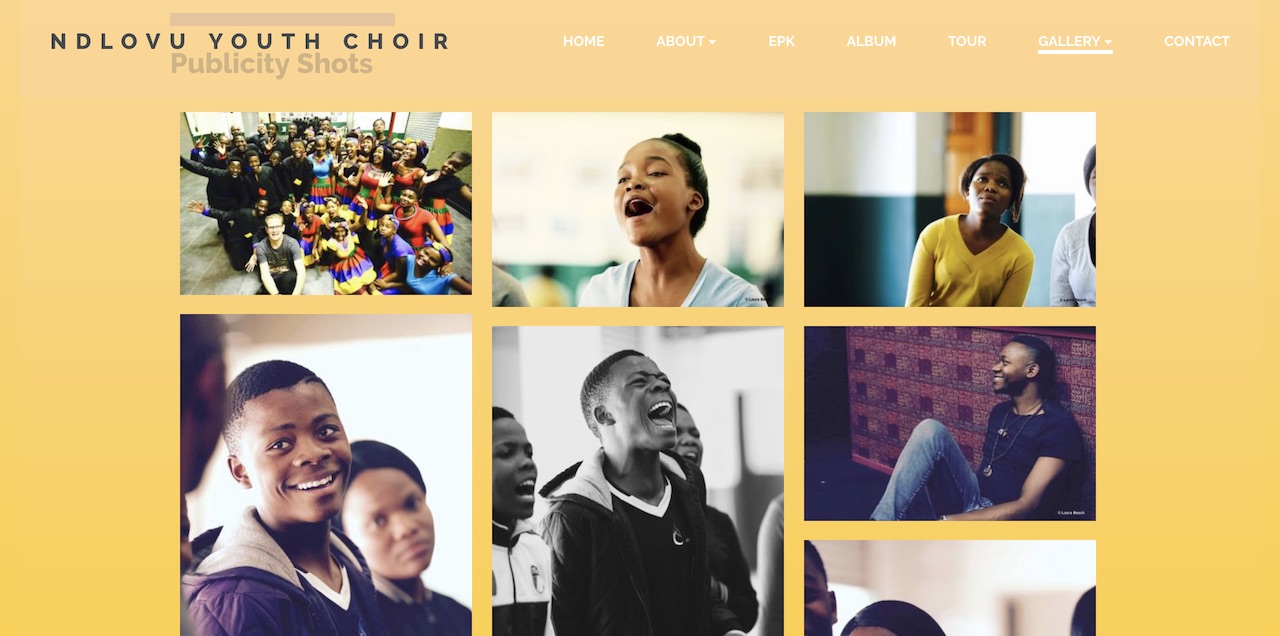 Photos are awesome, but there's nothing like video to liven up your website. Pop-up Choir is a unique experience that brings all voices together for the love of music and community. To share the adventure with everyone, they recorded the event and put the video on their website.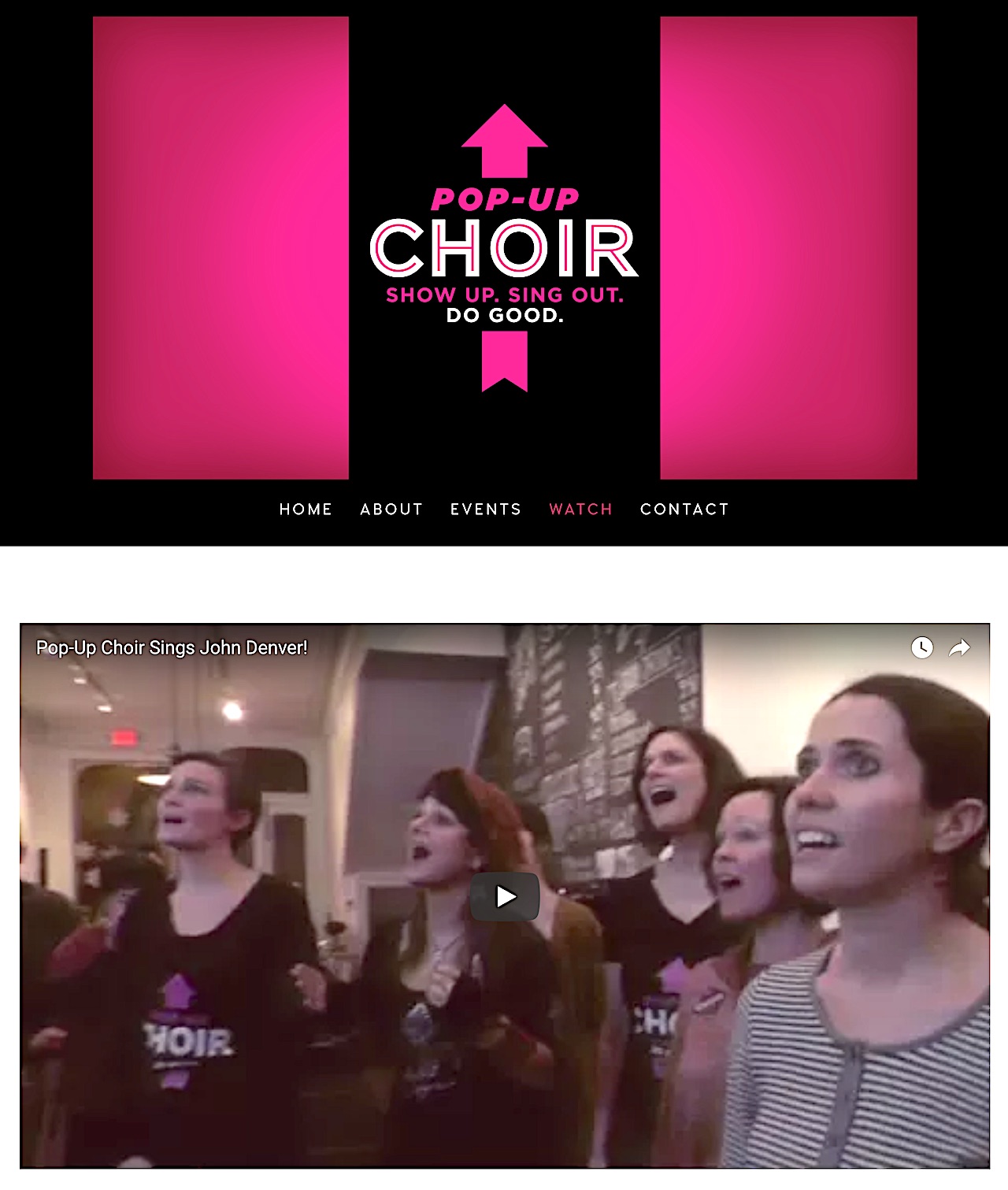 Video is also a great way to get noticed in search engines like Google. Video results index higher on the page so adding a variety of videos to your site is a great idea.
Support
Choirs bring joy to many people, but need community support to stay afloat. As the saying goes, "If you don't ask, the answer is always no," so ask for help! You can do this with a donation page.
We love what the Canadian Military Wives Choir has done on their support page. They provide a short note then a donation button for those who are able to help. They've also included sponsorship levels to encourage larger donations. Those donors are recognized on the page as key sponsors to the choir.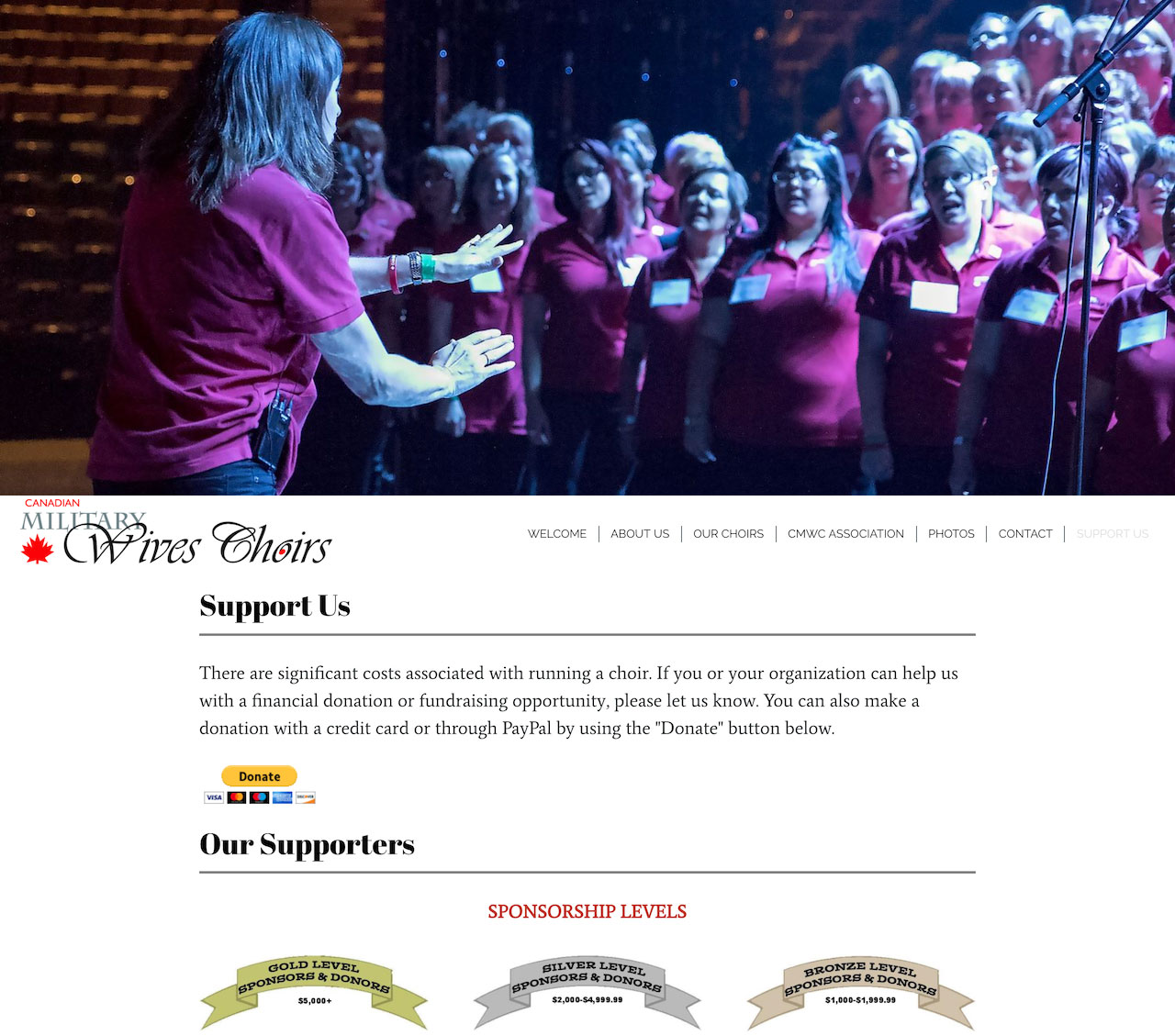 Members
All the previous pages are for the benefit of your visitors, but what about your choir members? We've got you covered there also. You can set any page to 'members only' and password protect it as well.
The West Coast Mennonite Men's Choir highlights their members page using parentheses in the menu tab. Once clicked, there's a login field to enter the member password. The website administrator can use this page to show the choir calendar as well as add updates, photos, and documents for choir members.
Now that you have an idea of what to add, it's your turn to create your own choir website! For more design inspiration, check out our Website Examples page and the Beautiful Website Templates category of our blog.
If you need a little more insight we recommend checking out our free online guide How to make a website for your music. Once you get started you'll see how easy it is to make an awesome website for your choir!
Why not share this with your friends?
Build a stunning band website and store in minutes
Promote your music on your own unique website.
Sell music & merch directly to your fans. Keep 100%.
Grow your fan base with built-in marketing tools.