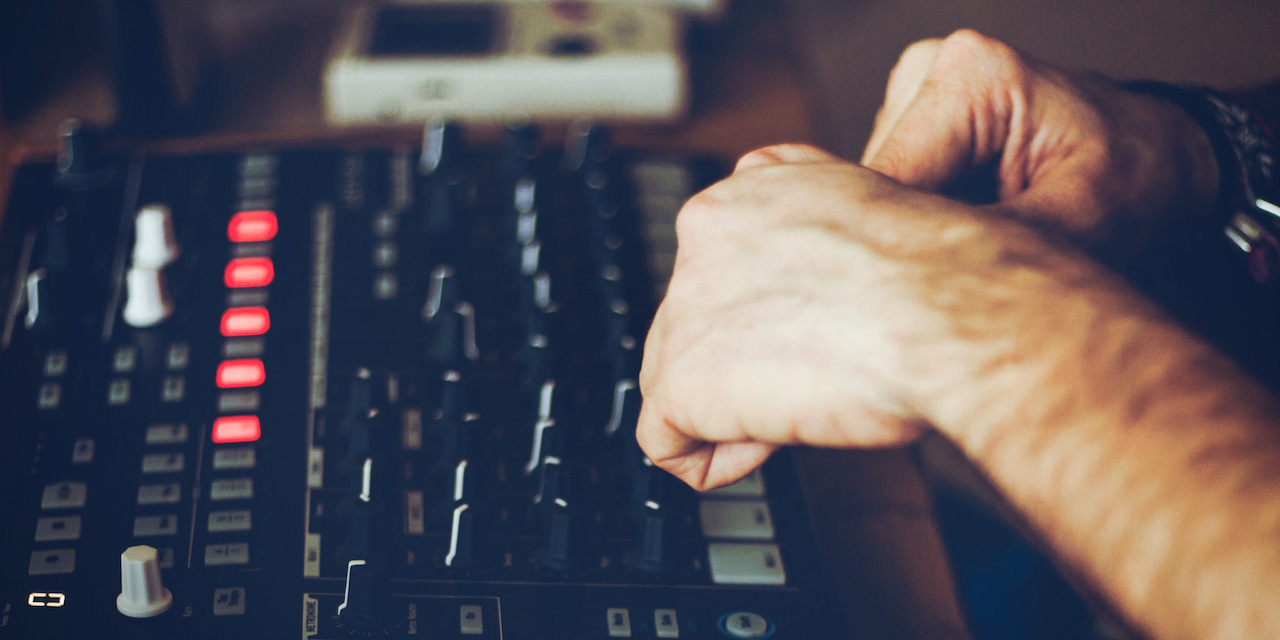 There are a lot of beat makers out there, so it's vital that you shine a little brighter than everyone else. The wrong way to do this is by spamming your social media feeds. The right way is by consistent professional action.
One way to start is by setting up your own beat maker website. It's ok if you don't know how, we're here to help!
A great way to get a sense of how your website should be set up is by studying other beat maker website designs. Let's go through a few here so you can see what features are most important for your beat selling business.
Home
Getting people to visit your site is important since the focus is on you and your music. Once they get there you want to do three things -- make a good impression, get them engaged, and make it easy to get around on your website. Here's how:
Make a good impression
Your header image is your introduction. Have a large image of yourself so they start associating you with your beats. You are your brand, so help visitors get familiar with you. If you'd like to stay a bit more anonymous, you can use an abstract image instead, but make sure it looks professional.
Another great option is to use a video header like that of Digital Beatz. This makes your website come along with movement at the top. With this option you can add a new video per page or a mixture of images and videos.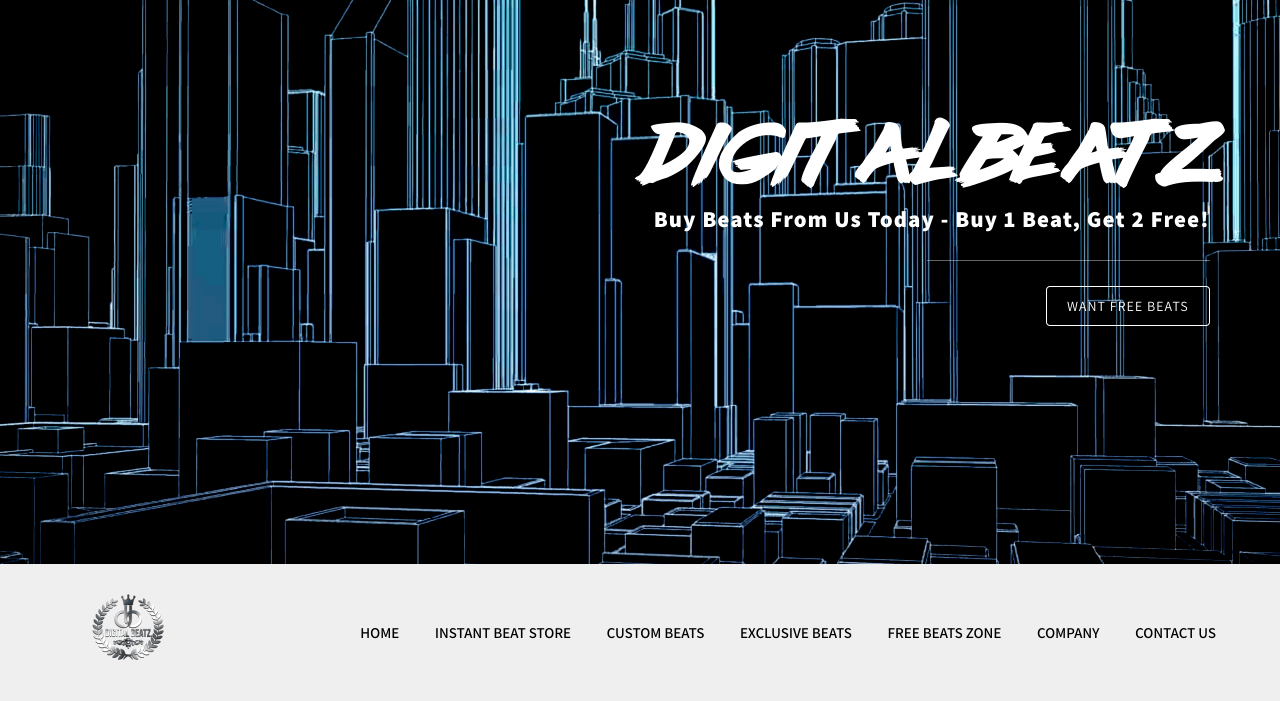 Get visitors engaged
Every homepage needs a call-to-action (CTA). A CTA gives direction to the visitor of your website. It can be something like "Buy my latest beat", "Sign up to my mailing list", or "Visit my services page."
Here's a good example by Rothschild the Architect. His CTA header says "Lease Beats Today" then links to his beats page so visitors can make a purchase. The CTA allows fans to interact on your website so they are involved with your content.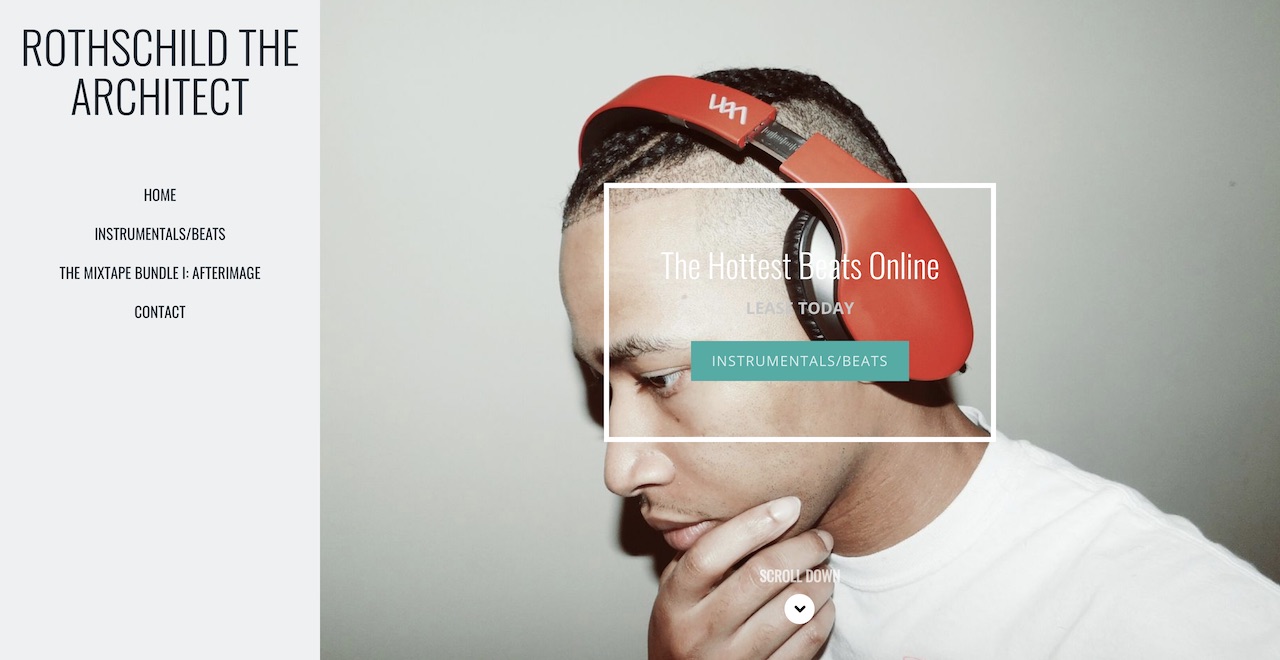 Make navigation easy
To keep people on your website, you need to have interesting content and a pleasing layout. The first way to do this is with an organized navigation bar. The menu should contain eight tabs or less. When you have more than that it becomes too overwhelming and most people won't take the time to go through a bunch of pages.
The second way to achieve an enjoyable experience is by keeping it super simple. In this example by YouTube music producer, Sharpe, he uses a one page design. All the relevant content is on the same page so it's easy to see everything at a glance.
With a one page design you'll want to keep content focused and to a minimum so there's not too much scrolling for the visitor. You'll also want to create a varied look using styled sections. With this option you can place different colors or images behind different content.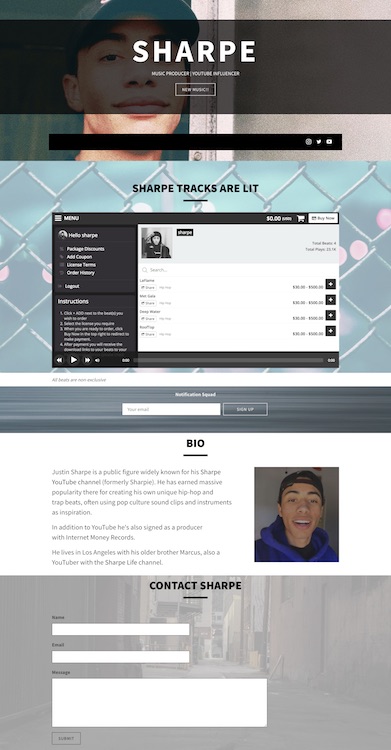 Build a professional website to sell beats in minutes and keep 100% of your music sales. Sign up free with Bandzoogle now!
About
Even if you'd like to be a behind the scenes producer, people still want to know about you. Add an About page and write a short blurb about how you got started, what you're working on, and your future goals.
It's even better if you extend the bio to several paragraphs. In addition to the above, add information on any accomplishments, collabs, album placements and the like. Shaun from Unbelievable Beats gives us an example of a robust bio with lots of excellent information.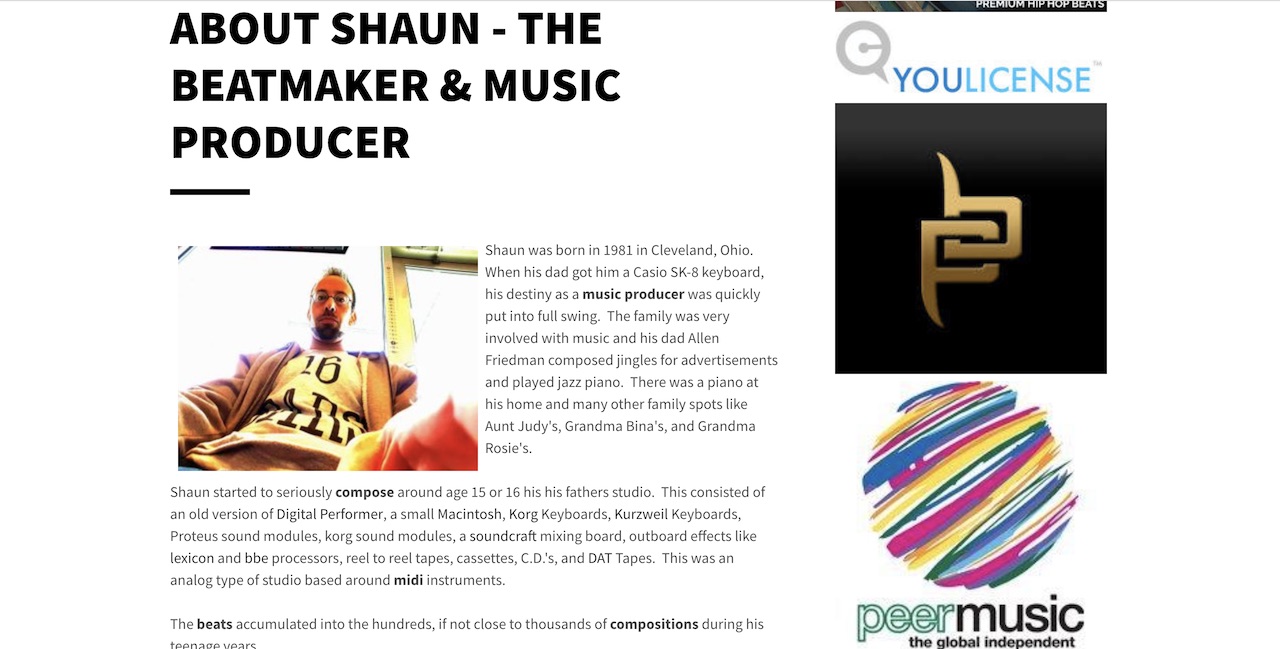 Beats
The star of the show is going to be your beats. They should be easy to access and easy to purchase. There are several ways to display beats on your website. The choice with the most options for beat makers is through our Airbit feature.
If you have an Airbit (formerly MyFlashStore) account it's easy to set up on your website here. Just enter your Airbit login and the store will skin nicely with all our beat maker website templates.
The next option is to use our built in music feature. You can see an example on the Legacy Beatz website. The music feature gives you option to give beats away for free, free in exchange for email address, a pay-what-you-want option, or a set price. You can share your beats directly to social media from our music feature as well.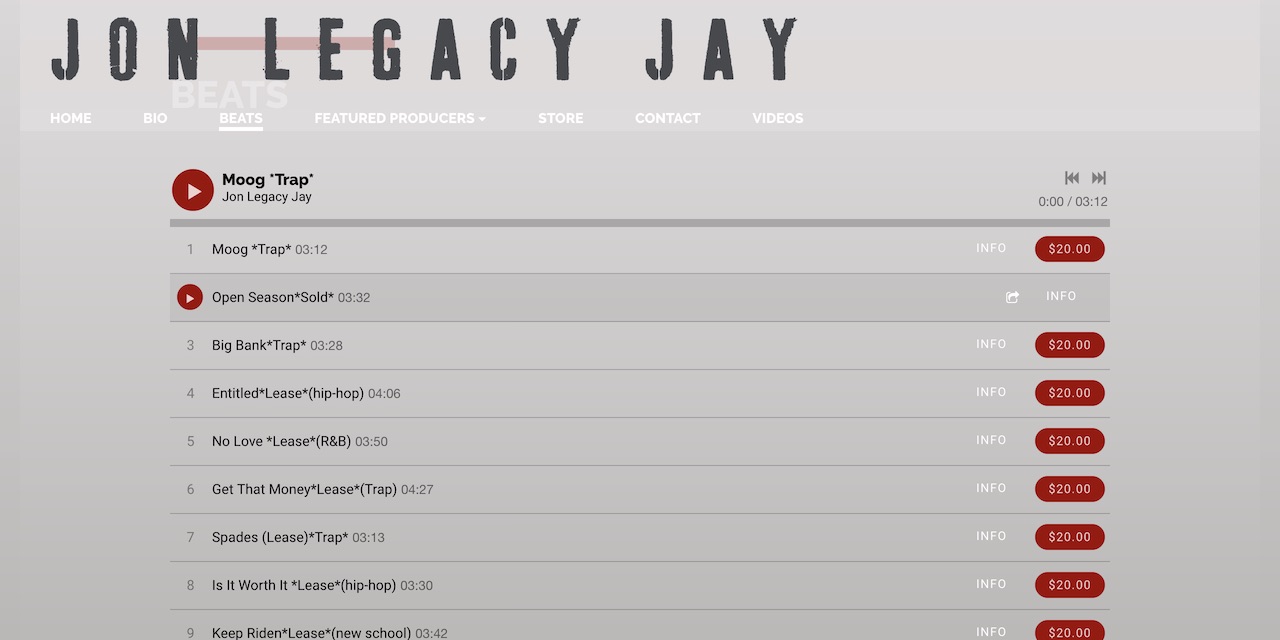 [The 6 best websites to sell beats online]
Store
Another way to make money is by creating sample packs, presets, and drum kits. Anything that makes it easier for other producers or rappers will bring people to your website. Our store feature lets you sell anything you'd like. You just need to supply an image, details about the item, and a price. The customer can add items to their cart and check out easily through Paypal or Stripe.
Take a look at the store page from Juan Beats. It's professional and organized. This is also another fantastic example of a video header.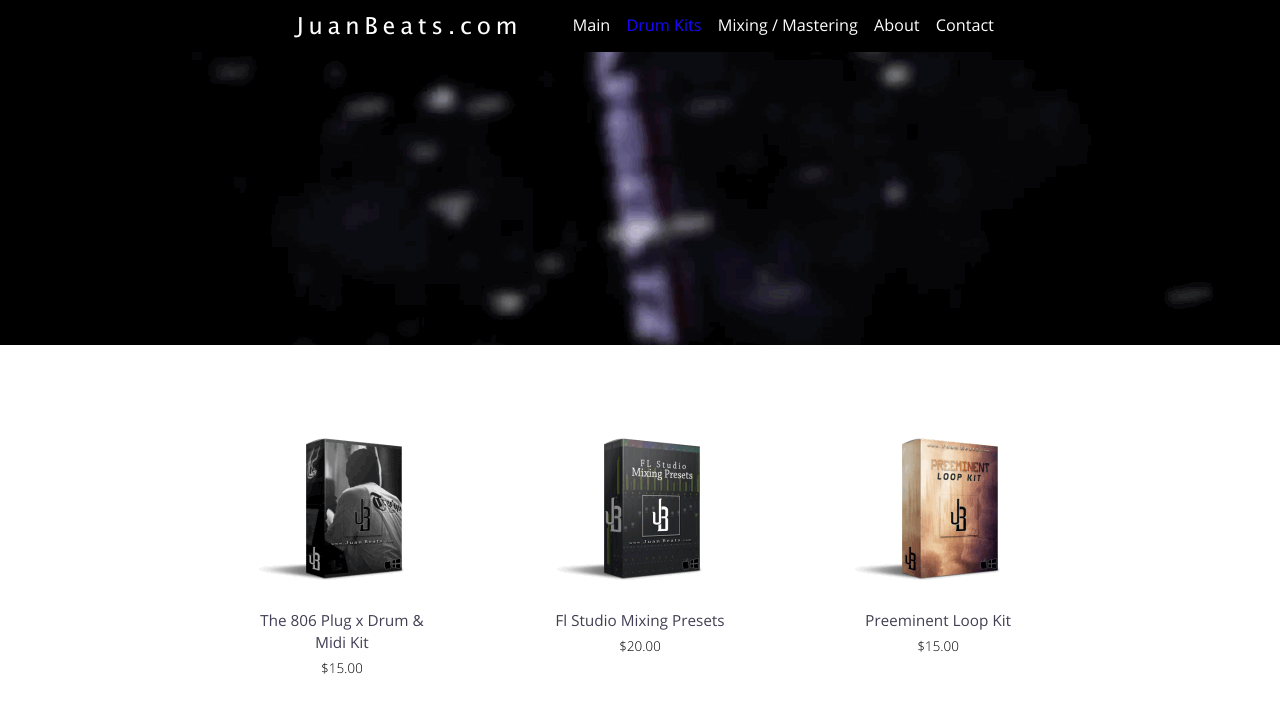 Services
Collabs, mixing, sponsorships, and custom beats are additional services you can provide to make extra money. Our store feature allows you to sell services as well, as seen here on the website of beat maker and songwriter Faro Vibes.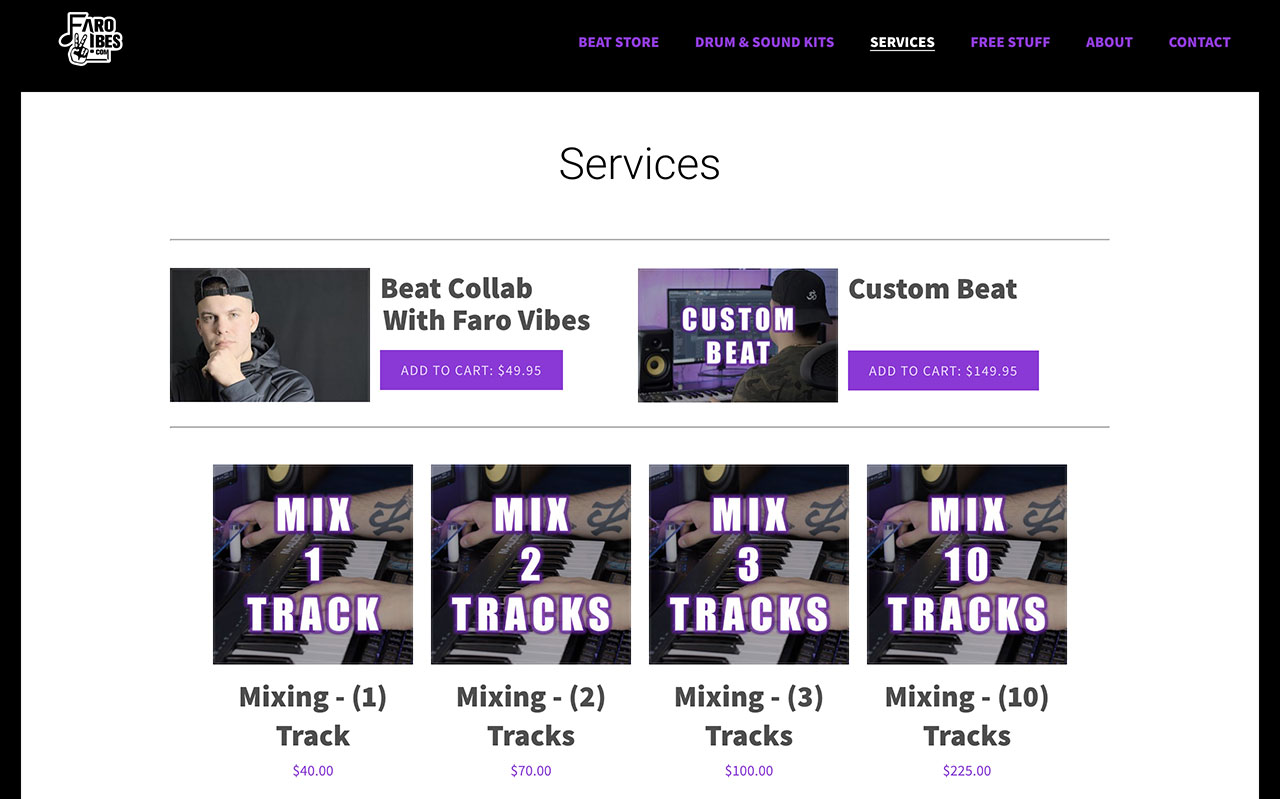 After awhile you may notice people contacting you with the same questions. This is where a frequently asked questions (FAQ) page comes in handy. This will cut down on the same type of inquiries so you don't spend the day answering emails from prospective clients. Serious Beats has a nice FAQ page if you're interested in an example of what types of Q & A's to add.
Contact
Whatever you do, don't forget the contact page! This is vital because visitors need a way, other than social media, to get in touch with you. When someone has a project they're working on they'll most likely have questions before they buy your beats. They may also want to inquire about collabs or partnerships, so make sure they have a way to do so.
Your first thought may be to paste your email address on the page but this is a bad idea. Spam bots surf around looking for this type of information so they can spam your inbox. Instead use a custom form feature. When a site visitor fills it out, it goes directly to your inbox (spam free).
Peaux Beats adds the custom form as well as another mailing list sign up form. This gives fans one last opportunity to get on the list before leaving your website.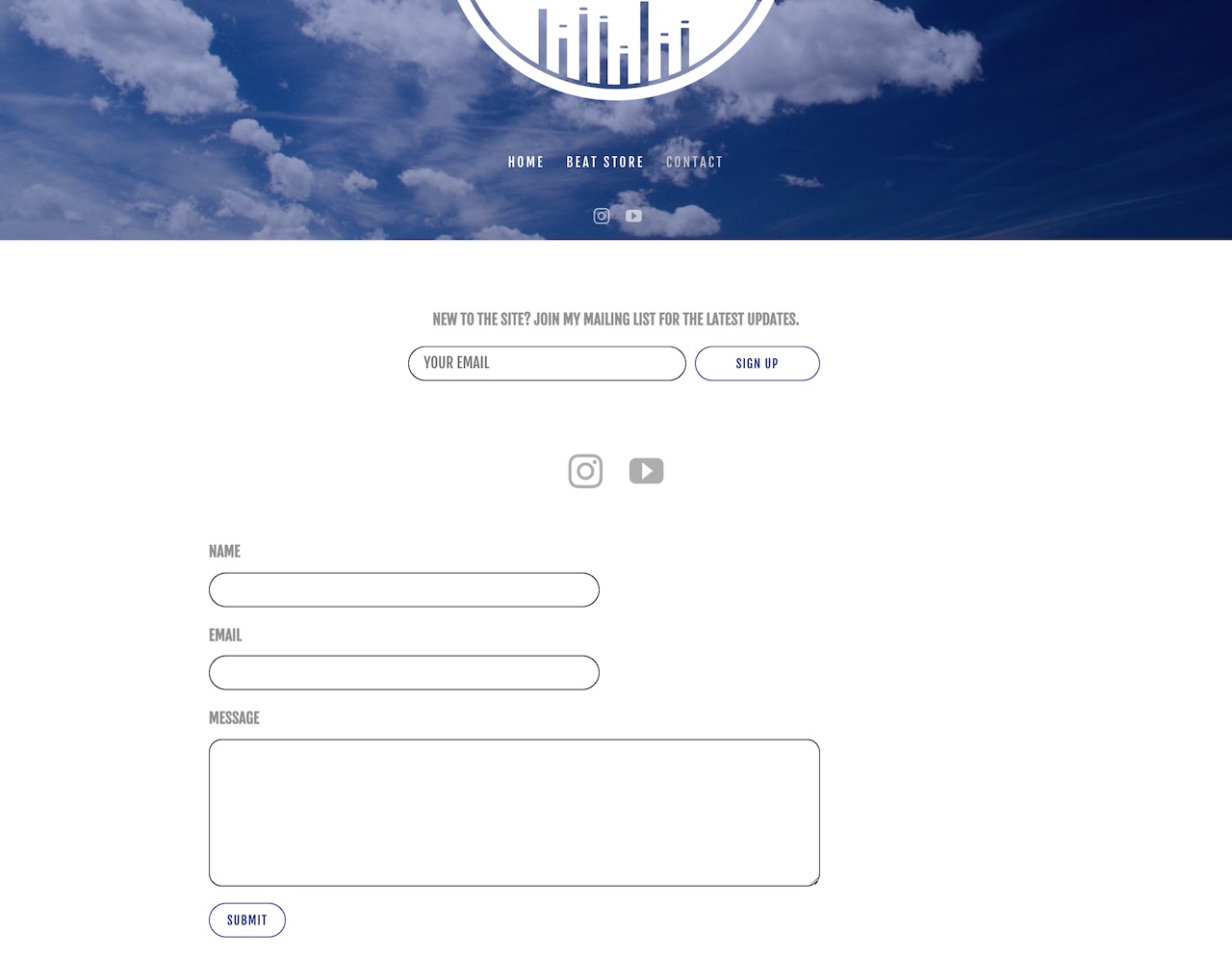 As you can see, a beat maker website needs specific information but can be simple to create. We've shown you a few beat maker website designs, but the customizations are endless.
You can get more inspiration by checking out Website Design Inspiration: Best Beat Producer Websites, and our examples page. With so many options, your website will be the place to be for beats online!
Why not share this with your friends?
Build a stunning band website and store in minutes
Promote your music on your own unique website.
Sell music & merch directly to your fans. Keep 100%.
Grow your fan base with built-in marketing tools.