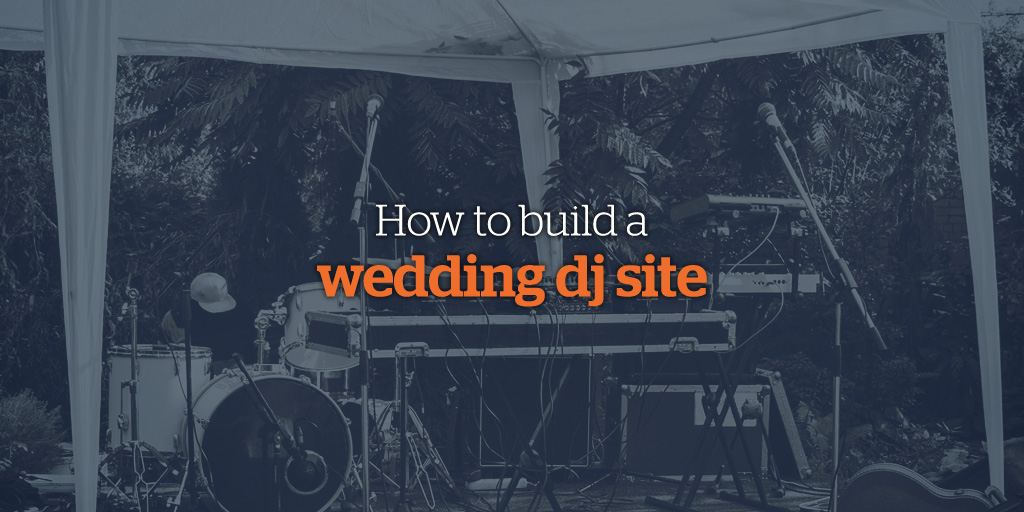 The best wedding DJ websites include a few key things that add up to a professional look. This includes great images, testimonials from happy couples, and an organized price list to convey your services. Let's take a closer look!
Wedding DJ website design
As a professional wedding DJ, you want your website to appear sleek and simple. The focus should be on content - what you can offer in the way of music to make an event memorable.
You can choose from several templates on Bandzoogle that are ideal for wedding DJs. Check out this post for some inspiration: Website Design Inspiration: Best Wedding DJ Websites
Choose a clean, sans serif font in your content area to make it easy to read. Then use an elegant, script-like font for your feature titles to separate content blocks and columns.
In terms of color, aim for 3 colors. A black and white palette works nicely for wedding DJ websites, with an accent color like green or blue. If you want more color, choose a primary and secondary color, then an accent that is picked up by your images.
Key Elements for a Wedding DJ website
Homepage
A great wedding DJ homepage will offer a look into everything you do! Add a short bit of text explaining who you are, where you are located, and the services you provide. Place a link to your Services page (where you'll go into more detail).
Adding a few images, or your Instagram feed will give this page a bit of visual interest. You can also put a single testimonial on your Homepage to make a great first impression!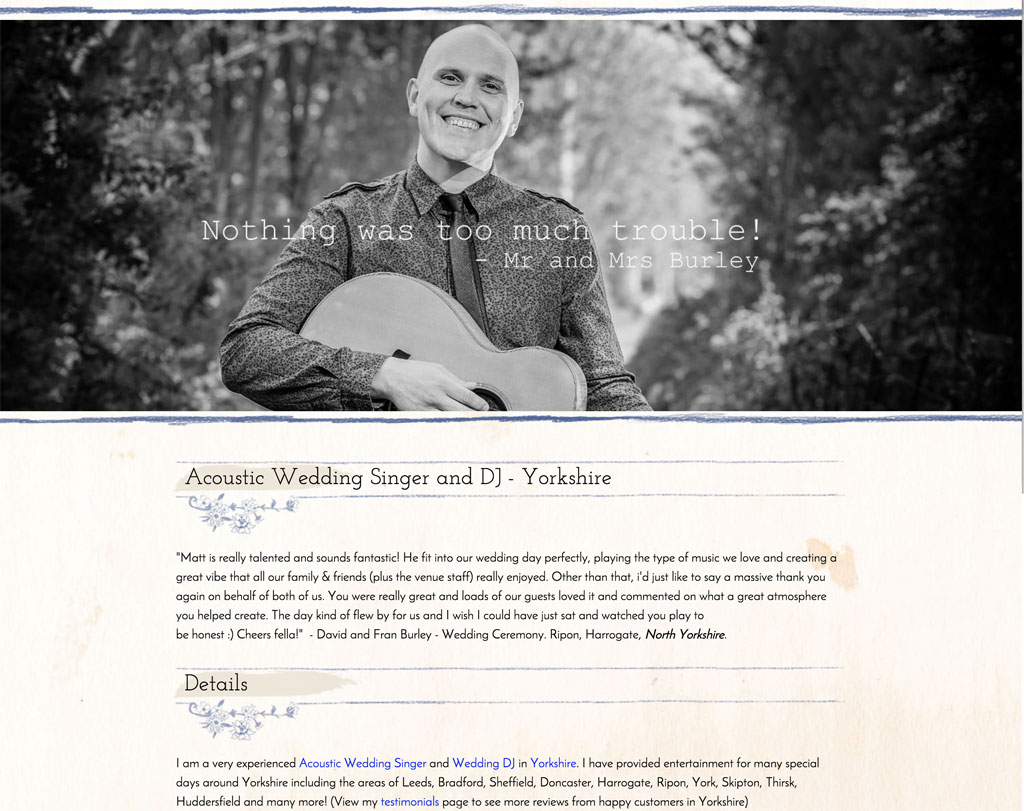 Photos
If you have some professionally taken photos of yourself at the DJ booth, here is where to put them! Impress your future clients by using images of weddings you've spun for in the past.
Make sure to include a few of yourself and your setup. Try to create a fun vibe to show how you can get the party started for any wedding. Using the tiled layout will give your photo gallery a modern look.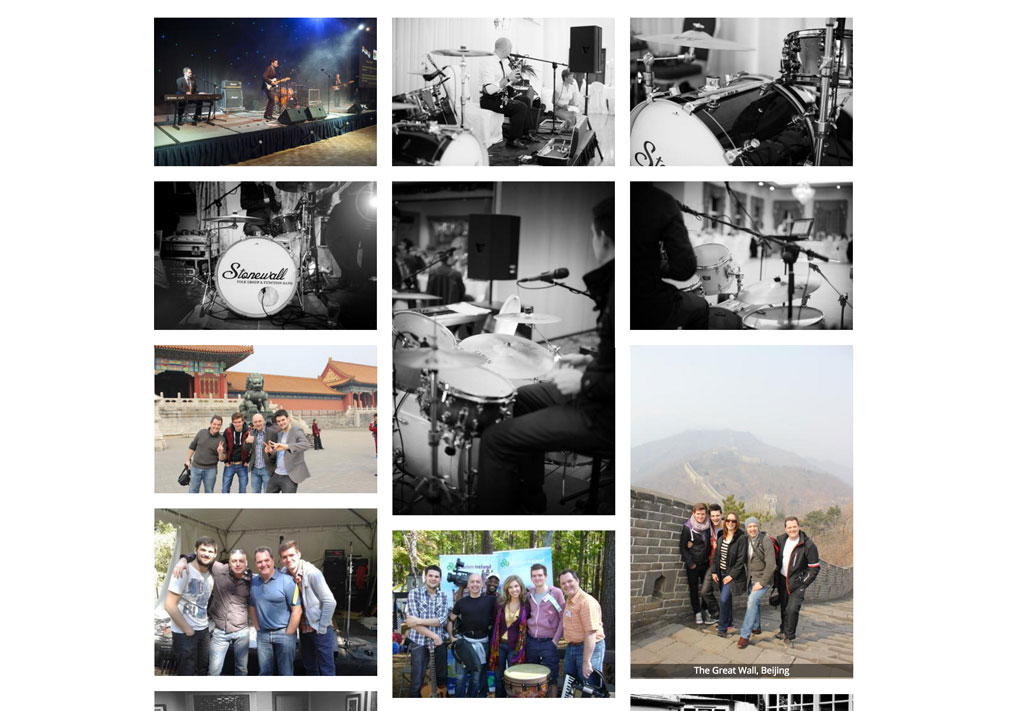 Build a professional, mobile-ready wedding DJ website that is easy to update in minutes. Try Bandzoogle free now!
Services
A services page should be well-organized and easy to scan. List the different kinds of packages you provide, and let interested clients know if you can tailor to their wishes.
Do you provide music for the party only, or are you open to playing songs during the cocktail hour as well? Add a few price options here if you can do different packages.
You can also include a custom quote form here, and a link to your contact page.
Also in a wedding band? Check out "How to Build a Website for Your Wedding Band."
Songlist
Add a list of songs that you can play, and an example set list or two. This will help potential customers know exactly what they're in for.
If you can do something custom for them, such as getting them to pick out the era of songs, or take requests live off the floor from the guests, put that information here as well.
Reviews / Testimonials
Word of mouth is still the best recommendation - so be sure to include plenty of nice words from previous clients, both the wedding couple and their guests! You could use the Quote feature to to post reviews.
When adding your reviews, make sure to get feedback on how professional you were, and how important the DJ service was to make the big day just right.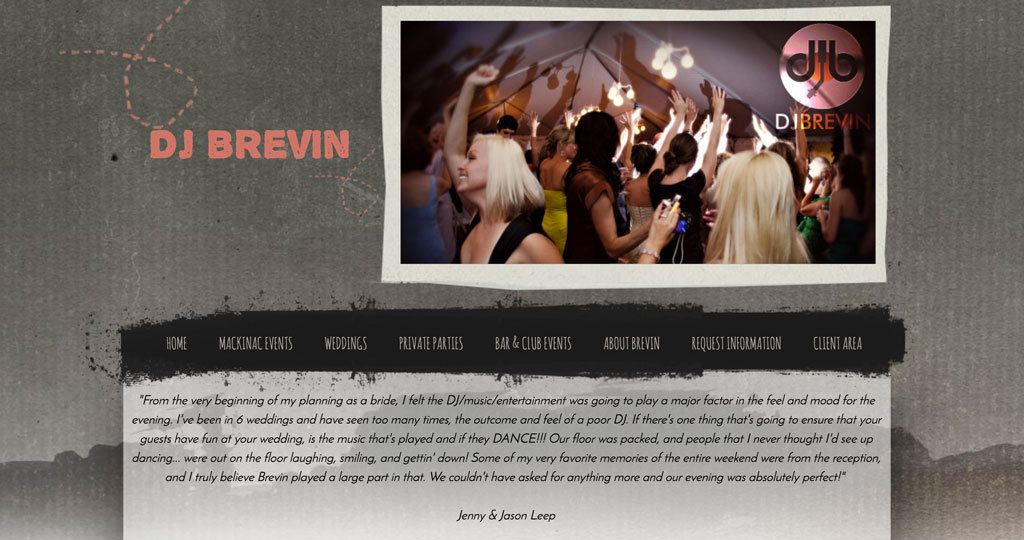 Booking
Create a form here that includes all of the options you'll need to produce a quote. Include the date of the event, the number of guests, and the size of the room. Leave a text area for any additional details.
You can add an image, and your social media links. This page should focus on contacting you, so no need to add to much else!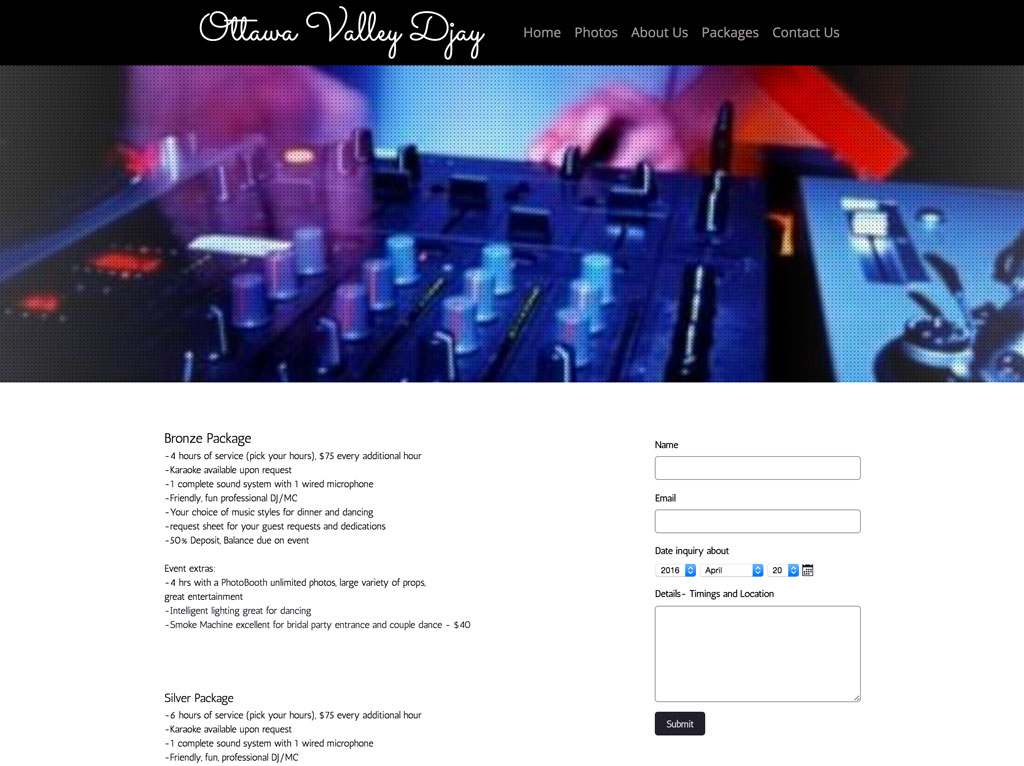 Client area
Make use of a password protected page to accept client payment. You can give out the direct page url with a password.
On this page, you can use a Store feature to take deposit payments in advance, or the full price. Having a quick and secure way to take payment in advance will help keep things clear on the day of the event.
Don't forget: Make it searchable online
One thing all wedding DJ websites should have is a good online search ranking. Then, if people check Google to look for wedding DJs in their area, your website will show up!
Customizing your page title and description on every page will help it rank in Google, and will also allow you to tailor the text that appears under your website when it pops up in results. That's an important part of what gets people clicking on your website.
We hope this post will help you set up a professional and organized wedding DJ website! It's a great way to get exposure for your business online to gain more bookings. Good luck!
Why not share this with your friends?
Build a stunning band website and store in minutes
Promote your music on your own unique website.
Sell music & merch directly to your fans. Keep 100%.
Grow your fan base with built-in marketing tools.