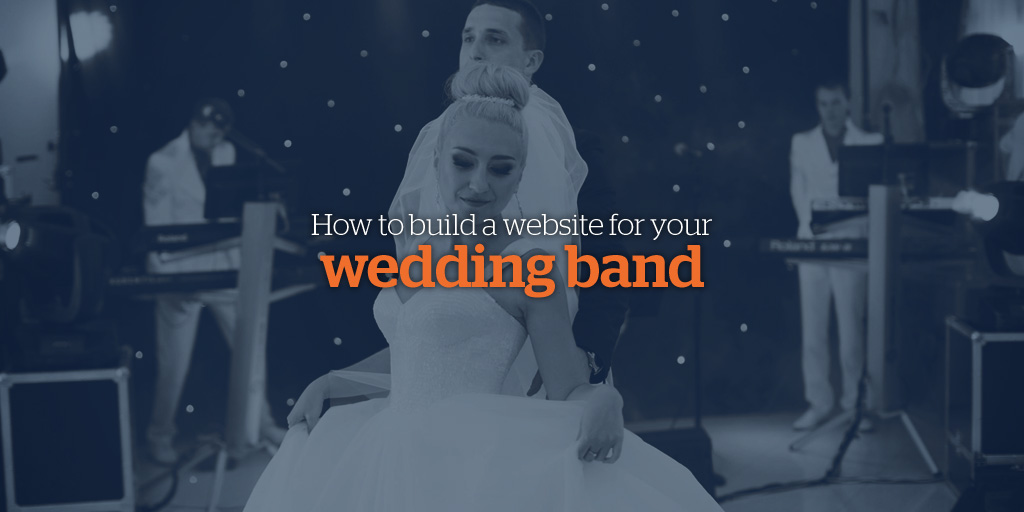 As a band that plays lots of weddings and functions, you've likely got a lot of content to share with prospective clients. Having a professional website to organize your photos, testimonials and set list, will go a long way towards booking more shows!
Key Elements for a Wedding Band Website
Homepage
Setting up your Homepage as a first impression is key to scoring those gigs. Add a great header image of yourself to your band to set the tone. In the content area, add some text about your band. What special touches does your wedding band bring to the big day?
You can keep this short and concise, focused on the services you provide to make it sound professional. Then, place a strong call-to-action to book your band or get more information, and a good quality video (from a past live performance if possible).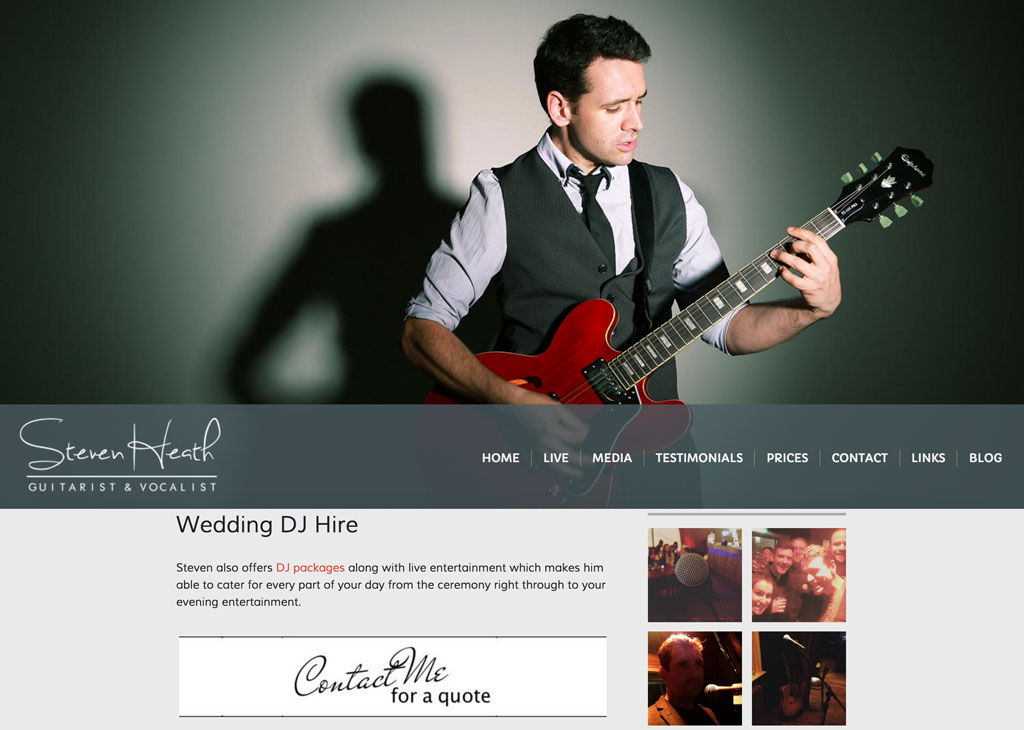 Photos
A picture is worth a thousand words and this is especially true for a wedding band website. Re-create the wedding party vibe with live shots of guests dancing to your set. Add a few more professional photos of your band's setup, on a stage or platform, with good lighting if possible.
A potentially interested customer will likely make a lasting impression based on how you look live - so see if you can get some great images from a wedding photographer that was there as well.
Songlist
Add a page dedicated to describing your set. While it helps to be flexible and cater to the couple's requests, listing out lots of examples of the songs you play will give a good indication of whether your tunes will work for them.
Wedding singer Jon Hart does a great job of this on his wedding set list page: he clearly describes a set, followed with a list by era and artist, and includes a few example sets with songs. Adding a music player with a few songs, or a video here will also show what you can do.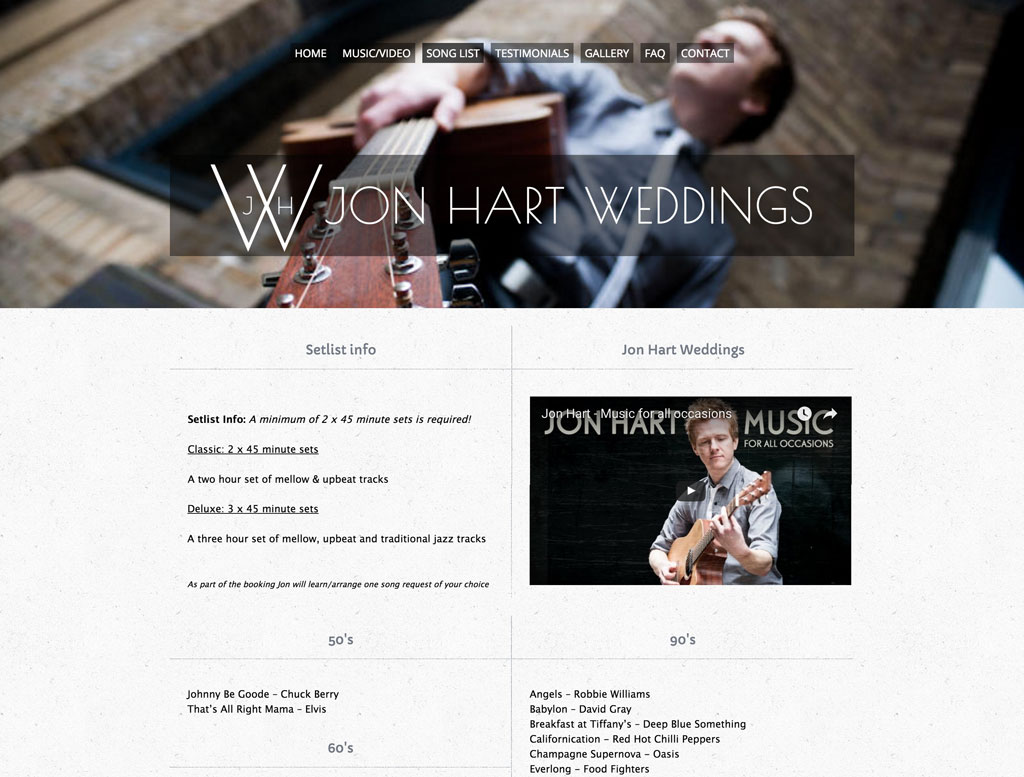 [Learn how wedding singer Jon Hart booked 50+ gigs using his website and Google Adwords]
Services
On this page, add a list of services you provide in detail. Do you perform acoustically at ceremonies, as well as provide entertainment for wedding receptions? Do you also provide DJ services, or music between sets? Are you able to play both outdoors and indoors? Are you are up for learning a special song or two by request, to play at the ceremony or for the first dance?
Think about all of these things, and then create a few package options to choose from, and include pricing if you have set rates.
Place another link or image to contact you for a custom quote on this page.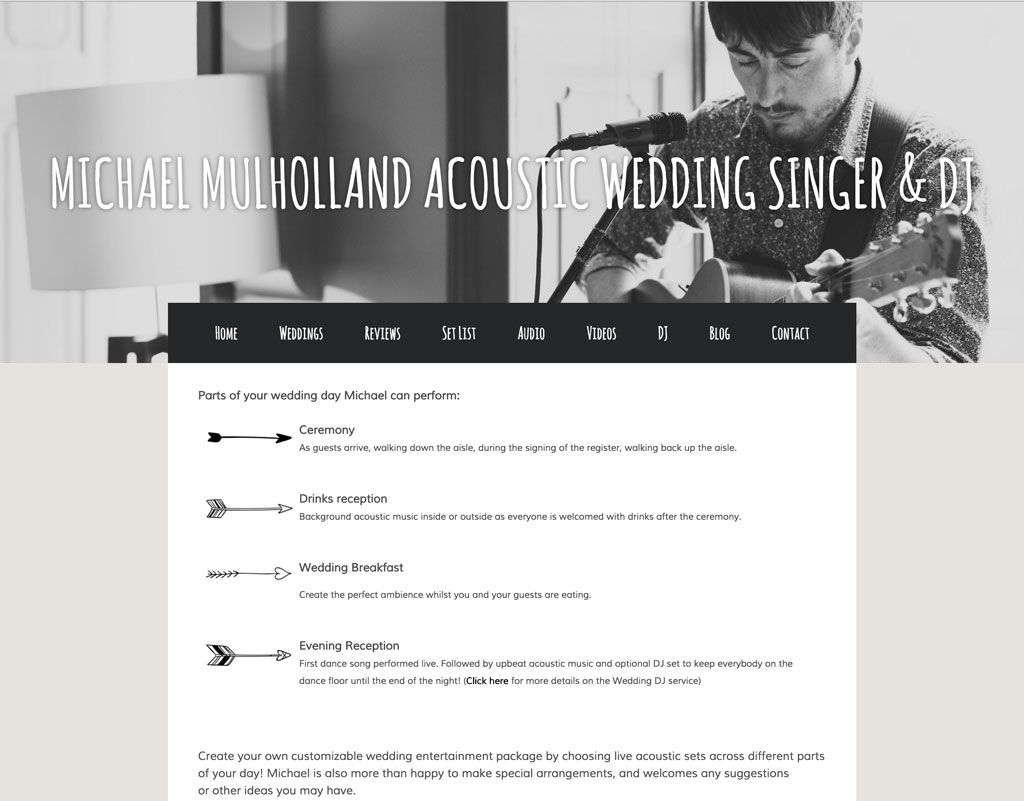 Testimonials
Add some happy words from previous weddings you have played at, both from the couple and from guests if possible.
With these reviews, try to highlight a few things: the professionalism of your band, how easy you were to deal with, and how important your music was to perfecting the wedding day. Stonewall Wedding Band does this with a Guestbook, but you could also collect reviews and place them in plain text.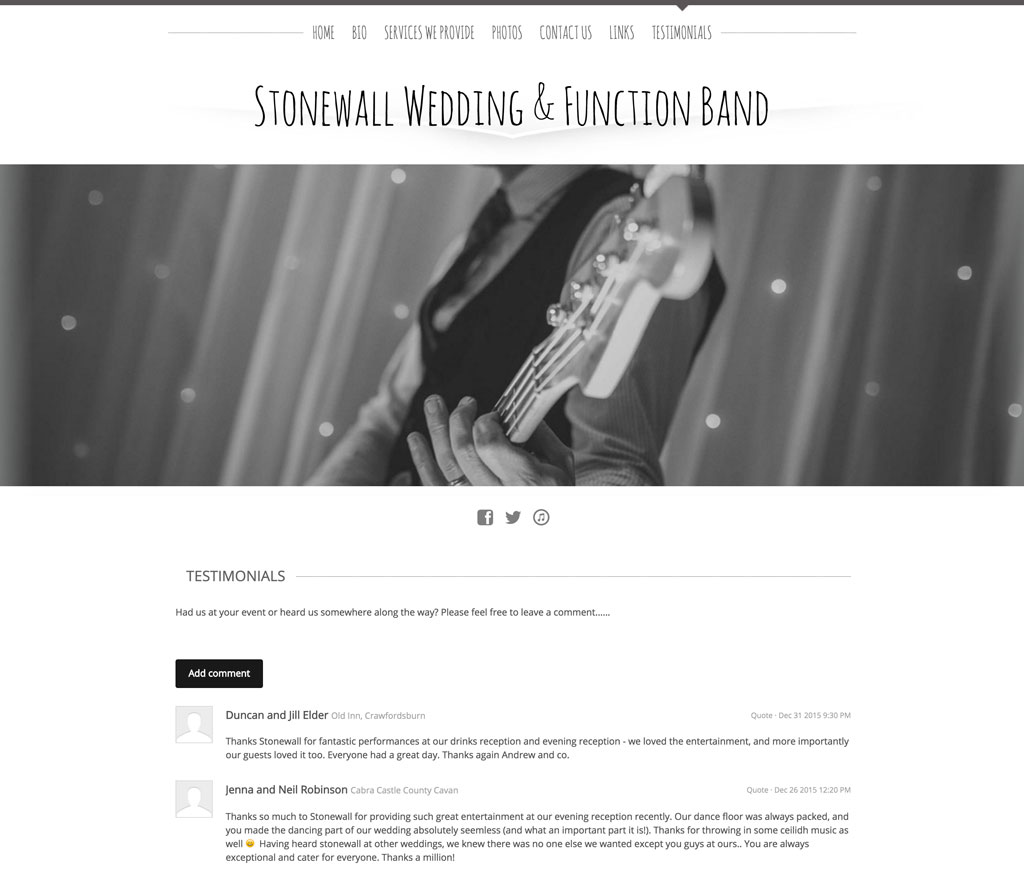 Booking
A clear page to contact you is a must for a wedding band website. Add some text if you will customize a quote, and add a contact form on the page. You really want to get people contacting you, so no need to clutter this page with much else.
Don't forget: Make it searchable
One thing all wedding band websites should have is a good search ranking. Many couples will take to Google to search out great weddings bands in their area. There are a few things to help with this.
Optimizing your page title and description on every page will go a long way. So will working on building relationships with, and then adding links to wedding planners, photographers, videographers, and so on.
[Use Link Building to Improve your Ranking]
We hope this post will help you set up a professional website for your wedding band - showcasing your best material will get you more opportunities, and more bookings. Good luck!
Build a wedding band website in minutes with all of these features and more. Sign up free with Bandzoogle now.
Why not share this with your friends?
Build a stunning band website and store in minutes
Promote your music on your own unique website.
Sell music & merch directly to your fans. Keep 100%.
Grow your fan base with built-in marketing tools.