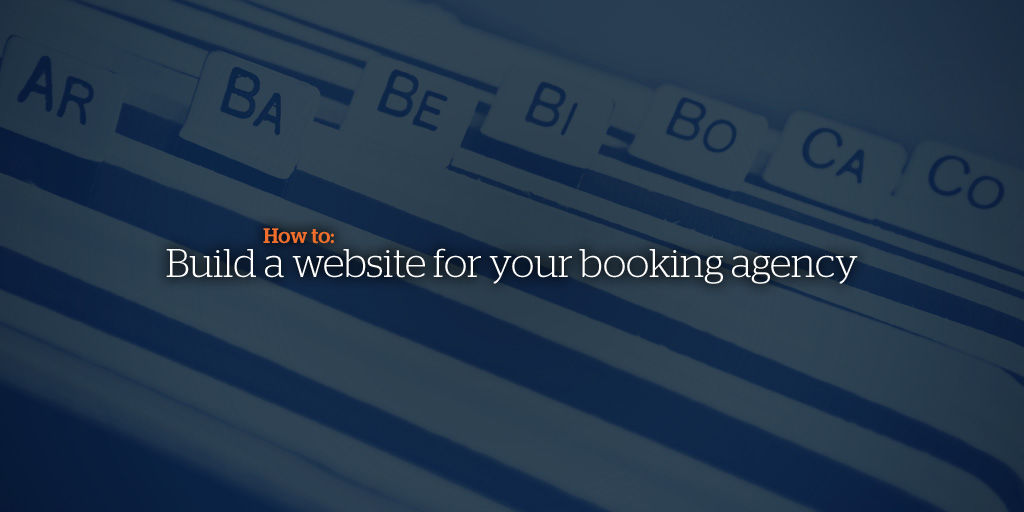 Building a website for a booking agency is no small task. It can take time to properly organize all the content and pare it down into a visually appealing website. But with proper planning and the right tools, you can build a great site for your booking agency. Here are some tips to guide you through the process!
Key Elements for a Music Booking Agency Website
Homepage
On your Homepage, adding news is essential for a booking agency. Use a blog feature to mention new signings, press for your artist, and noteworthy events.
Adding a Twitter feed is another great way to post news, pulling Tweets right to your website. You can also include an Events feature to show that your artists are in demand and have upcoming dates. [Sell tickets for shows commission-free directly through your website]
Your header image is arguably the most important element of your homepage. Why not create a visually stunning slideshow header displaying your artists?
About
Here's where you'll write your story. The About page is a good place to get creative, and show off the tone of your agency. When did you get started? Are your artists similar in genre? What sets them apart from other musicians or bands? Which music venues do you work with regularly?
Note any achievements of your artists, and include testimonials from satisfied clients as well!
Artist page(s)
Here you can add a roster of musicians you work with. You can either list them all on 1 main page, or create sub-menu pages for each artist.
Include a high-quality image of each band with a link to their website, as well as a short bio, and social media links.
This is a great place to include a high-quality live video of each artist. This way venues and promoters can see your artists in action.
And be sure to highlight each artist's successes to show that you've got the goods to back up your business!
Services
Set up your services page to clearly outline what you offer to musicians, as well as events and venues. To make it look organized, use a formatted title followed by a detailed description of your service.
You might include:
Corporate events
Venue and festival booking
Wedding entertainment
Some extras to include, if you offer them:
Social media management
Public relations
Artist management
Calendar
Use a Calendar page to display upcoming events for your artists. You can also sell tickets for shows commission-free using our ticket sales feature. For a nice visual touch, you can add some live photos of your artists. Even better? Embed a few high-quality live videos!
Booking
A booking page should include contact information to reach you. You could include 2 separate forms to sort out people who want to reach you.
One could be for inquiries from musicians and bands looking to join your roster. The other form could be for venues and promoters that want to book your artists for an event. [How to Get a Booking Agent to Book Your Band]
Include different fields to get details here, such as the event location, budget, and what genre of music or specific band is requested. This will make it easier to organize your emails!
Build a website for your booking agency in minutes with all of these features and more. Sign up free with Bandzoogle now.
Why not share this with your friends?
Build a stunning band website and store in minutes
Promote your music on your own unique website.
Sell music & merch directly to your fans. Keep 100%.
Grow your fan base with built-in marketing tools.