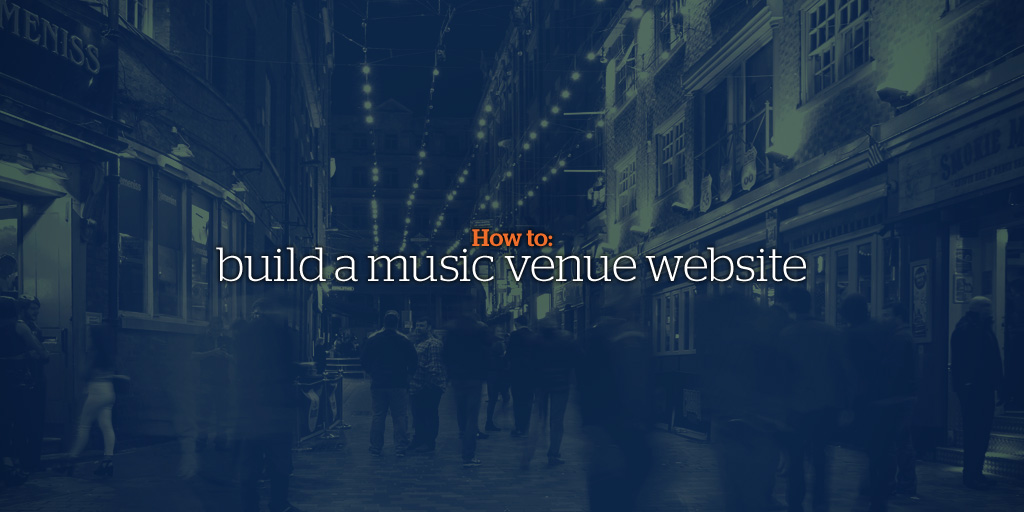 There's nothing like a great live music venue. The sense of excitement that builds before a sold-out show; the people working tirelessly to make sure all the equipment is set up just right. Posters adorn the walls, and the air starts to buzz as show time approaches. A music venue can be an essential part of a city's local music scene.
If you own a live music venue, and want to bring it online, creating a well-organized website is essential!
Key Elements for a Music Venue Website
Home page
The homepage of a music venue website should do two things. First, it should give a quick but informative glimpse at the goings-on of your venue. Second, it should be attractive and professional to music fans of all ages, and to bands as well. This will provide information to customers, and will ensure that you attract quality acts to perform.
For the design, be sure to get a few hi-resolution images to use in the banner image area or background. Good quality images of your interior, exterior, or a show in progress would work well. If you don't have these, look for a stock image that matches the vibe you are going for (brick wall, sound equipment, a grainy but cool crowd shot).
You could also use a sleek and clean theme, use your logo in the header area, then match it's colors in the body area.
In terms of content, start off with a bit of welcome text. Add a few words about your venue, such as how long you have been in business, and what your current main attraction is. Do you have live music 7 nights a week, or a recurring open mic night? Who was the latest and greatest musical act to grace your stage?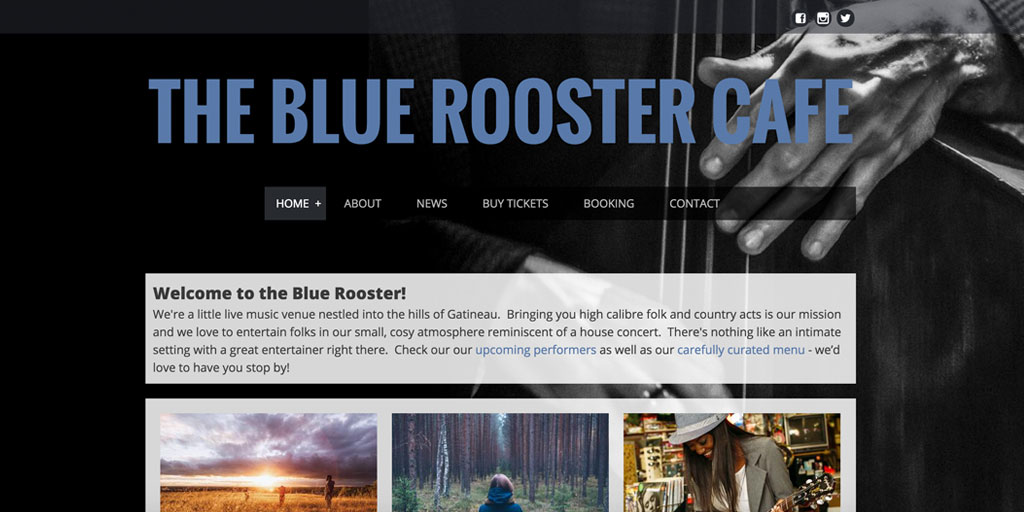 Update your home page text regularly to show off menu features or the next big act that is performing at your venue. Add an events feature with the next few acts only.
Include a Twitter feature to keep the fresh content coming. This will pull Tweets that you add, with anything from upcoming show dates, to band posters.
News
A great way to highlight to acts that you are bringing to your music venue over the next few months is a to use a blog feature. Place news and images that focus on upcoming acts into their own blog posts. Add media such as videos to amp up interest in the performer. To each blog post, add a link at the end pointing to your Buy Tickets page to encourage interested patrons to go ahead and reserve their spots.
Buy Tickets / Show Listings
This menu option deserves it's own dedicated page. Add an events feature that will serve as your main listing for all events. Use a calendar, table or list display to add details for your shows.  You can add a poster or image, price, and information about the act. Add the option to buy tickets directly for each show.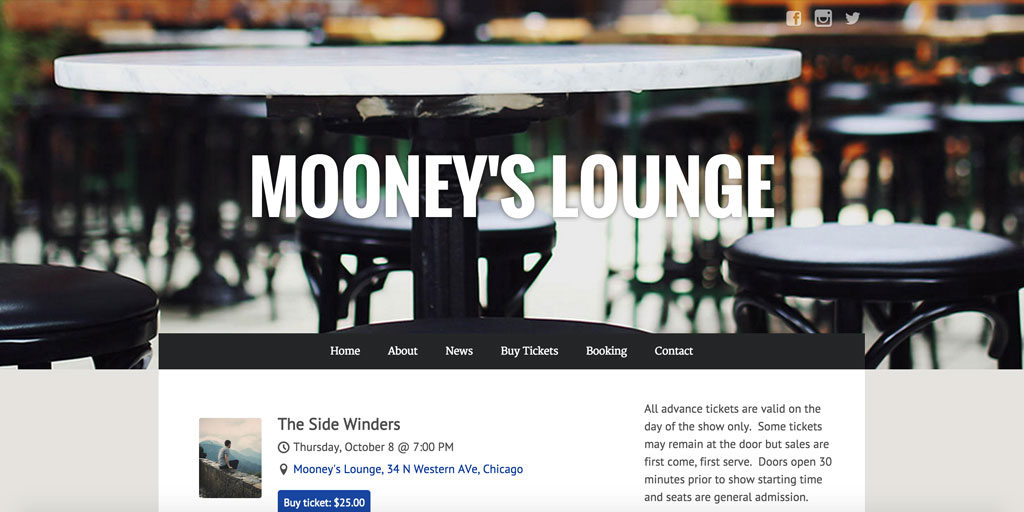 [Sell Tickets for Shows Directly through your Website]
About page
Take a bit of time to go through the history of your venue. Whether it's brand new, or established, this page will appeal to concert-goers, community folks, and bands alike. If you are just starting out, why did you choose to start the venue? If your music venue has been around for some time, list the acts you've had the pleasure of hosting.
Your About page should mirror the vibe of your venue - fun, casual, eclectic, and so on. Add a few images of your venue, or integrate your venue's Instagram feed if you have one.
Booking
If you are actively looking for acts to play at your venue, include some information on how to contact you. To ensure you get submissions in the format that you want, be clear on the requirements. Make it easy for you to listen and read through by asking for a press kit link.
Provide info to those who are interested in booking shows, or have been booked. Do you only want acts who are at a certain level? Will you want the band to advertise? Do you set the ticket price or do they? Include details such as the room's capacity and whether a PA and sound tech are provided. If these options vary, let the band or booking agent know who to contact directly.
Contact
Include ways to reach your venue here - a phone number and email address or contact form work well as a first point of contact for customers. Adding a Google Map with directions to your address will help people get to your venue easily. Also provide social media links if your venue has a Facebook page, Twitter feed, Instagram, or YouTube account.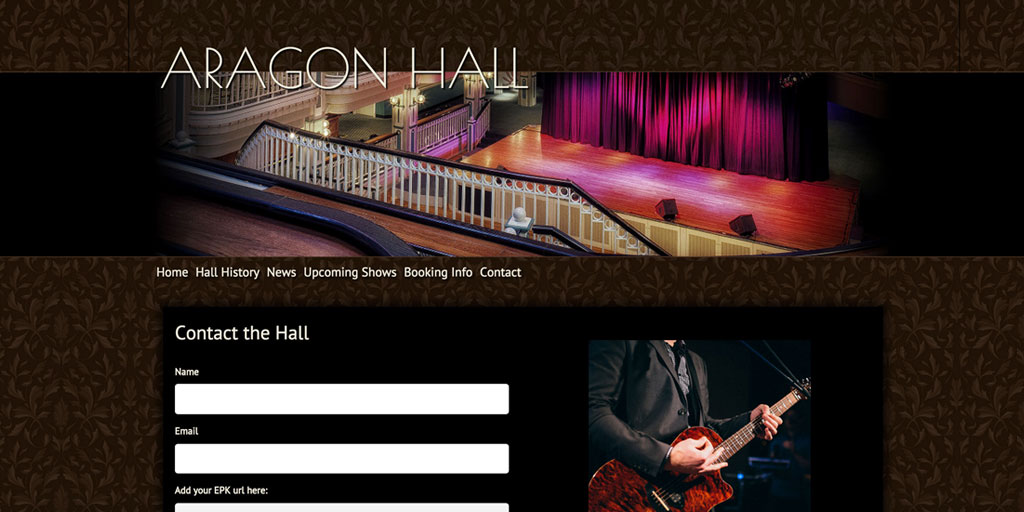 Other feature to add: Mailing list signup form
Getting paying customers through the door lies in communication. In addition to using social media, and relying on bands to provide fans, make good use of a mailing list signup form. You can place this on the Home page, Contact page, and the Tickets page. Depending on how many events you book, a bi-monthly or monthly newsletter with info about upcoming acts may be vital to getting the word out.
For a music venue website, content is king and lots of it. Keeping everything well-organized and easy to find will help boost your ticket sales. A sleek, simple website will do wonders in creating a polished, professional look.
Build a website for your music venue in minutes with all of these features and more. Sign up free with Bandzoogle today!
Why not share this with your friends?
Build a stunning band website and store in minutes
Promote your music on your own unique website.
Sell music & merch directly to your fans. Keep 100%.
Grow your fan base with built-in marketing tools.