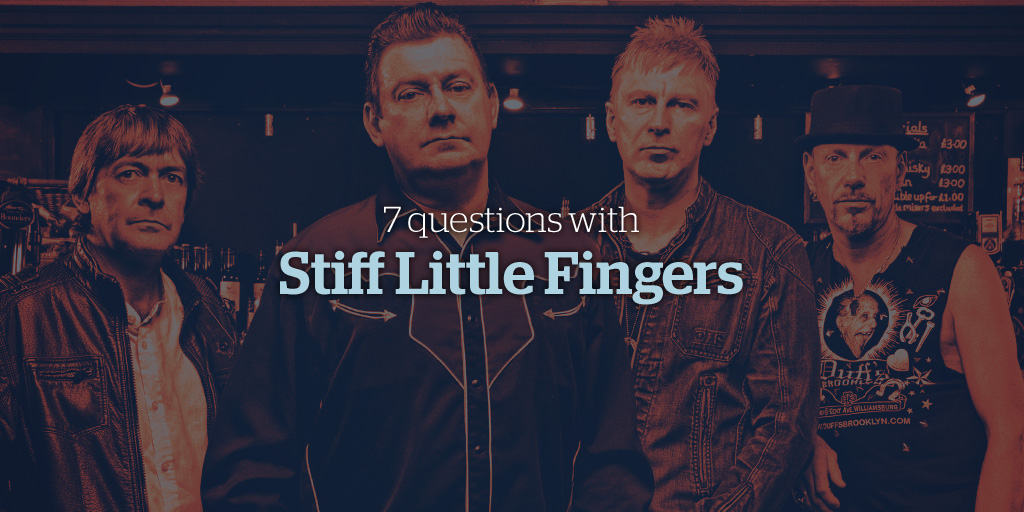 Stiff Little Fingers, or 'SLF' as their fans also know them, are a punk rock outfit started in 1977 in Belfast, Ireland. They came out of the gate with a unique signature sound that has influenced countless other rock bands, most notably U2, Green Day, and the Dropkick Murphys.
While fronted by lead singer /guitarist Jake Burns since their inception, the band has had a few different line-ups over the years, including former members of other punk greats like The Jam. However since 2006, the band has featured Ali McMordie on bass (who was also an original member), drummer Steve Grantley, and guitarist Ian McCallum.
As a defining outfit in the punk genre, they know a thing or two about musical staying power, keeping fans happy, and have even had their band website with Bandzoogle for over 8 years.
We posed 7 questions to SLF about the differences between getting their music heard when they started, and now, and what they think will be the ways musicians will keep their staying power in the future.
Q. First, congratulations on your latest album 'No Going Back' which you released in August 2014, and which reached #1 on the BBC Radio 1's UK Top 40 Rock Album Charts. You decided to crowdfund this latest record using PledgeMusic.com, and it was obviously extremely successful.  Can you tell us some the reasons you decided to fund your album this way?
A. The music business has changed so much from our first days as a band, and we had to move with it.
Realistically, the old model of: get a record deal, put records in the shops, tour in support of the record and hope for radio play/chart position was outmoded. Record shops as such are either specialist stores or online entities now. To reflect that, we realized that we didn't need to deal with a "bricks and mortar" company and we were better off going straight to our audience and ask them to "pre-order" the album.
Obviously, there's more to it than that, but at its heart, that's what it boils down to. It was also really exciting to be "purely independent" again and to be able to involve the audience right from the start.
Q. Are you considering using crowdfunding again for future releases?
A. Yes. We're just nearing the end of our second crowdfunded project. This time we recorded our annual Glasgow Barrowland show, which happens every St. Patrick's Night. This year marked our 25th year of playing this show and we, and the audience, felt a momento of the evening was in order.
So, we filmed and recorded the show via PledgeMusic again and I think everyone will be more than happy with the final result when they see it early next month. It's available as a download, a CD and a DVD.
[VIDEO] How to add a PledgeMusic campaign to your Bandzoogle website
Q. SLF got a lot of attention on radio with John Peel playing your first single 'Suspect Device' regularly on its release in the 70's. It would seem that was a fairly seminal moment for the early success of the band - does radio still carry the same importance as a way to get your music heard?
A. Probably to a wider base, but I don't feel there is a single radio personality who has the importance that Peel had.
If you look back over his career and the bands he helped via radio sessions, he started with the likes of Pink Floyd in the late 60's and continued right up through our era and beyond. I honestly don't think you can over-estimate his importance to British music and musicians.
These days there are many other platforms that you can use to get through to an audience. For example, both the Arctic Monkeys and Justin Beiber gained their initial exposure through huge success on YouTube. You can decide whether that's a good thing or not!
Q. Stiff Little Fingers have been Bandzoogle members since 2008 - which is amazing. How important is it to SLF to have their own site, as opposed to just maintaining a presence on social media?
A. Hugely important. It's the one place where we can build a database of our biggest fans, by using the email tools and providing info via our own site first. We use several social media platforms to reach our audience, but we're very aware that they are in control, and could pull the rug from under us at anytime.
We have over 160,000 Likes on Facebook, for example, but Facebook could just cut that off whenever they want. In fact, they've already made it harder to reach those people without paying for it!
A lot of our fans use Facebook to interact with one another and arrange meet ups, post reviews etc., but our slf.rocks site on Bandzoogle is the first stop for getting the word out about what the band are doing and planning.
Q. Two part question - which Bandzoogle tools and / or features do you use the most, and why?
A. The CMS of course, first and foremost. Announcing our tour schedule and other news is most important. We also find that the media uses the bio section for images and background on the band when creating their stories, and that's great!
We appreciate that Bandzoogle has continually worked to improve the interface and usability. Making sure that the web site is responsive (meaning it displays well of smartphones) is incredibly important. Especially since so many people are using phones instead of computers to access our site.
Also, the fact that Bandzoogle comes with email marketing tools is a huge plus. We occasionally offer contests on social media to drive fans to sign up for email offering free downloads on demos, or a giveaway of a rare items.
These efforts have worked really well, and we plan to do more. We haven't used the tools yet to offer full downloads of albums, but we plan to.
Q. According to your site, Stiff Little Fingers has a really unrelenting tour schedule. Clearly that's an important aspect with maintaining your connection with fans - is there anything else that as a band, you feel is important to maintain the relationship between the artist and their listeners?
A. Touring and playing live are the band's life blood. It's what we're best at and what we enjoy most.
Again, in an era where a lot of artists are reliant on big productions and studio technology, we feel that the audience appreciates more than ever a band that has the ability to stand in front of them and play and sing in tune and with sincerity.
[14 Ways Musicians Can Make Money from Live Shows]
Q. Finally, any special wisdom or words of advice you can impart on our readers about how to stick it out playing, writing, and recording for so long?
A. Find your own voice as soon as possible. Learning your trade by playing other people's material is fine, but I don't think you'll have much success as a "tribute act" either intentionally or otherwise.
And, try to write about things YOU care about. After all, if you don't believe it, how do you expect an audience to?
And…have fun! It's supposed to be fun, and believe me, in among all the hassles, the problems, the changing landscapes etc., it IS still fun!
Next year is our 40th anniversary of the band, and who knows what we'll do, but we'll be using Bandzoogle to help make it happen!
Check out SLF's Bandzoogle powered website at www.slf.rocks
Bandzoogle lets you create a professional website in minutes with all the music promotional features you need including a blog, mailing list, and social media integrations. Try Bandzoogle free now!
Why not share this with your friends?
Build a stunning band website and store in minutes
Promote your music on your own unique website.
Sell music & merch directly to your fans. Keep 100%.
Grow your fan base with built-in marketing tools.