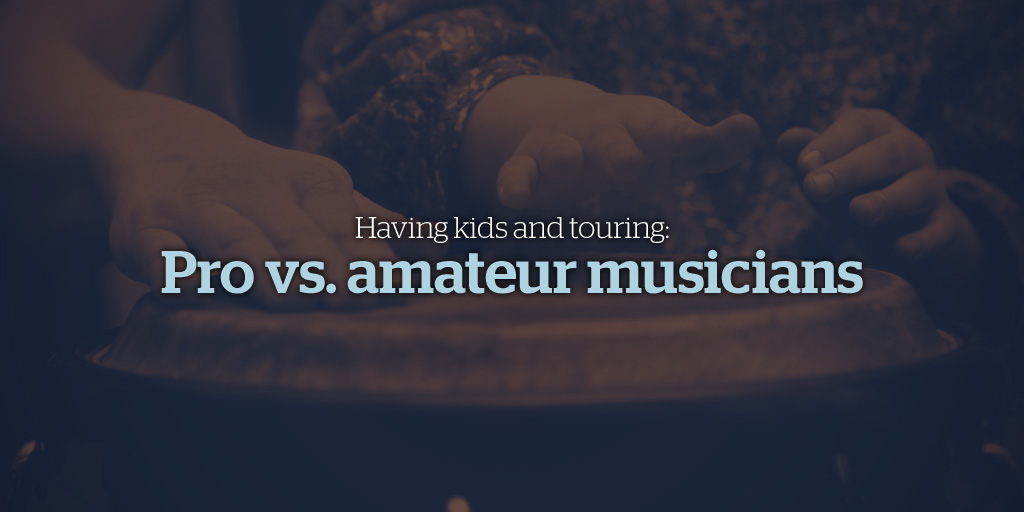 Last week was the annual Bandzoogle Employee Meetup, complete with husbands, wives, boyfriends, girlfriends, and kids. Lots of kids. Having kids while being an active musician seems to add an extra layer of complexity, and it's an issue that many musicians, especially female musicians, face during their career.

Below is a great guest post from Solveig Whittle that discusses this very issue. Solveig is a musician, blogger, and student of social media. A recovering corporate marketer, she consults for tech companies and other musicians, teaches seminars on music marketing, and is a Teaching Assistant at the University of Washington in their Social Media certificate program. You can read more of her writing on her website and follow her on Twitter.
---
Stevie and I were talking the other day about the fact that all of his professional musician friends are childless. As a member of GoGirls, I have also gotten to know many female musicians online. I've noticed that in general, the women I have met online who are working musicians (those who make a living working full-time as musicians – no day job) don't seem to have any children. My local female musician friends are the same way – regardless of age, they have no children.

It got me thinking – why is it that being a professional musician and having children seem to be incompatible, especially for women? I've also been thinking a lot lately about touring – is it a necessary part of a band's evolution?

I have decided that it may well be true that these are two very important things that separate a professional musician from an amateur: having children and touring. Of course, these two things are related. This is one of the reasons that choosing to be a professional musician is perceived (perhaps logically) as a young, childless person's game. Touring and putting off having children are both things that younger musicians do, but find increasingly difficult to juggle as they get older.

(Note an important caveat: the story may be different for professional studio musicians or those who write and record music primarily to license it for film and TV. This post is meant for indie musicians who are performing artists with their own original music groups).

Having Children

Let's face it, male musicians can and do have children, but only if they find a partner willing to stay home and take care of their kids for them while they are out on the road making a living. In some ways, that's even harder, because they then have to make enough money to support not only the band, but their families back home. If you read Peter Townsend's recent autobiography, Who I Am, he talks about the pressures he felt to continue touring to support his wife and children. This was true even mid-career, when people would have assumed The Who were so successful that Townsend could have slacked off or retired.

For female musicians it's a lot less acceptable to have kids. It may be a provocative thing to say, but I think society frowns more on the absentee musician mother than the absentee musician father. Other (childless) musicians look at you sideways when you have to leave rehearsal suddenly because of a sick child (been there, done that).

Here are a few of the other reasons I think many musicians – men, too, but especially women – have to choose (or feel they have to choose) between a professional music career and having a family:
Being a professional musician means not having a regular income. Many pro musicians I know live essentially hand-to-mouth, often on a cash business basis, and find it difficult to afford a mortgage or a retirement plan. It's irresponsible to have children not knowing if you can support yourself, to say nothing of paying for the costs of a child, from birth through college, and perhaps supporting a spouse.
Being a professional musician means more than likely not having health insurance (at least in the US), unless you are married to or otherwise a dependent of someone who has health insurance – with a plan that you can get onto. Having a pregnancy and giving birth are expensive without health insurance, to say nothing of the risk of dealing with birth complications or a sick infant.
Like most self-employed folks, musicians do not get paid maternity or paternity leave.
Being a professional musician means traveling/touring. For any career, constant traveling is not compatible with a stable family life and makes child care difficult. Dive bars are not compatible with young children. "Bring Your Son or Daughter To Work Day" doesn't generally happen for musicians on tour. Drugs and alcohol are not compatible with children. Sure, Elvis Costello and Diana Krall have made it work, but you better believe it's tough, and I bet they have lots of support on the road. Plus they both made their careers before they had kids. (Of course, Elvis has been married three times).
Having children is physically exhausting and emotionally engaging. So is making music. It's hard to find the energy and inspiration to create and perform when running on two hours of sleep. Even though music is a consuming passion, being a parent is pretty fulfilling, too. You might find that much of the angst that drove you to create music is magically soothed by having children. Or at least, subsumed temporarily.
Unless your significant other is a musician, it's unlikely they will find the idea of you being a pro musician charming after a while. Having ardent fans of the opposite sex regularly trying to get close to you can be a problem. Being a starving artist makes paying for dates, living arrangements, and, generally, having relationships complex. On the flip side, being a successful artist also makes having relationships complex. Again, I would reference the Townsend memoir. Or pretty much any VH1 Behind The Music episode. The stories of rock stars and their incendiary love lives are too numerous to list. Having a relationship with another musician is a whole other can of worms (see my blog post on the biography of Ann and Nancy Wilson of Heart for a case study of that kind of messiness). Either way, it's tough to maintain a relationship, which is a necessary part of having children. I wouldn't even want to entertain the idea of being a single parent musician.
Touring
Touring is one of the other (and related) things that separate a professional from an amateur. Touring takes planning, funding, time and energy. Here's why and how I think touring is an important factor that separates the professional musician from the amateur:
Touring is a critical step for a band. Touring is the only way to reliably extend your fan base, create press opportunities and build buzz beyond your own hometown – a critical factor in breaking out from being just a local band to becoming known nationally and internationally.
You need to have a website complete with an EPK (electronic press kit), bio, videos, etc. before you tour. Otherwise booking gigs will be much more difficult. This means you have to get serious and spend the money and time getting those marketing elements done.
You need a CD finished and pressed before you go on tour. Your CD is your calling card, your leave-behind, and an important revenue generator. This also takes time and money investment up front.
You have to give up your day job, at least temporarily, to go on the road.
Everyone in the band has to agree to go on tour. The bigger the band, the more expenses, the more potential for conflict, and the more day jobs to quit and relationships to leave behind.
As I said before – spouses, significant others, and children cannot go on tour with the band. Unless you are super-famous and making bank. This means having an understanding family (or not having a family) is a pre-requisite.
Touring is not cushy for indie musicians. It involves sleeping on couches and performing as many nights in a row as possible. Everyone in the band has to get along for an extended period of time under less-than-ideal physical conditions. You have to really like your band mates, really like performing and believe in your band.
Touring is at best, a break-even financial activity for new bands. You need to budget. Merchandise is critical, so you have to invest in creating merch up front. You also need money for gas, food, and other expenses. Most bands do not make money on tour – at least not on their first tour. Touring is an investment in building buzz and a fan base.
Setting up tour gigs ahead of time takes a lot of work and requires forethought to map it out. You need time and energy to pursue bookings, and a network of acquaintances to help with everything from gigs to accommodations.
Bands just starting out are likely to be touring by car, not airplane. You need a reliable vehicle. Many musicians I know can't afford a car payment and might not have good credit to get one (again, because they don't have a steady income or a reliable job).
It's not surprising, when you lay it out, that having children seems difficult at best for pro musicians. And touring is a daunting, but necessary, part of creating a successful music career. But if you're serious about being a musician, and you love it so much you can't stay away, you'll figure something out or you'll just choose one way or the other, eventually, or perhaps take a sabbatical from full time music for a while to have a family.

"It was a balancing act between road and family, and some of my more passionate songs were inspired by this particular agony. I should point out that one bright light in all of this was that I eventually found a voice as a songwriter which has become the most profound joy of my musical life." – Rory Block

I do personally know at least one professional and incredibly talented female musician who has managed, despite heartaches and tragedies, to have children and tour often: Rory Block. She and I talked at length about this very subject one time when she stayed at my home in Chicago in the 1990s while on tour. If you've never heard her amazing slide blues guitar and vocals, check her out. You can also read Rory's life story on her website, including her struggles with being a being a musician and a mother and her frustrations with being a woman in the music business.

I'll save my tips on having children for another day. For the record, I have three of my own, but I wasn't trying to make a career in music when I had them. 
Start building your fanbase! Bandzoogle websites have a built-in mailing list, social media integrations, and all the tools you need to step it up. Sign up free now!
Why not share this with your friends?
Build a stunning band website and store in minutes
Promote your music on your own unique website.
Sell music & merch directly to your fans. Keep 100%.
Grow your fan base with built-in marketing tools.