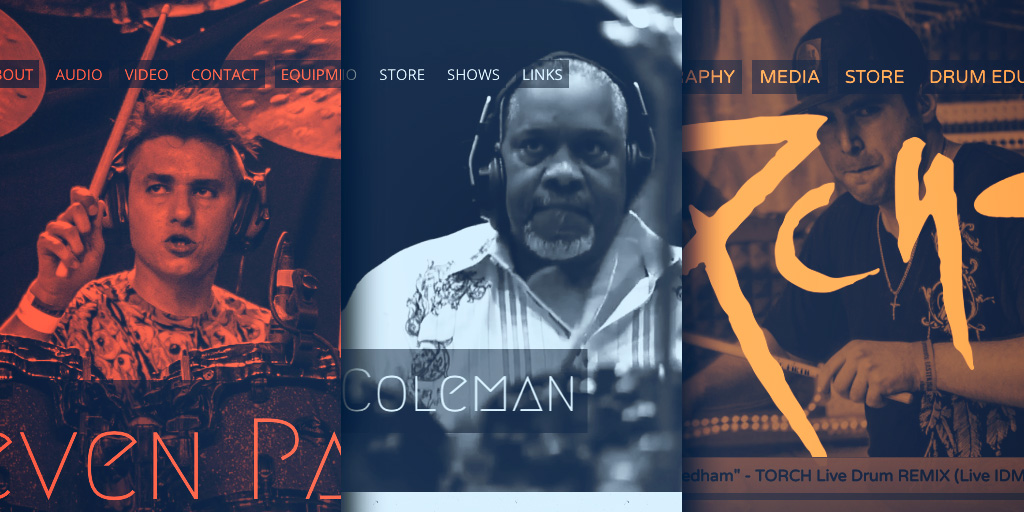 To make it as a professional drummer you have to have more than drumming skills. You need to network, promote yourself, and secure your own gigs. This keeps you in control over your career, but can also be time consuming.
One way to help with this is by having your own custom drummer website. Drive fans, media professionals, and potential clients to your site to learn more about you. This also sets you apart from the crowd because it shows you're organized and ready to work.
Because there's lots of competition you need to focus on what makes you unique. To do this you'll also want to make your site fit your style and personality. It may seem challenging, but with our template customization options you can create something that's all your own. Let's take a look at three different member websites all using the same template, Surround.

Front and Center
You perform in the shadows but on your drummer website you need to be in the spotlight. Set modesty aside and allow yourself to be bold. One way to do this is with a great header image.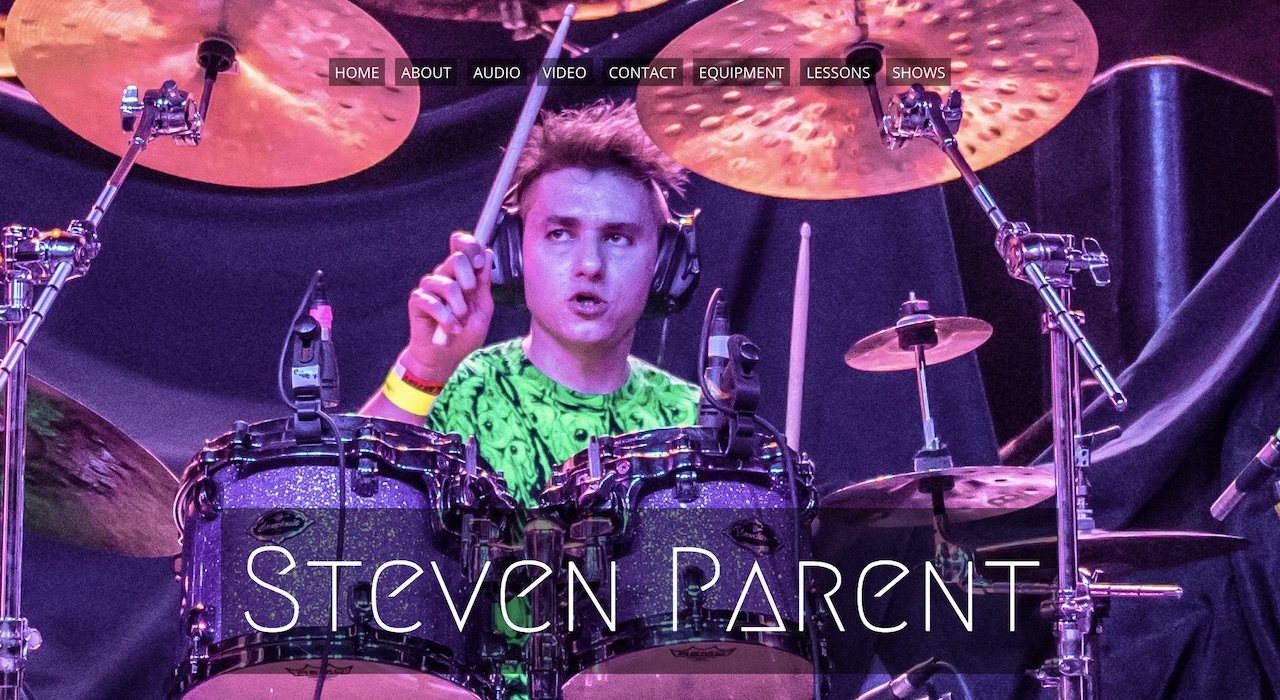 Your main image needs be crisp and clear. To do this you'll want a nice large professional image. If taken by a professional they will give you a large image, but you'll want to resize it to roughly 1500 pixels wide. This will allow the image to look clean and scale down to any screen size the visitor is viewing from.
Your header image will display you in your best light at your drums, usually performing. An action shot shows your potential clients you're comfortable in your element as a professional.
If you have several great images, you can add up to five photos in the header. When you do, they will rotate as a slideshow. We have several options with transition and timing as well!
To take it to the next level, consider using a video header.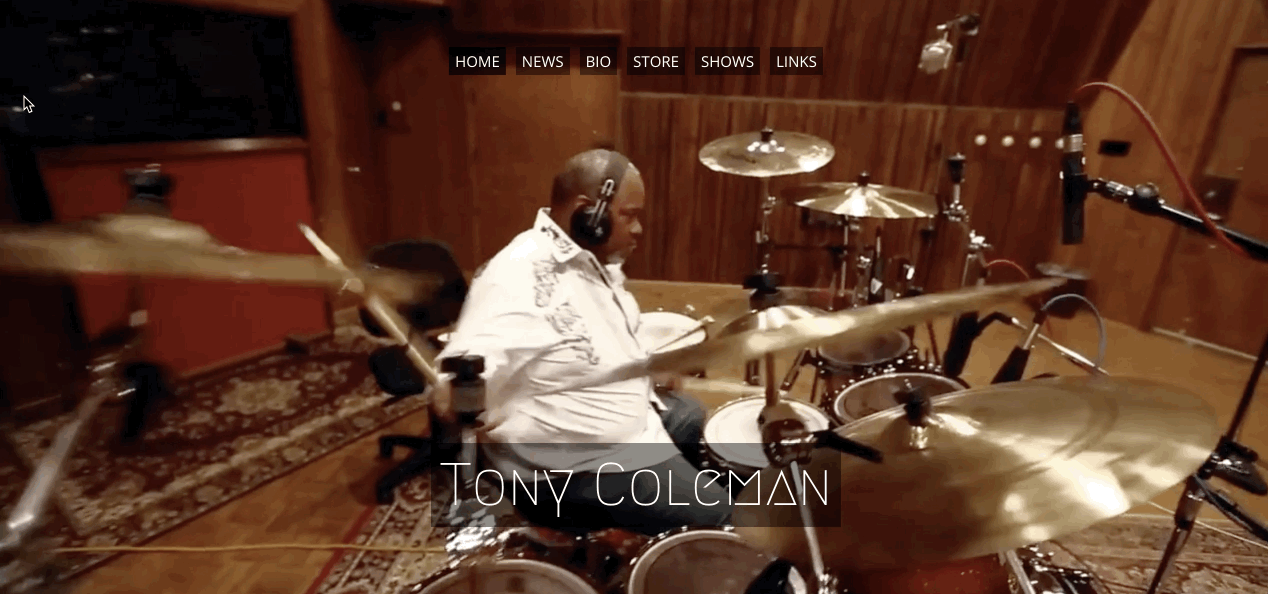 The video will continue to play (without audio) and loop around at the end. Fans and clients love this sort of thing because it lets them experience you right away.
Build a professional, mobile-ready drummer website in minutes. Try Bandzoogle free now!
Name that Drummer
It's obvious you need to put your name on your website, but how it's done makes a difference. You'd be surprised at how many websites have a name that's too small or too hard to read. To combat this, make sure you start with a bold font style. Stay away from wacky fonts with jagged edges, stripes, curls, and swirls. They may look fun but if they're hard to read, they aren't doing the job. You want people to immediately recognize your name and associate it to your face.
You can even change the title background color to make it stand out even more. This is especially helpful when your header image blends into the title a bit.

If you want to brand yourself further, consider getting a custom logo for yourself. This is something you can use on your website, on social media, album artwork and blog articles. When people see your logo, they'll know it represents you and your music. Bandzoogle Member, Torch, gives us a great example on his drummer website design.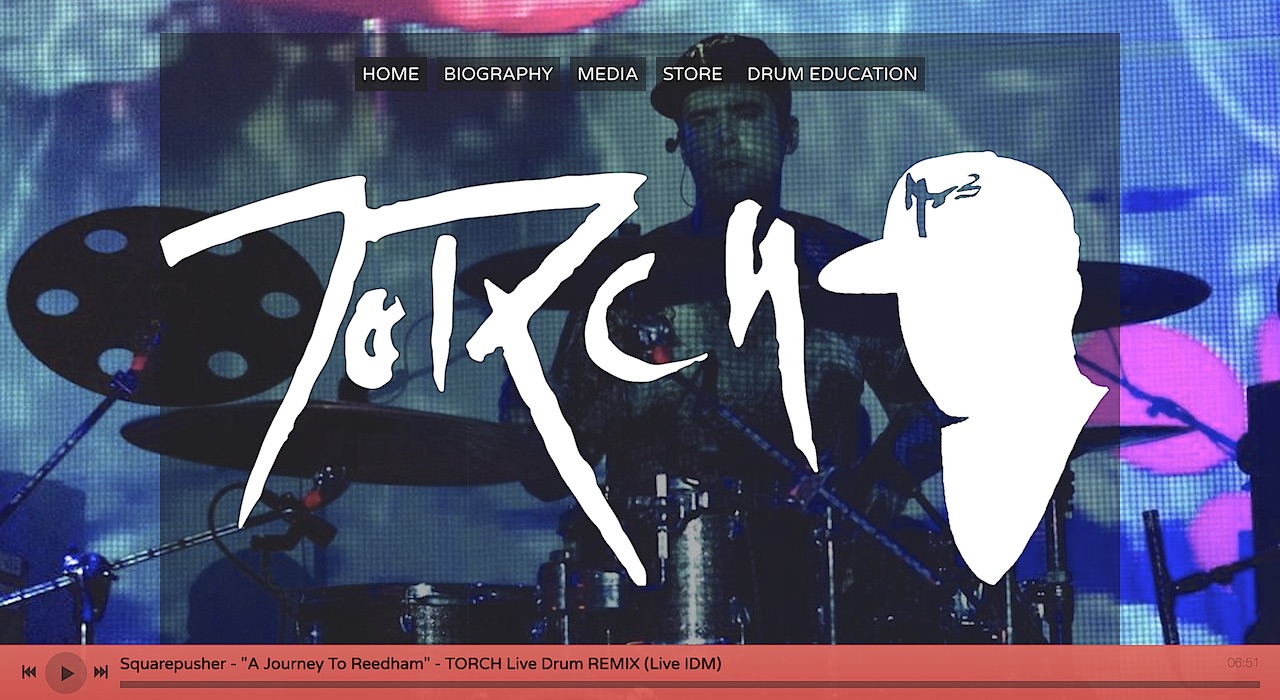 He uses a big bold signature font with a silhouette of himself. This is sure to get people to remember him!
Color Pop
To spice up the header photo even further you can use our built-in image filters. These instagram-like filters can make a dull image shine. You can even skew the look with brighter colors or black and white overlay.

When styling your drummer website design, choose three to four colors to work with. The most difficult part will be choosing a primary brand color. This color should fit your personality and the mood of your music. Once you decide on a color, you can use a color wheel to find a secondary and accent color. A fantastic option is Adobe Color CC.
Other ways to add color to your site is with font colors and buttons. You can even style your sitewide music player with a prominent color as well. This player continues to play while the visitor navigates your site. If you choose a bright color it'll make your music the focus.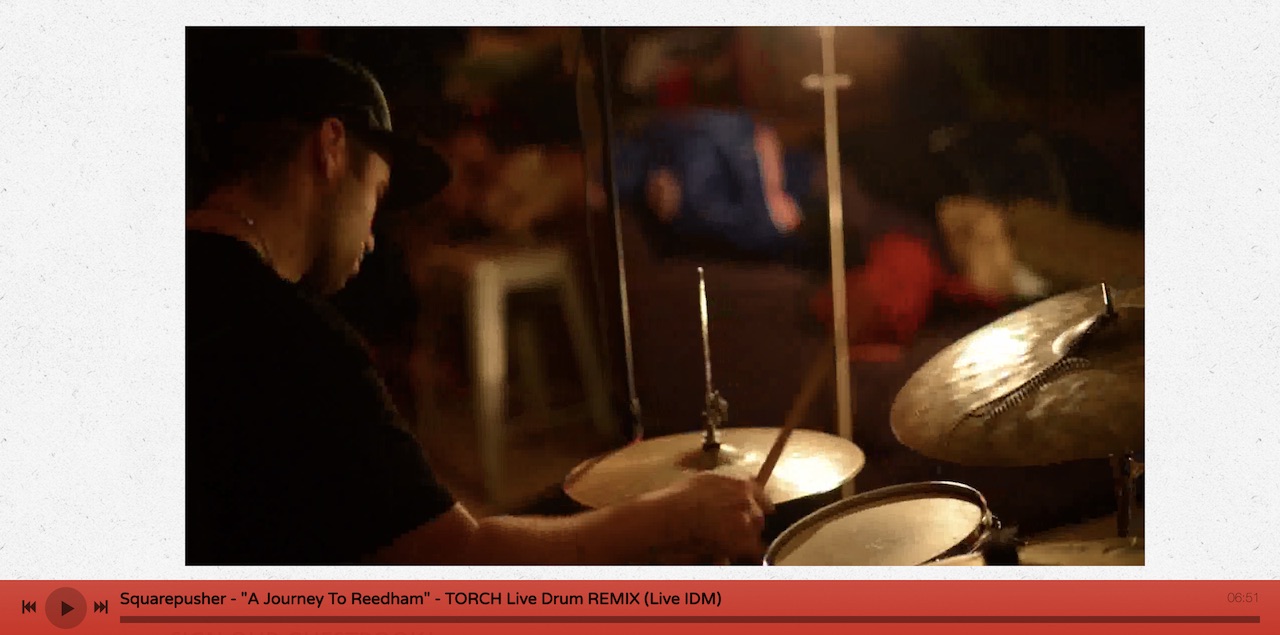 Blueprint
Another way to make drummer website templates stand out is with varied page layouts. In our sitebuilder we provide several layout options including full width, two column, three column, and sidebar.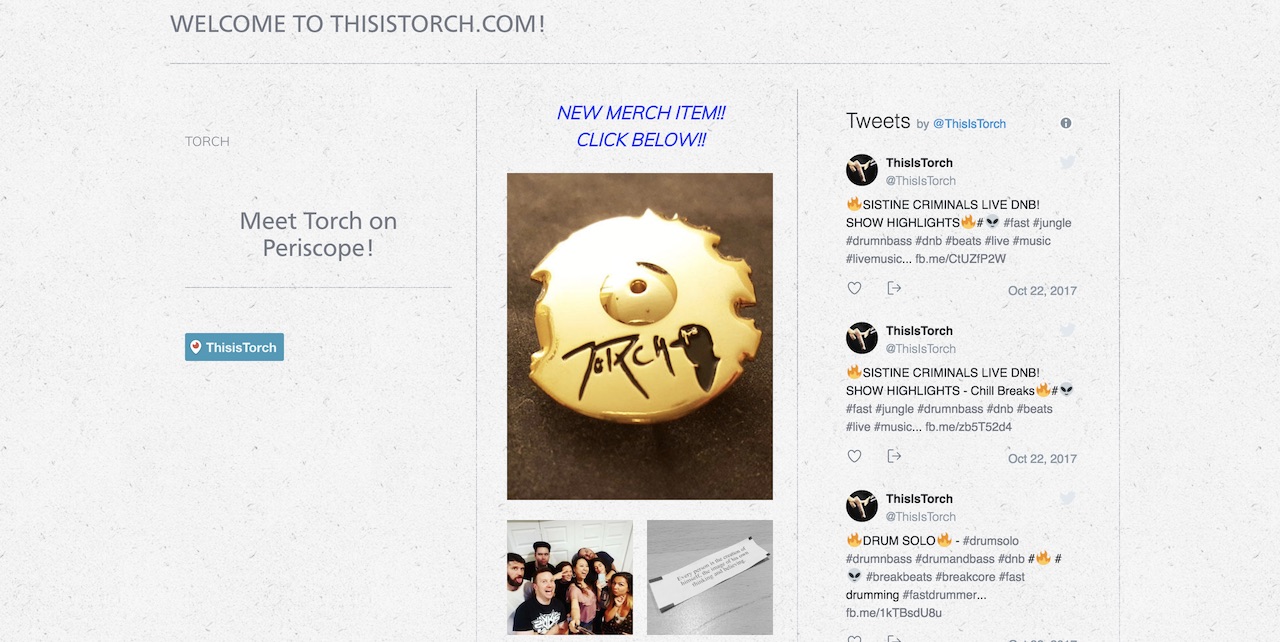 Once you have your columns in place you can stagger the look even further with our styled sections feature. This option gives you control over the row colors on your site. This gives you control over which content section you want to make more noticeable.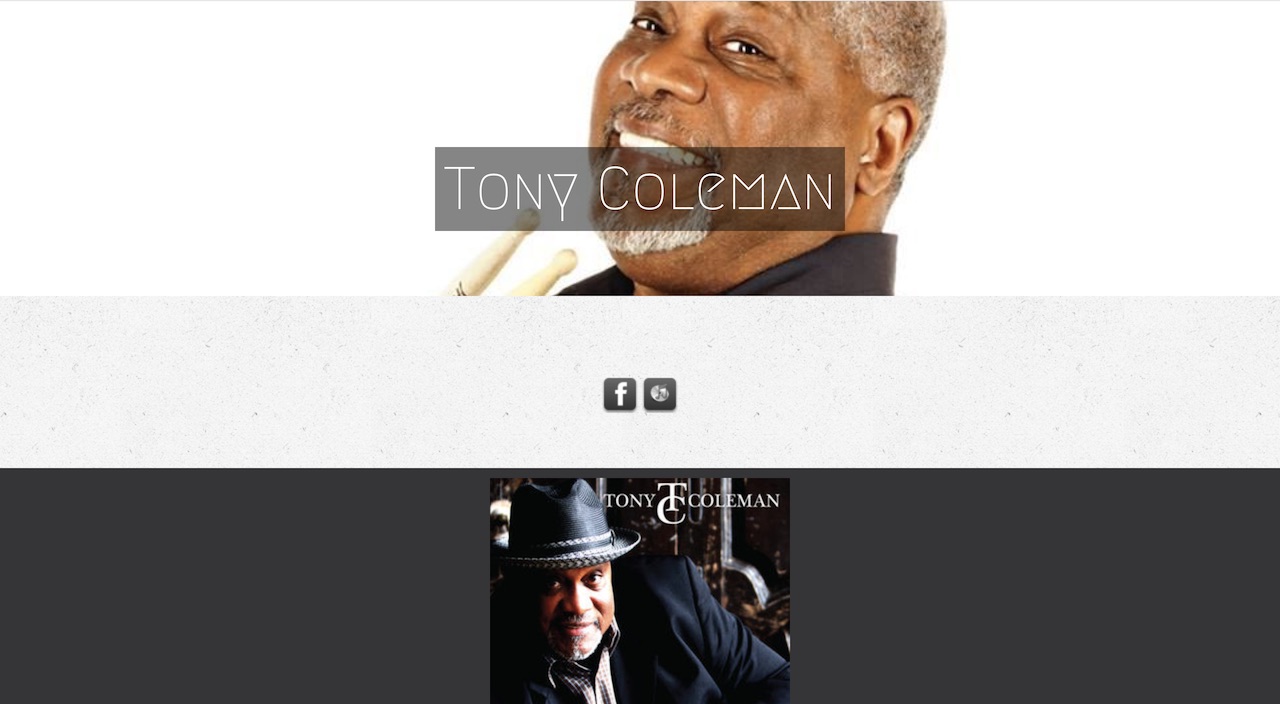 In addition to the content editor, you can achieve more variation in features like our photo gallery and events. Within each feature we offer controls on the layout. With our photo gallery feature, for example, you can set it to grid, tiled, or slideshow.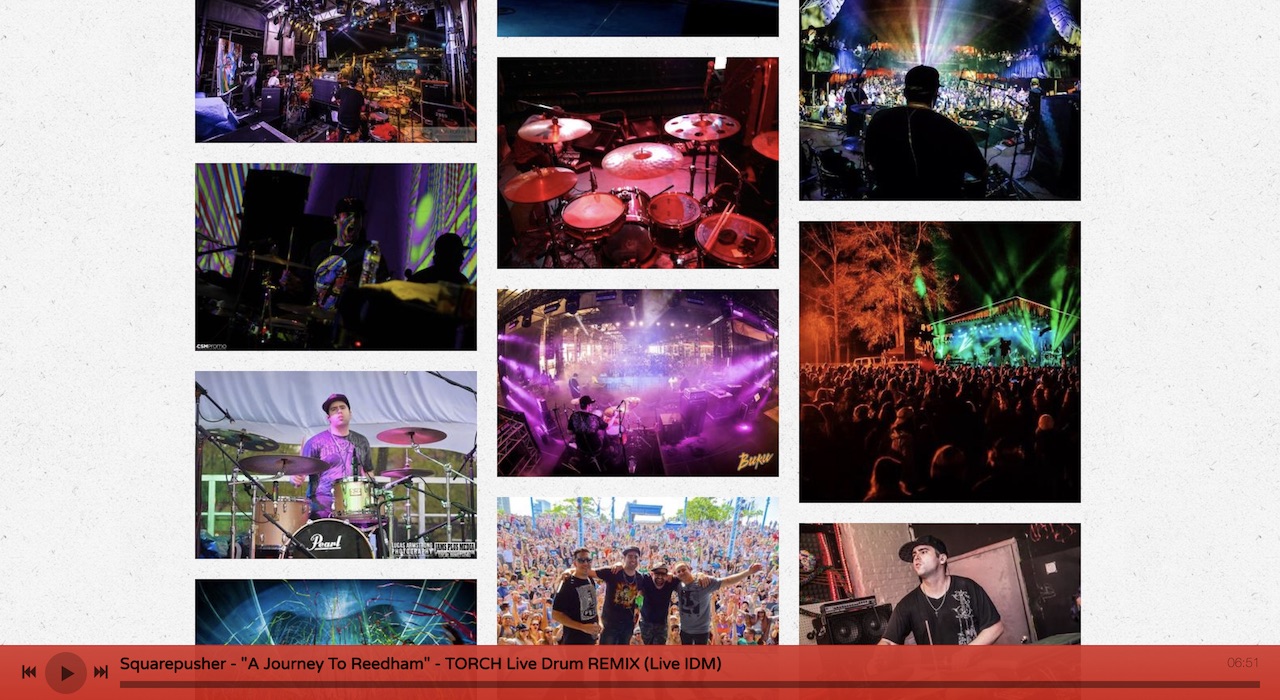 Get Heard
With different music and store options, your e-commerce pages will also look great.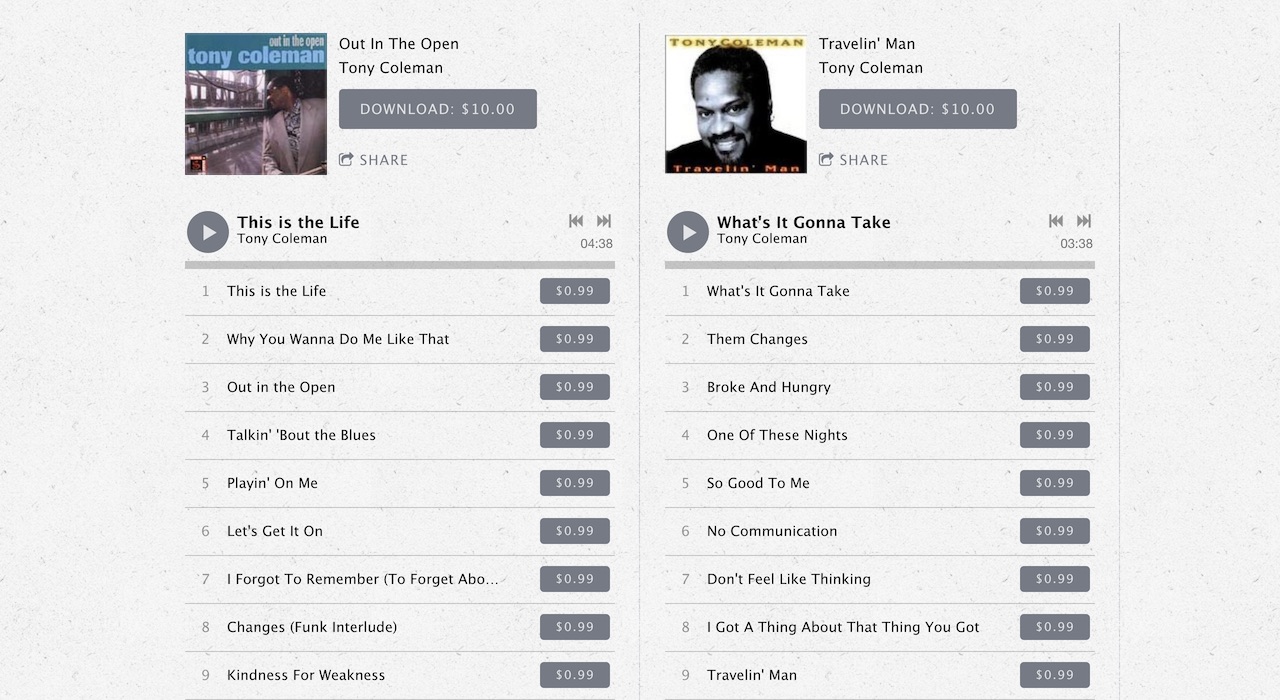 You want to make it easy for visitors to buy from you, so sell right from your website. You can sell albums and single tracks as well. With our Pro plan you can even sell digital files like PDF's and Videos.
To take it a step further, consider selling physical merch as well.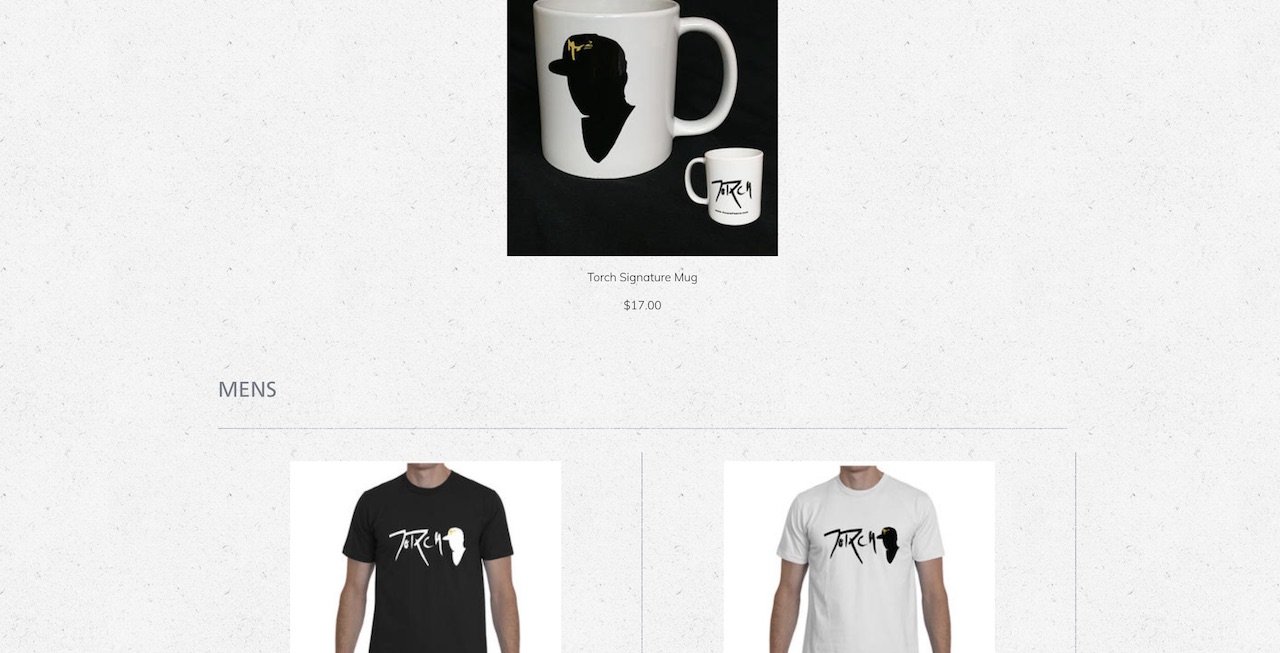 This is a great way to increase sales and get fans wearing your gear around town.
Bring it Together
Getting started may feel uncomfortable in the beginning, but once you get a few pages under way you'll be proud of your drummer website. If you need more inspiration, check out this blog post: Website design inspiration: Best drummer websites. There are even more examples in our blog and examples page as well.
In this post we've shown three drummer sites using the same template, but making tweaks to suit their style. You can do so much with only one template. Imagine how much more you can do with the hundreds of others templates you can choose from!
Why not share this with your friends?
Build a stunning band website and store in minutes
Promote your music on your own unique website.
Sell music & merch directly to your fans. Keep 100%.
Grow your fan base with built-in marketing tools.