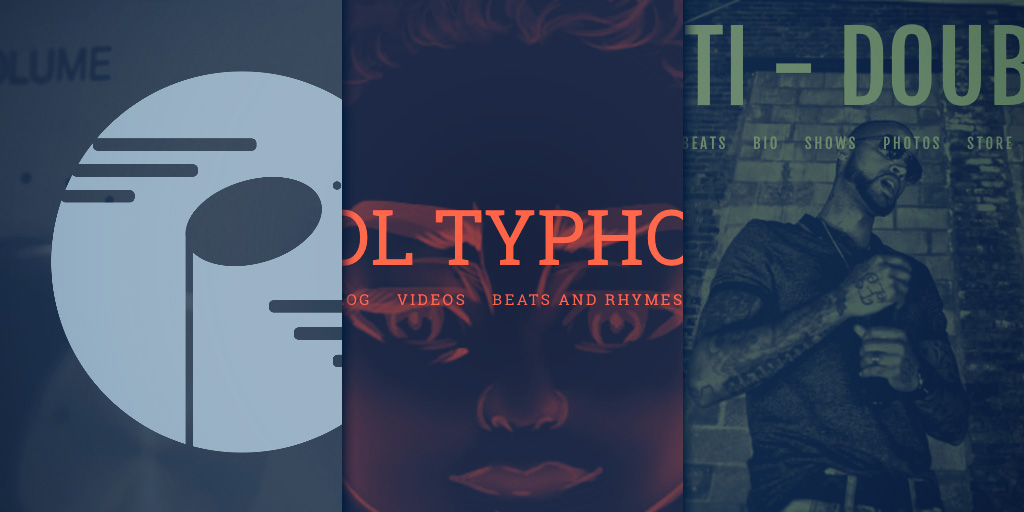 Let's face it, the beats market is saturated. Everyone with a home studio is clamoring for attention and a chance to make it big. To stand out from the crowd, you've gotta be different.
The top three keys to success, especially with beatmaking, are consistency, growth, and professionalism. The first two are on you, but the last one is where we can help. To show you're serious about your craft, you need a beat producer website.
[How to build a website to sell beats online]
Since there's so much competition, you might be wondering how using a website template can make you stand out. That's where we've got you covered. Bandzoogle beat producer website templates are perfect because they can be totally customized to fit your style.
Let's take a look at three different beat producer websites using the Eclipse template. You'll see that although they're using the same template, each site is unique to their own brand.

Make an Introduction
A good question to ask yourself is "Who am I and how do I want to be known?". This may seem like a weird question, but it's necessary. As a producer you have the option of being larger than life like DJ Khaled, or falling back behind the scenes like 40 (Drake's producer). Once you decide, you can make your beat producer website design accordingly.
For those who like to shine out front you'll want to add your picture to the website header area like Ti-Doub. This gets fans to start associating your face to your music.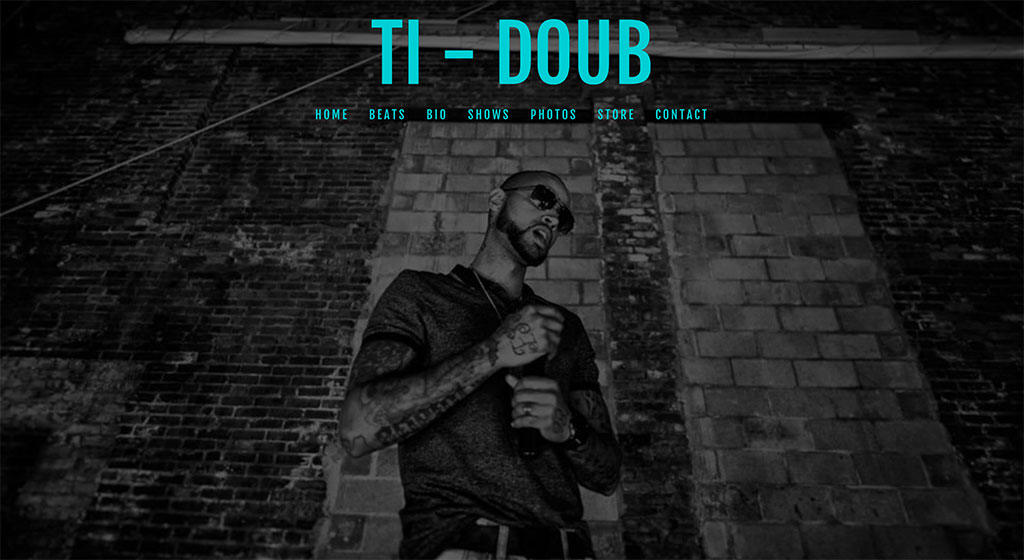 For those who like to remain a bit more mysterious you'll want to use a logo instead like Peaux Beats.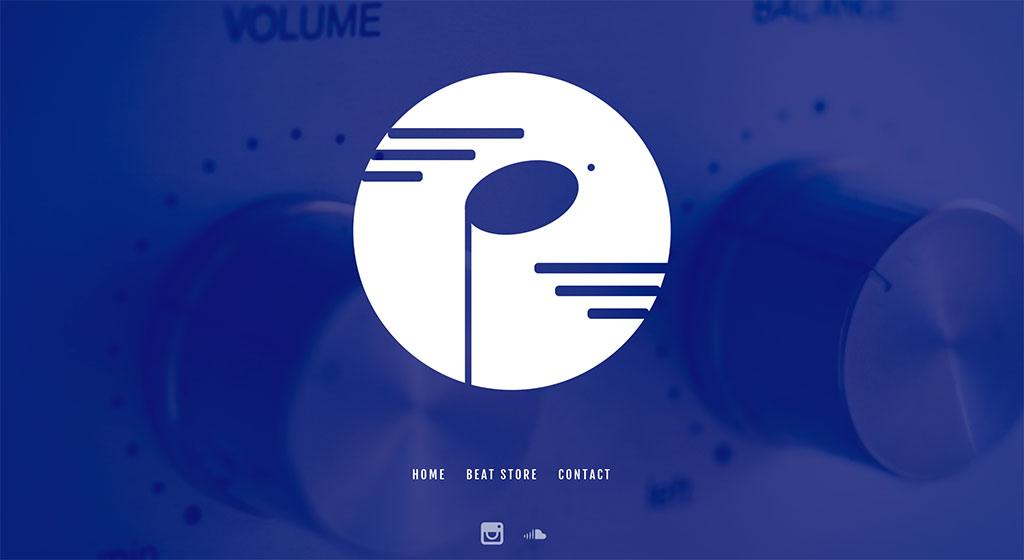 We would caution against using stock 'studio' images as they can come off as generic. Remember the goal is to stand out, so spend the extra money for professional images or a custom logo.
Brand Matters
Whether you use your face or a logo, branding is important. Branding is the method by which you get people to know and remember you based on certain factors.
For example, Cool Typhoon uses a header image of a youth with big hair. If you look at some of his social media accounts they have similar images as well. This not only gets people talking, but helps them recognize his music by these images as well.

As we mentioned before, consistency is key. Wherever someone finds you online they should see the same style across the board. Using the same imagery will help, but other things to consider would be font style, colors, and logo. With our customization tools you can choose from many different options and even upload your own custom font or logo.
With your font style you want your name to stand out and be easy to read. Although there are a lot of unique font styles you should stay away from those with excess designs to them.

Fonts with spiked edges, paint spatters, and wavy lines might look trendy, but if your visitor isn't sure what it says it's a waste of good website space.
Vibe
Along with branding and fonts, you'll also want to set a nice website undertone. This is generally set by the colors you use on the website.
Before you choose a template you'll want to determine the mood of most of your beats. If they're more upbeat you'll want to choose a brighter theme. For heavier beats you'll want to choose a darker style like the Eclipse template we're using in this post.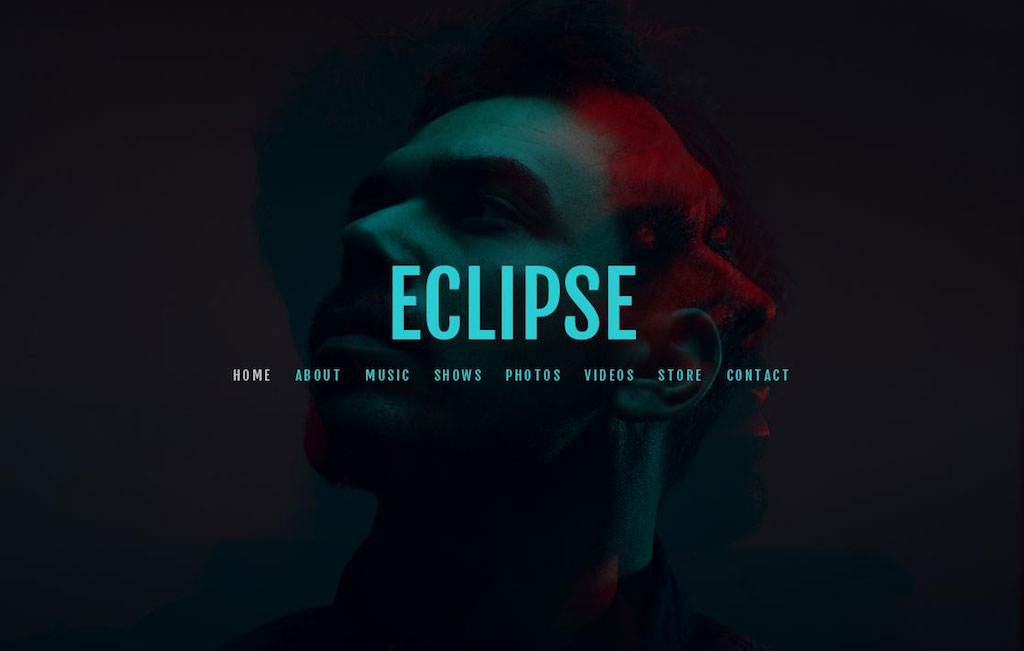 Once you decide the mood, the site colors should compliment each other. A good rule of thumb is to focus on three colors. You'll want a primary brand color, secondary color, and an accent color.
For example in the Eclipse header you'll see the primary brand color is blue, the secondary color is red and the accent color is white.
You can use other colors as well, but make sure they are all in the same color family and just slight variations of the primary brand color. Using a lot of random colors will make the site look scattered and amateurish.
Music Focused
Style is important, but if finding and buying beats isn't easy you'll lose out on sales. We know how vital this is so we give you several options to sell your music from your site.
The easiest option is to sell your tracks right from the Music feature.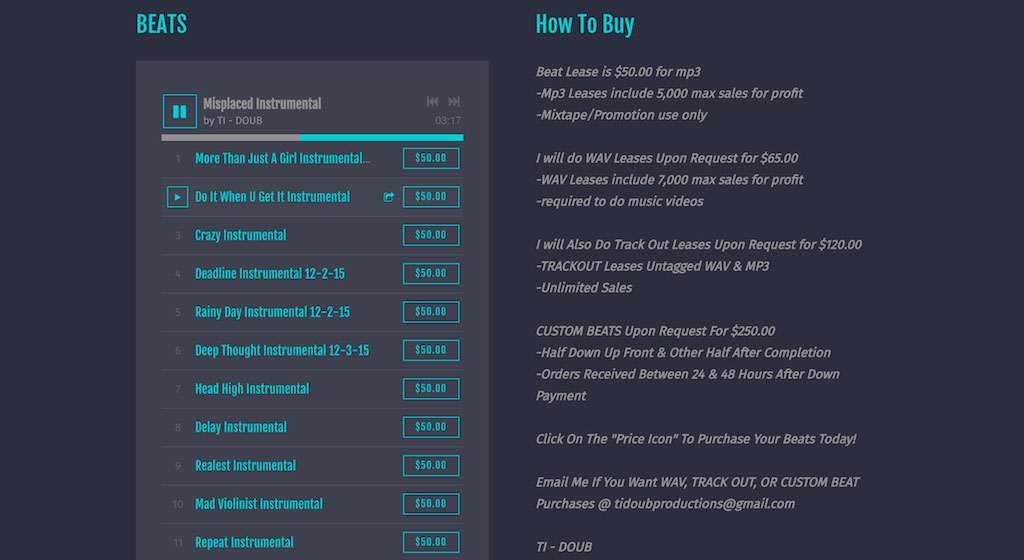 This feature allows you to set up different sections for different track genres. Here you can give away free downloads, set a price or let your fans choose their own price. Our music feature allows you to sell all your beats commission-free. That's right we don't take a cut of any of your sales!
Another great option is our new Airbit (formerly myFlashStore) integration. With this feature all you have to do is plug in your Airbit username and the player will match the style of your selected theme.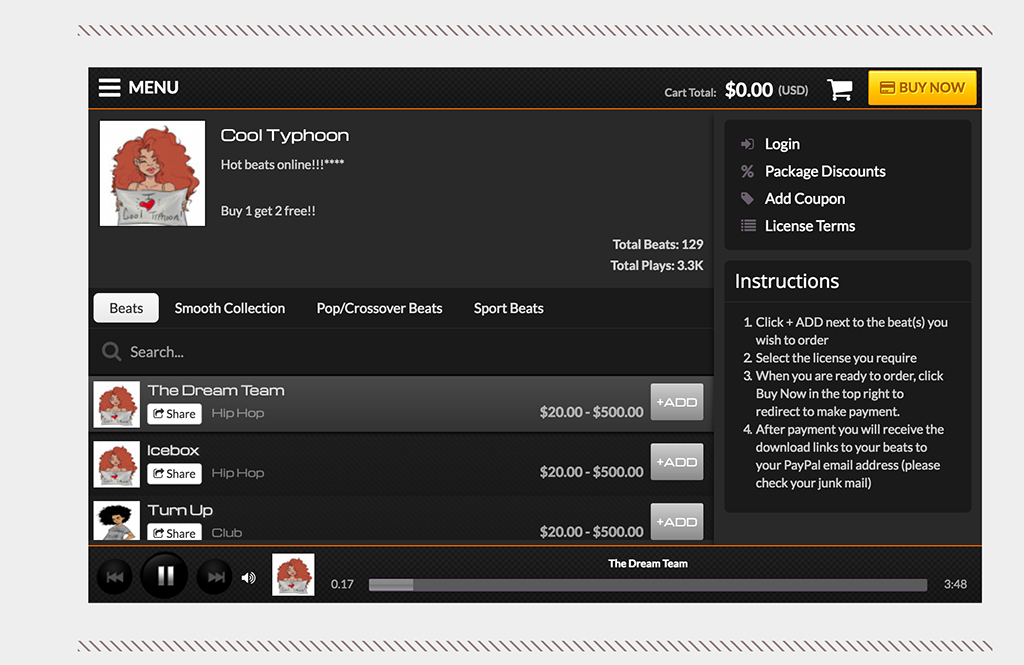 With Airbit integration you can sell your beats commission-free, set licenses, offer package deals, and several other options as well.
[Use Airbit to sell beats on your website]
In addition to our built-in features you have the option to use other familiar services to sell your beats as well. Some of our members use widgets from SoundCloud or Spotify. Whichever service you decide to use, just make sure it's easy to buy right from your site.
Bring it Together
Once you have all the content set, it's time to work on the final touches. The Edit Theme tab is where you make the magic happen. Without knowing any code you can play with image filters, theme decorations, and button styles. These are the things that set your beats website apart from all the others.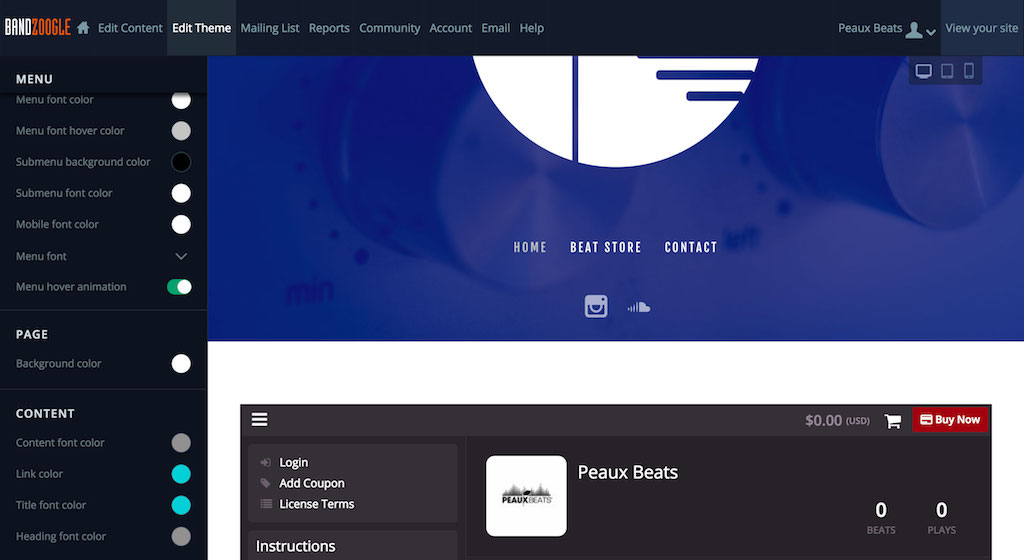 You can get creative with colors and change up the feel of your site whenever you'd like. Even better, you can change themes anytime you'd like as well. Just in the time this post was being written, Cool Typhoon changed his theme to our newest theme, Nocturne, to make it a bit lighter.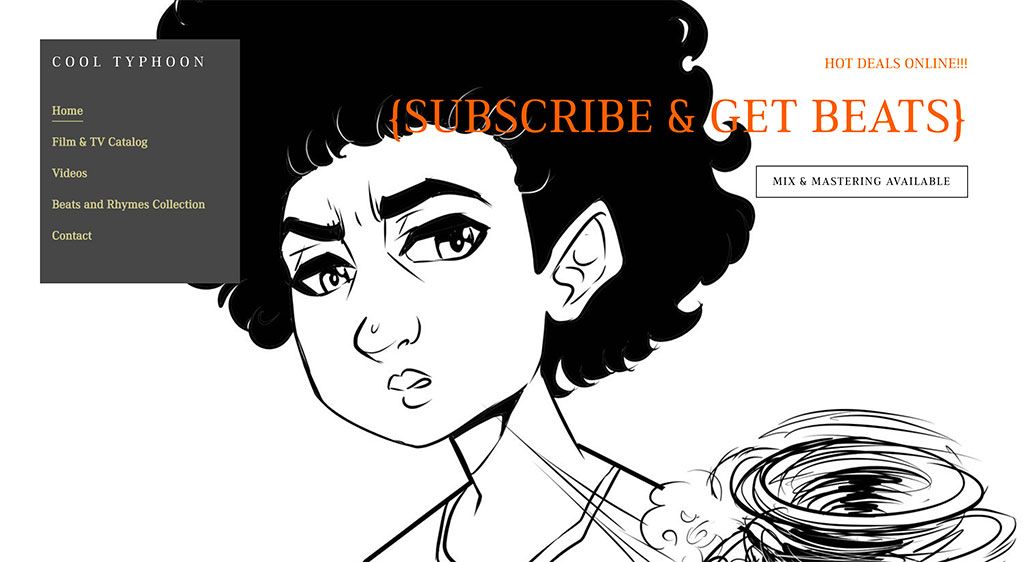 Even though this is a completely different style, all the content stays the same. This is one of the best benefits to building your website on Bandzoogle. You can try out new themes whenever you need a change.
We've shown you just three beat producer websites, but the customizations are endless. You can get more inspiration by checking out Website Design Inspiration: Best Beat Producer Websites, our blog and examples page as well. With all the available options, your website will be the go-to spot for beats online!
Build a professional website to sell beats in minutes with all these features and more. Sign up free with Bandzoogle now!
Why not share this with your friends?
Build a stunning band website and store in minutes
Promote your music on your own unique website.
Sell music & merch directly to your fans. Keep 100%.
Grow your fan base with built-in marketing tools.