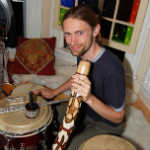 Eli Gordon is the longest serving employee at Bandzoogle. With the company celebrating 10 years this month, Eli has been around for 9 of those years. We thought it would be fun to get his thoughts on working for Bandzoogle and how band websites have evolved over the years. Enjoy!
Q: What's your current role at Bandzoogle?
When I was first hired, I did everything except support. Since then, we've hired an amazing development team, so my time is mostly spent planning new improvements to the system, making mockups of user interfaces, writing up specification documents, and debating with Chris (BZ's founder) on all the little details. When we did our big rewrite a couple of years ago, Chris and I made almost a thousand UI mockups. That was quite the process.
Q: When did you first get hired?
2005. Back in the days when Gmail required an invitation, Facebook was only open to college students, Skype was trying to lure people away from ICQ, and everyone had a MySpace page. Where did the time go?
Q: How did you get hired by Bandzoogle?
I had just moved to Montreal so I was looking for a job on online job boards. At that time, Chris was building and running Bandzoogle by himself with his bandmate doing support. He needed some help, and I guess I was the right guy for the job!
Q: Is it true you initially worked out of a Bandzoogle office?
When I was first hired, Bandzoogle was operated out of the DKD offices, the record label that managed Chris' band. So for the first couple of weeks, I worked out of their office. When my dreams of going for lunch with rock stars didn't materialize, I cut the commute and just worked from home. Bunny slippers aaaall day.
Q: Since then, Bandzoogle has been a remote company, and you seem to have taken good advantage of it to live in different cities. Where have you lived during your time working for Bandzoogle?
A couple of years after joining Bandzoogle, I moved to the East coast of Canada (beautiful Nova Scotia), and just kept on working like nothing had changed. Since then, I've worked from cafés and kitchen tables all over Canada, the States, Europe, and even India. Last winter, I decided to escape and spend three months in Colombia (an amazing place to travel, by the way). This winter, my offices will be in Iceland (Iceland Airwaves, baby!), Florida, Mexico, and San Fran. And yes, my friends all wish they had my job.
Q: As someone who helps develop the features, very curious what *your* favorite Bandzoogle feature is?
As they say, the best is yet to come (really, there's some great stuff coming). But currently, I'm most proud of our music features. I feel like we've made it really easy for artists to get their music online while still allowing for a huge number of options: flexible pricing, bundled physical discs, download codes, you name it.
Q: What's the biggest change in band websites you've seen in the past 10 years?
Everything on the web has changed so much in the past 10 years and we're on the cusp of even bigger changes. When Bandzoogle started, if a band even had a website, it was usually quite rigid, relying on cheesy Flash widgets to add a bit of pizazz.
Now, in the age of mobile devices, rigid is no longer an option. Fans expect full-def immersive experiences that look just as good on their phone as they do on their laptop. We're constantly pushing ahead to keep our members' sites up with the times, but fans' mounting expectations also put a fair bit of pressure on our members to make sure they have great-looking high-def photos and videos.
Q: When you're not working on developing new features and improvements for Bandzoogle, what's your favorite pastime?
I have way too many pastimes, but my current top three are photography, swing dancing, and planning a sweet annual music festival here in Halifax.
Why not share this with your friends?
Build a stunning band website and store in minutes
Promote your music on your own unique website.
Sell music & merch directly to your fans. Keep 100%.
Grow your fan base with built-in marketing tools.