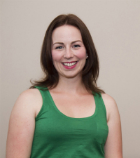 Whenever we get feedback from Bandzoogle members at conferences, or by email and social media, customer service is the most common compliment we receive, and with good reason: our support team is awesome.
So as we continue to celebrate our 10 year anniversary, we're featuring another interview with a staff member, this time with Stacey Bedford, our Head of Support.
Stacey is responsible for the support team and how customer service is handled at Bandzoogle. We thought it would be nice for you guys to get to know her a little better, as well as give you some insight into how serious we take customer support. Enjoy!
---
Q: What's your current role at Bandzoogle?
In a small company you wear a lot of hats. Officially, I am Head of Support, so very basically I get to make sure our members are happy. Sometimes that means making sure different projects are moving along, and setting up meetings and sometimes that means hiring and training new customer service reps.
Q: When did you first get hired?
I was hired around December 2007. At the time, Chris was doing all of the technical support, and he did all of the training, and it was really important to him to maintain a really high level of customer service. He would actually go through every single new account and reach out to new members to make sure their needs were being met. Our support team still does this, 7 years later!
Q: How did you get hired by Bandzoogle?
At the time I was working as an office manager in a busy real estate office, not putting my certificate in digital imaging to any good use. I've always kept on top of technology and web design, and Chris, who was living with my sister at the time, needed someone to take over the customer service so he could focus on product development. I've always been kind of a mother hen so I think that translates to how I fit in with the staff, and how much I care about keeping our members happy.
Q: What's been one of your highlights while working at the company?
Too many things are coming to mind here. Bandzoogle is a really organic company. Where many organizations thrive on structure, Bandzoogle staffers seem to fall into the role that they do best.
You'll often see support tech Allison filling in on an early shift for QA tester Justin when he is at an Opera rehearsal, or Director of Artist Relations Dave Cool meeting members to talk about band promotion over drinks, or senior developer Colin jumping in on Saturday at 11pm to help a member who has an issue very important to them. Everyone cares, and it is really nice to work for a company like that.
Q: The support team is often cited by members as one of Bandzoogle's best features. What's the secret? Why are you guys so great?
Bandzoogle dedicates a lot of its resources to customer service. There is a serious training program everyone of us goes through, that can last a couple of months.  When it comes to member inquiries, there is open communication between the developers and support staff - no bottlenecks.
We have a policy to respond to email inquiries in under an hour during business times, and we provide support 7 days a week, even on most holidays. We keep a well rounded team and tend to hire people with different strengths, so you may find yourself talking to a graphic designer, web developer, or social media expert at any given time. Most of the team are musicians, so they usually understand what our members need without too much explanation.
Q: Whenever there's a job opening on the Support team, we always get lots of applications (maybe because of our luxurious offices). For potential future applicants, what do you look for when hiring a new staff person on Support?
It is really important that you're self motivated and you have experience working from home. We are usually looking for specific qualities each time, so make sure to read the job description and add a cover letter about why you would be a good fit.
We also have a preference for existing members, musicians, and since we're a global company you get extra points if you speak more than one language. If you get to the interview stage and you haven't tried Bandzoogle before hand, I usually mentally move on to the next candidate. Once I interviewed someone who, while otherwise brilliant, kept calling us Bamboozle.
Q: What do you think one of Bandzoogle's most underused or underappreciated features is?
I think the mailing list is a huge value, and one I don't see everyone using. Since you can compose and schedule a campaign before you go on tour, and even target by zip code, most of your promo work is taken care of while you play and travel. You can also design the newsletters to match your current album or tour branding - it's robust.
Q: And what would be your *favorite* Bandzoogle feature?
Live Chat! You can talk to the support team in real time, 7 days a week if you have an urgent inquiry, or if there is something you're having trouble with and need a play by play. We are always around to help.
Q: What's one of the the biggest mistakes you see bands making when building their websites?
A lot of musicians add way too many pages, or don't label them clearly. It's really important to have a clear navigation so that visitors don't have to search for things like upcoming show dates, store, music samples, news, or contact.
It's also important to not give visitors too many choices, so keep the main pages to one menu row. Use internal links and subpages for non-essential information your superfans will stick around and dig for (ex.: 200 show pics from 5 years ago.)
Q: You're not a musician yourself, but multiple sources say that you're the queen of karaoke, is this true? Any favorite songs?
I really shouldn't, but I love karaoke! I love 70s rock. There is nothing more fun than belting out Jackson Browne or Journey with a bunch of friends. It helps when your friends are incredibly talented singers and they can carry you, though.
At the last Bandzoogle annual retreat, the whole support team did a karaoke rendition of Hey Jude by the campfire one night. Fact: I am the only member of the support team who is not a trained singer. If someone would have muted my mic, it would have sounded lovely.
And here's a pic of Stacey (far right) leading (forcing?) the support team through the karaoke rendition of 'Hey Jude'...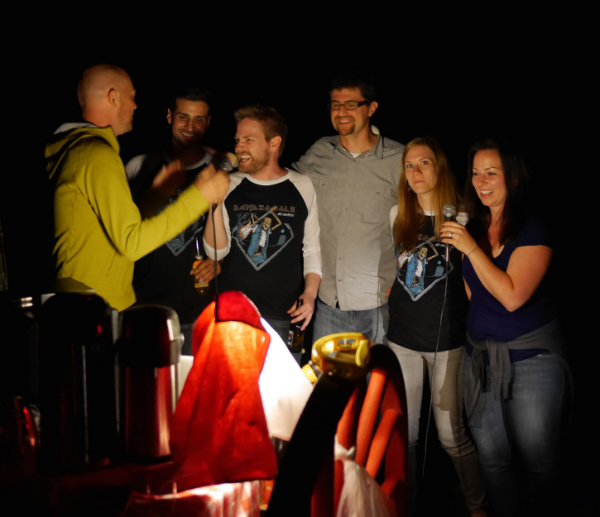 Why not share this with your friends?
Build a stunning band website and store in minutes
Promote your music on your own unique website.
Sell music & merch directly to your fans. Keep 100%.
Grow your fan base with built-in marketing tools.