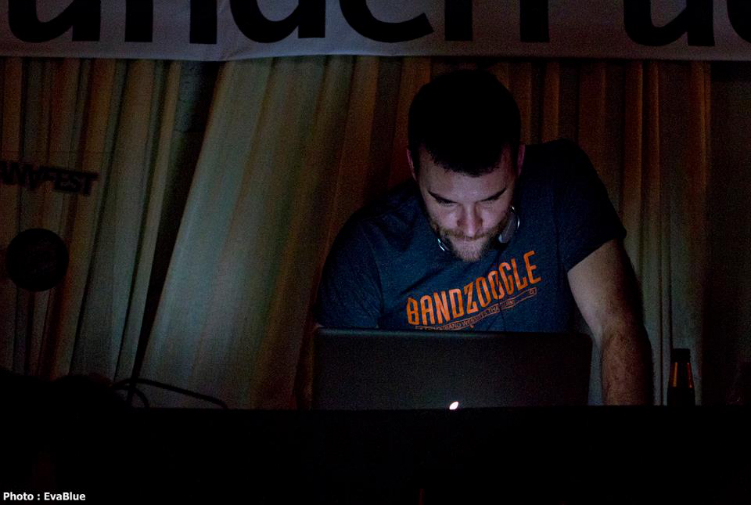 To start our 10 year celebration in October, we featured an interview with Bandzoogle Founder Chris Vinson. So we're ending our 10 year celebration with an interview with our CEO, David Dufresne.
David hasn't been with Bandzoogle for the whole 10 years, but has made a huge impact, leading the business development and marketing for the company for the past 5 years.
We spoke to him about his love of music, his proudest moments at Bandzoogle, and what's coming next for the company. Enjoy!
---
Q: You're not a musician yourself, but you're one of the biggest fans of music around. Where did that love of music come from?
That's a good question. When I was a kid I always loved going through my dad's old classic rock vinyl LPs, and then I turned into that teenage boy who would find out about new bands before everyone else and annoy all his friends with carefully elaborated mixtapes.
I turned that into a radio show in college and DJ'd for a while. Still today there's something about discovering new music and making that perfect playlist that I find thrilling and satisfying. And, with social media it's easier than ever to force it on your friends!
Q: Curious how you're consuming music these days? Do you still buy downloads? Vinyl? Use streaming services?
I buy lots of downloads, including many from Bandzoogle-powered websites… and never from iTunes, as I try to buy directly from the artist when I can. When I really love an album I'll probably buy it on vinyl as well it it's available.  
I also have subscriptions to Rdio, Spotify and Beats Music, and I use them once in a while, but usually I stream my own downloads from my own personal server, that I set up using Subsonic www.subsonic.org and using an app called iSub.
Q: Is it true that you were in the *Olympics before becoming CEO of Bandzoogle? (*may have misunderstood the story)
Hehe on top of being a music geek I grew up a sports jock. In university I was on the school's soccer team (and proud to say I'm now a Hall of Fame member there). In 2000, while I was doing a Master's degree in Management, through the university I had the opportunity to go work for the Sydney Organising Committee for the Olympic Games in Australia. A pretty cool experience.
Q: Before working for Bandzoogle, you were involved with investing in tech startups, how did you get started in that world?
My Master's thesis was about venture capital and after Australia I found an analyst job at a VC firm that was investing in software, web and multimedia startups. I ended up spending 8 years in that industry.
Q: And so how and when did you end up becoming CEO of Bandzoogle?
In the Summer of 2010 I was planning to quit my venture capital job to launch my own startup (a music crowdfunding and patronage platform, which was an original idea back then). I met Chris through the local Montreal startup scene, while I was looking for a co-founder and thinking about building a team.  
After a few lunch meetings we realized that he was a tech guy looking for a business partner, and I was a business guy looking for a tech partner.  We decided to work together and so just like that I found a dream job, a business partner, a fantastic team, and an engaged user base of musicians.  I officially joined in July 2010, when we held our first company meet-up, in New York City. It was pretty surreal because Chris, Eli, Stacey, Allison, Colin and Dave Spurr, who had been working together (in some cases for many years) had never met most of their colleagues in person.
Q: Coming from a background in Venture Capital, were you surprised at how Bandzoogle had never taken any outside investment?
Hehe you can say that. I was used to working with companies that would burn a lot of money and be unprofitable for many years (which is why they needed venture capital) so I was delighted, and to be honest, confused at first to see a company with an actual sound business model.
Q: How did you see your role coming into a tech company that was already well established, versus advising startups in the past?
As an investor I was working with many companies in many industries, in more of an advisory, or board-level role, so I was happy to join Bandzoogle and focus all my attention and energy to one company and one team, in one industry that always fascinated me.
And I came into a company that was already profitable, growing nicely, and with a very happy base of customers. A true "diamond in the rough". All I've done since then is amplify the message; increase our visibility, build industry partnerships, make sure we remain ahead of the competition.
Q: What's been some of your proudest achievements with Bandzoogle?
Outside of hiring Dave Cool you mean? My proudest achievement is definitely our new platform. When I joined, one of the first big decisions that Chris and I made was to rebuild all of Bandzoogle, pretty much from scratch.  
That was a tough decision because it meant that during that time we wouldn't do much upgrades and updates to our (then) legacy platform. That project ended taking way much more time and resources than we had initially planned, which could have killed some companies. But thanks our amazing users, who stuck with us during that time, and thanks to our developers and support staff, we kept growing during that time.
Now we have this amazing world-class, state-of-the-art platform and infrastructure that we can build on for at least the next 5 years. This allows us to add new features, options, themes, etc. on a weekly basis.
Q: As CEO, curious what your favorite Bandzoogle feature is?
Sorry Dave, I tried to think of one, and ended up with a list of 66! https://bandzoogle.com/blog/66-ways-bandzoogle-is-the-best-website-platform-for-musicians
But if I had to pick one I'd have to say our commission-free store features, and espcially the recent feature that we added to let you sell non-music digital files to your fans. Now I see musicians earning extra income by selling things like sheet music, instructional videos, ebooks, loops, drum fills, etc. And they get to keep 100% of their sales. And it brings me much joy.
Q: And what's the biggest mistake you see bands making when it comes to their websites?
Bands that don't know about Bandzoogle usually end up paying way too much money to get a bad website made on a blogging platform, and/or they have a website that they don't control. It's critical that, as an artist, you be able to update your own website anytime, from anywhere, and that you can change to your design and layouts whenever.  An artist website needs to be dynamic, get frequent updates and always fresh content. If you have to call someone to add a new photo or a new song, you're doing it wrong.
Q: So... any inside scoops as to what Bandzoogle members can look forward to in the upcoming months?
We're doing a big upgrade to the theme system, which will allow us to quickly make tons of new very slick and very diverse themes, and give our users more customization options.  We're also working on an inventory management system for the store, which will make Bandzoogle a strong and affordable option for anyone looking to build an online store (not just musicians).
Why not share this with your friends?
Build a stunning band website and store in minutes
Promote your music on your own unique website.
Sell music & merch directly to your fans. Keep 100%.
Grow your fan base with built-in marketing tools.