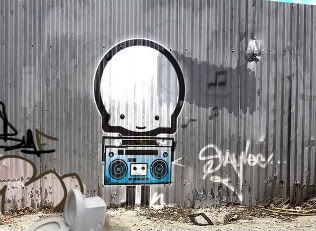 Hello Bandzooglers, and hello Sayvee-ians (...soon-to-be Bandzooglers, welcome to the family !). Today we are stoked to announce that we have acquired Sayvee, a young company that developed a website builder platform, based in beautiful British Columbia.

This is exciting news for everyone involved as it means we'll have more musicians and artists getting their website powered by the BZ awesomesauce and playing with us in the community forums, but also because we'll soon integrate some of Sayvee creative assets in to the new platform (think lots of fresh templates and other shiny goodies). Plus, Steve and Nico, the two main workaholic dudes behind Sayvee are the kind of gentlemen I would not hesitate to introduce to my sister (if I had one).

We did the boring corporate PR thing and wrote a press release announcing the deal. Since no one really ever reads press releases anymore, I'm forcing all of you to read it, below (please ?). Feel free to forward it to Chris' mom. She will be proud:

Bandzoogle Acquires Competing Musician Website Platform Sayvee

Bandzoogle, the most powerful website platform for musicians, today announced that it has acquired Sayvee, a fledgling Canadian start-up that brands itself as "Web Fuel For Artists". With this acquisition, Bandzoogle aims to consolidate its position as the leading site builder and hosting solution for independent bands and artists.

"We have been hard at work this year upgrading Bandzoogle's core platform and features to make sure we meet our members' expectations and help them navigate the heavily disrupted music landscape" said David Dufresne, Bandzoogle's CEO. "We are excited about working with the Sayvee team because they created an intuitive way to design a beautiful and slick web presence, and because they have built a solid member base of serious and motivated artists that will fit in nicely with our member community".

"We are very happy to merge Sayvee into Bandzoogle, a company we admire for their artist-friendliness and impressive list of features" said Steve Devries, Sayvee's founder. Chris Vinson, Bandzoogle's founder and CTO added: "Websites have become an incredibly important instrument in helping artists achieve their career goals and we take pride in making it possible for them to build a professional website easily, at a low cost. We know that the Sayvee team feels the same way about empowering artists, so we're glad to join forces and gain the privilege to work with their members".

Sayvee hosted websites will be moved over to Bandzoogle's servers over the next few weeks and Sayvee members will enjoy a free trial before deciding on one of Bandzoogle's subscription plans. An e-mail containing more details on the process has been sent to all members.
Why not share this with your friends?
Build a stunning band website and store in minutes
Promote your music on your own unique website.
Sell music & merch directly to your fans. Keep 100%.
Grow your fan base with built-in marketing tools.