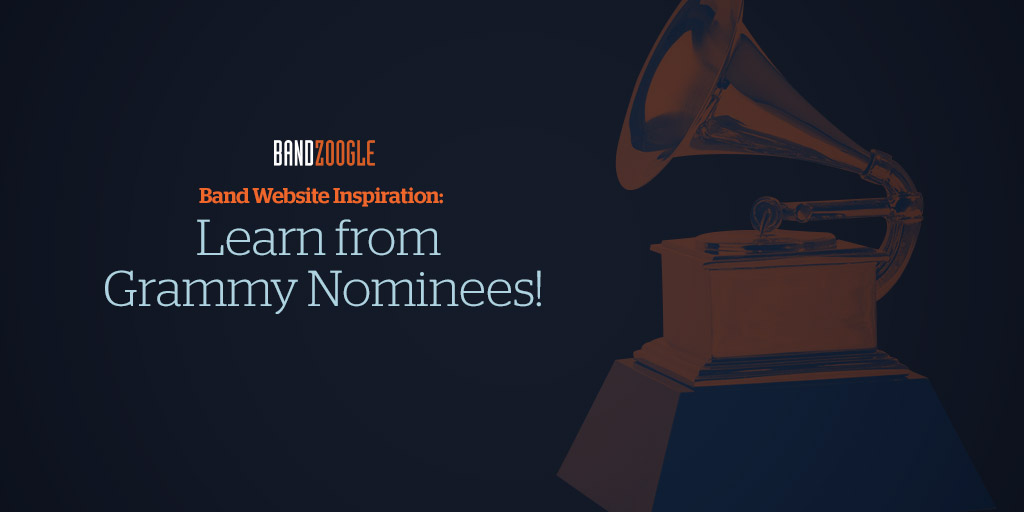 With over 25,000 bands and musicians using Bandzoogle to power their websites, we see artists of all genres, and at different levels of their careers. Everything from garage bands rehearsing to play their first show, unsigned bands who just self-released their debut album, to artists signed to labels with many albums already under their belts.
The Grammy Awards are coming up this weekend, and we're thrilled that several Bandzoogle members have been nominated! So we wanted to congratulate them, and also highlight their sites so you guys can learn a few website tips from some of the very best musicians around.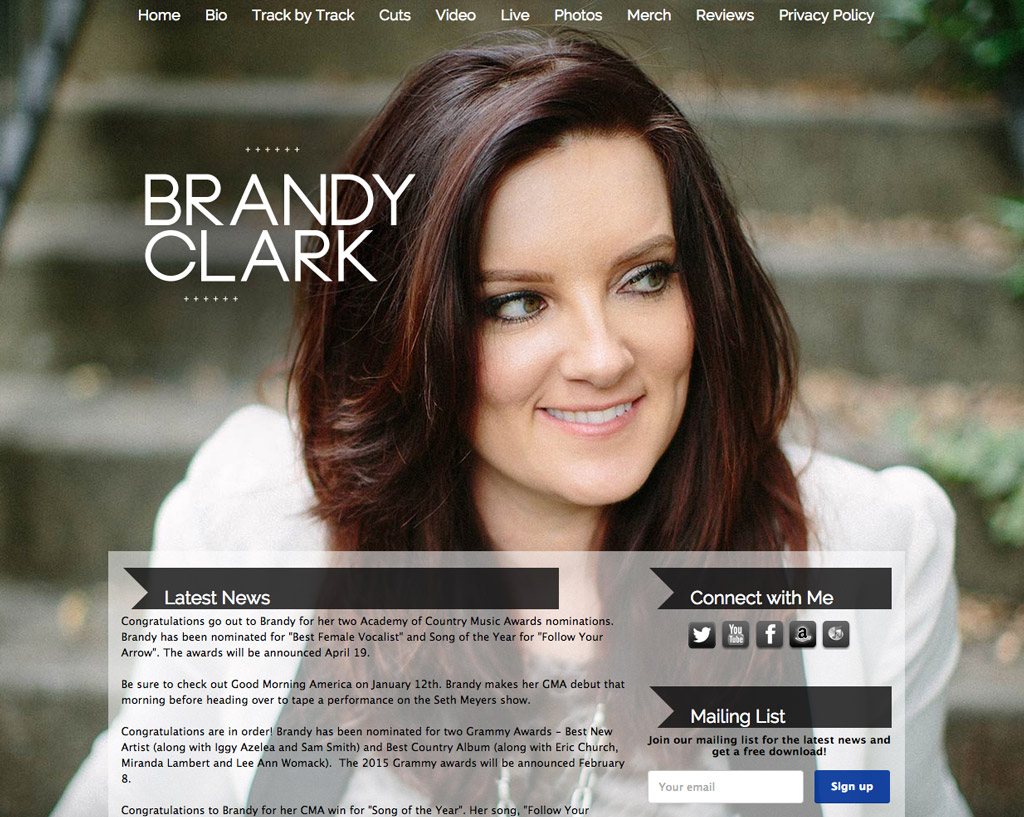 Who: Brandy Clark   
What: Country Singer-songwriter
Where: Nashville, TN
Why her website rocks: Brandy Clark is up for *two* Grammys, for Best New Artist & Best Country Album. Incredible. She'll also be performing during the broadcast alongside Dwight Yoakam!
Brandy's website is an example of how one nice professional photo can make for a simple, but great looking website. And we love how she puts her best foot forward on the Homepage with news about the Grammy nominations, an appearance on Good Morning America, and Late Night with Seth Meyers. Clearly it's been a great year so far for Brandy. Congrats and good luck this weekend!
Check out her website at: www.brandyclarkmusic.com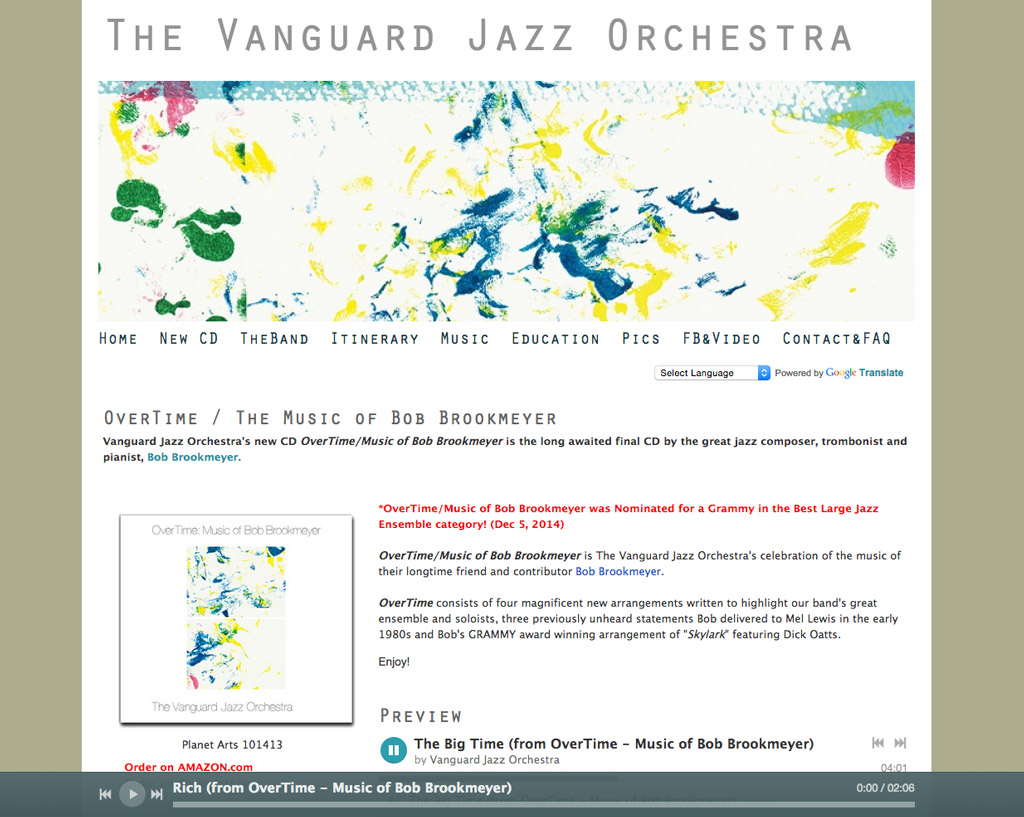 Who: Vanguard Jazz Orchestra
What: Jazz Ensemble
Where: New York, NY
Why their website rocks: We love the page on The Vanguard Jazz Orchestra's website dedicated to their latest album, which was nominated for Best Large Jazz Ensemble Album!
That page gives tons of context for the album. They explain the album's concept, who played on it, and include video interviews about the album, as well as photos from recording sessions. Really nicely done guys, we'll be rooting for you this weekend!
Check out their site at: www.vanguardjazzorchestra.com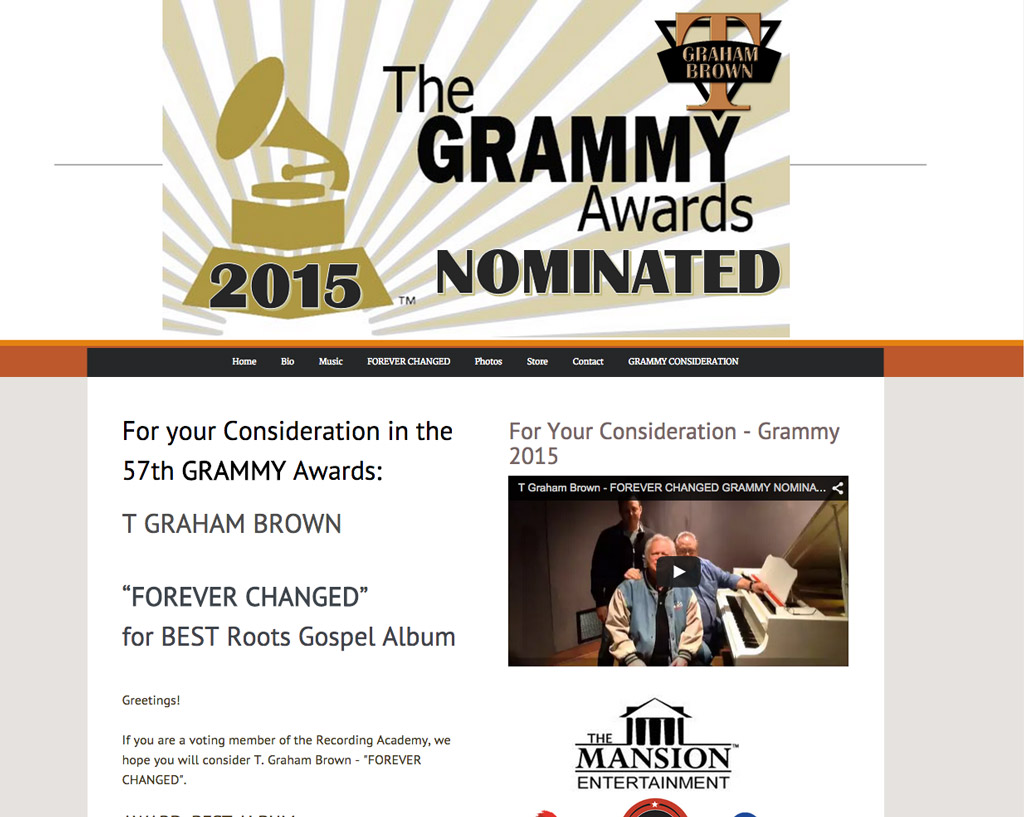 Who: T. Graham Brown
What: Gospel/Soul Singer-Songwriter
Where: Arabi, GA
Why his website rocks: T. Graham Brown was nominated for Best Roots Gospel Album, which is obvious as soon as you land on his site and see the special header image. A great way to put your best foot forward!
We also love that T. Graham Brown created a page just for Grammy voters. It has a full stream of the nominated album, biographical information about himself and the producer, as well as a personal video message from T. Graham Brown. We hope you bring home the gold T. Graham Brown!
Visit his site at www.tgrahambrown.com
For more design inspiration, check out our Website Examples page and the Beautiful Website Templates category of our blog.
Why not share this with your friends?
Build a stunning band website and store in minutes
Promote your music on your own unique website.
Sell music & merch directly to your fans. Keep 100%.
Grow your fan base with built-in marketing tools.