Written by Ari Herstand, the author of How To Make It in the New Music Business
I'm tired of seeing my favorite bands break up because they can't figure out how to make money with their music. It breaks my heart every time an incredibly talented musician quits music because they just can't figure out how to make a living with it. Music is not something we do. It is who we are.
Yes, I'm a professional musician, but I've now become a professional spreader-of-everything-I-knower because I don't believe in competition amongst musicians. If you're hardworking, passionate, driven and talented enough you will be able to sustain a healthy, long-term career - if you have the knowledge and the understanding of how it works. 
The #1 reason musicians quit music and bands break up is because they can't figure out how to make enough money to sustain their career. 
[Free eBook: 23 Ways Musicians Can Make Money]
Here are 7 ideas to grow your music income this year:
1) Take Venmo
This is something that is super new and is really ahead of the curve at this point. You may not have heard of Venmo yet, but you will. It is a verb in LA at this point "Venmo me." Basically, Venmo is the easiest way to pay someone. It's as easy as sending a text. Much easier than PayPal. So much easier that PayPal saw this and bought Venmo. Right now, download the app if you don't have it so you understand what it is and how to use it. 
Create your username to be @mybandname and announce from the stage that you accept tips in the form of Venmo. And you can even sell Merch with Venmo. There are 0 transaction fees. Let me repeat. Zero transaction fees. Whereas any credit card swiper takes about 3% +  like 30 cents a transaction (as does PayPal), Venmo takes nothing. How do they make money? Not sure yet. But again, PayPal owns them. 
Put a tip jar at your Merch table with a big sign, "If you liked the show, show us how much! Cash (arrow) or Venmo: @mybandname" You can even have a projector on stage and have like a real time auction with Venmo tips for a screen print or a backstage hang or a date with the drummer. Whatever. There are endless possibilities. Either way, think about how you can utilize Venmo to make more money at the show.  
2) Double Your Live Income With… 
Don't skip over this. I intentionally did not title #2 as "Up your merch game" even though that is what this is BECAUSE you're probably so over hearing how important merch is that you would just skip right past it. Listen to me. When on tour, merch is your #1 income generator. If you do it right. Artists fret over guarantees and door splits while totally ignoring the potential of merch. 
The merch inventory and point of sale tracking platform, AtVenu has calculated that for venues 500-1,000 capacity, the average dollar per head (DPH) is $3.65. That means, if you have 100 people at your show, you should make AT LEAST $365 on merch. If you don't, you are falling below average. 
Bands tell me all the time "But our fans don't buy merch!" Bull! If you sell it right they will buy. If you throw a few CDs in the back of a dark venue with no light, no display, no seller, OF COURSE you will sell nothing.
Want to increase your merch sales? Make sure you have a BIG, BRIGHT, attractive display with lights. Make sure it looks super pro. Make sure you have someone selling your merch from when the doors open to when they close. Oftentimes people will leave your show early because they have work the next morning, but want to buy something. If there is no one standing by the merch table at that moment they will leave. They will not grab a handful of stuff, run up to the stage holding their credit card and ask you to stop the show and swipe their card. Seems absurd, right? Well, what are you expecting not having a seller back there at all times?
Obviously you must take credit. A Square or PayPal swiper is totally free. Get it. Take cards. Who carries cash anymore? I sure don't. Yes, take Venmo. Make merch your fans want to buy - not what you think you should make. If your audience is 50+ Vinyl is a waste of money. They ain't buying it. If your crowd is 18-35 year olds. Vinyl may be the way to go - millennials LOVE vinyl. Announce that you have merch from the stage. Put your merch display in a prominent place in the venue - best is near the door. Get creative in your merch offerings. Do it right. And you will double your live show income. Guaranteed. 
3) Live Stream
Clare Means doubled her live income by Periscoping her performances. Brent Morgan, in 2016, was making over $10,000 a month live streaming acoustic performances from his bedroom on YouNow. Live streaming is a thing. And if this is something that inspires you, look into it.   
4) Synch Licensing
LA based singer/songwriter Cathy Heller has been making six figures a year getting her songs placed on TV shows, commercials and films - without a label or manager. It's possible to do. But there is a way to go about it and you have to know exactly HOW to pitch licensing companies, ad agencies, music supervisors and movie producers and exactly WHICH of your songs to pitch. Most times songs that work for TV dramas do not work for commercials.  
Cathy and I have teamed up to teach a year-long course How To Make Money in Music where she and I teach you exactly how to make 6 figures a year getting your songs placed in TV shows, commercials, trailers and films and by doing everything else on this list (and a lot more). Enroll here.
5) Crowdfund 
If you have any number of fans and you haven't actually run a Kickstarter, PledgeMusic or IndieGoGo campaign yet for your studio projects, you're doing it wrong. There are pros and cons to each of these and we go over them much more in-depth in the course.
People aren't buying music anymore AFTER it's released. However, they will support artists they love by backing their crowdfunding projects BEFORE the studio process begins. It's time to run a crowdfunding campaign. 
 +How I Made $13,544 in a Month (on Kickstarter)
6) Patronage
I'm sure you have heard of Patreon and Bandcamp subscription by now. If not, you're behind. Whereas crowdfunding is best to raise a bulk amount of money for one project, subscription is how you can make a livable income from your fans on an ongoing basis. [NEW: Launch fan subscriptions on your website]
7) Break Into The College Market
This is something I have a ton of experience with. I've played over 100 high-paying college shows around the country. It's a market that takes breaking into. It's a totally separate industry. But the beauty is, you don't need any sort of fan base to make a ton of money playing college shows. For awhile, I averaged about $1,800 + all travel, lodging, sound, light, food expenses per show. It took me awhile to break into the industry, but once in you can capitalize on it. Do NOT try to do this on your own without the knowledge of HOW it's done. Do NOT submit to NACA on your own. That is a sure way to waste a ton of money and time. 
If you really want to learn how to do this, join our course. I lay it out for you in a very comprehensive way. It takes a long time to understand the college market and go about it properly. It's a niche. But if this is something that inspires you, I can show you how to do it. Enroll and learn more about it here.

Ari Herstand is the author of How To Make It in the New Music Business, a Los Angeles based singer/songwriter and the creator of the music biz advice blog Ari's Take. Follow him on Twitter: @aristake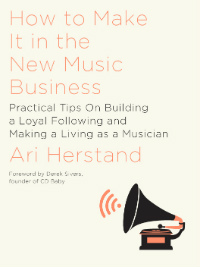 Make more money as a musician! Keep 100% of your revenues when you sell music, merch, & tickets through your website. Sign up free with Bandzoogle now.
Why not share this with your friends?
Build a stunning band website and store in minutes
Promote your music on your own unique website.
Sell music & merch directly to your fans. Keep 100%.
Grow your fan base with built-in marketing tools.