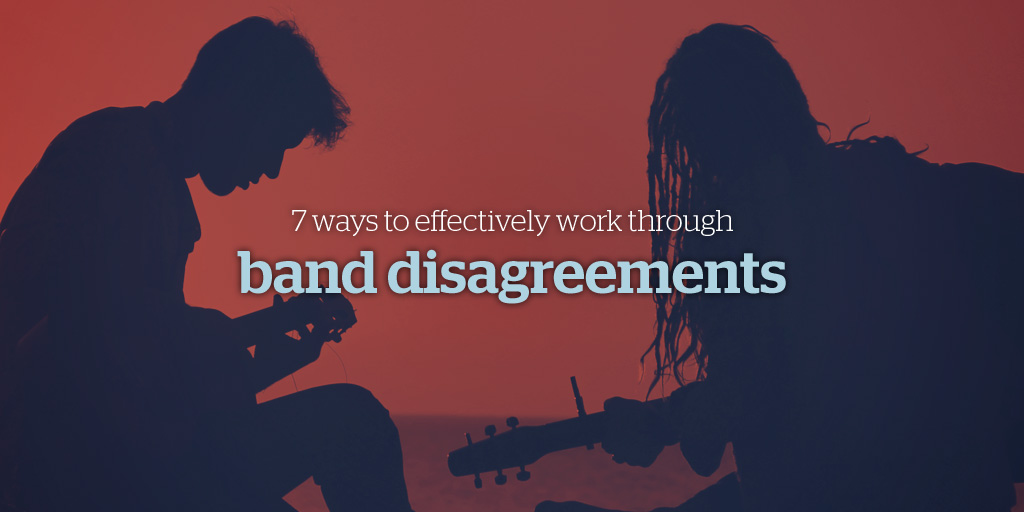 Guest post by Christopher Sutton, Founder of Easy Ear Training & Musical U
When you're in a band, you end up spending an awful lot of time with your bandmates – and you probably won't agree on everything. It's no wonder, then, that conflicts between band members happen all the time. Anything from writing new lyrics to creating a set list can spark an argument that might prove fatal to the group if it's not resolved.
Fortunately, there are a few strategies you can use to make sure debates are addressed in a way that makes everyone happy - or at least satisfied! Here are 7 tips for working through band disagreements and keeping your band members on the same page.
1. Pick your battles.
While there might be plenty of aggravating things that happen during practice, not every one of them merits a discussion. Nitpicking everything that bothers you makes it seem like you don't value your band members' opinions or skills.
Remember that your bandmates' ideas are just as valid as yours. You won't agree on everything but that's just what happens when different people come together. If you're willing to let the less important things slide, people will be more willing to hear you out when it comes to the big issues.
2. Address conflicts early on.
When you decide a problem is worth talking about, say something sooner rather than later. A small problem can build until it's suddenly a big one. If you catch it early enough, you can bring it up without needing any dramatic confrontation.
3. Get some space.
If a disagreement gets heated, it's a good idea to walk away for a while to collect your thoughts. Most likely, your band formed because of your mutual passion for playing music and whenever there's passion, there are bound to be strong feelings.
Take some time to cool down and come up with a logical way to argue your point. It's better to approach the problem with a clear head than a hot one.
4. Be respectful.
It might feel good temporarily to tell someone off or to yell at them but you can never take back what you said when you were upset. By making sure your words always come from a place of respect and humility, it will keep the discussion from escalating to the point of no return.
No matter how angry you might be in the moment, your bandmates are still people you'll have to continue working with closely if you want to meet your objectives – and chances are, they're your friends too. Don't say something you'll regret after the anger has passed.
5. Remember what you do agree on.
All of you want the same thing: for your band to succeed. Your bandmates might have a different idea of how to achieve this goal but you're all still striving for the same ultimate outcome.
It's important to remember that even in an argument, it's not a matter of one side against another – you're all on the same team. The important thing isn't who's right; it's finding a solution that works for the band as a whole.
6. Value other people's input.
Even if your band has a designated leader, it takes everyone's hard work to make it a success. Let your bandmates know you value their opinions whenever it's time to make a decision that affects the group. If you never take anyone else's ideas into account, it can lead to resentment and can intensify conflicts when they eventually occur.
When bandmates disagree, sometimes the most effective way to reach a resolution is to get objective input. This can be as simple as involving the rest of the band or can mean inviting outside opinions. Ultimately it's up to the band to make decisions together but hearing from someone who isn't immersed in it all can provide valuable perspective and make it much easier for you to find the right solution.
7. Be willing to be wrong.
If you go into a discussion with a closed mind, it's likely to result in an argument. Let's face it: everyone thinks their opinion is right. It's okay to feel that way but in the end, you should be willing to listen to what everyone else has to say.
Productive disagreements happen when there's a two-way discourse. Be willing to hear the other side of the situation and more importantly, be okay with the fact that you might not get your way. Compromise is key to keeping the peace in the long run.
Conflict is always stressful, especially when the success of your band depends on it. With a little discussion, though, you can reach a compromise without hurting any feelings. Disagreements are bound to come up at some point in your band's career but they don't have to tear your group apart. In fact, they can even be the greatest fuel for creativity and growth.
At the end of the day, your band is a team and handling conflict with grace is infinitely more productive than letting your ego get in the way. As long as you view your bandmates as equals and discuss your disagreements with respect, you'll be back to focusing on making music in no time.
Christopher Sutton is the founder of Easy Ear Training and Musical U, where musicians can discover and develop their natural musicality. Born and raised in London, England, he lives with his wife, daughter, and far too many instruments.
Bandzoogle lets you create a professional website in minutes with all the music promotional features you need including a blog, mailing list, and social media integrations. Try Bandzoogle free now!
Why not share this with your friends?
Build a stunning band website and store in minutes
Promote your music on your own unique website.
Sell music & merch directly to your fans. Keep 100%.
Grow your fan base with built-in marketing tools.