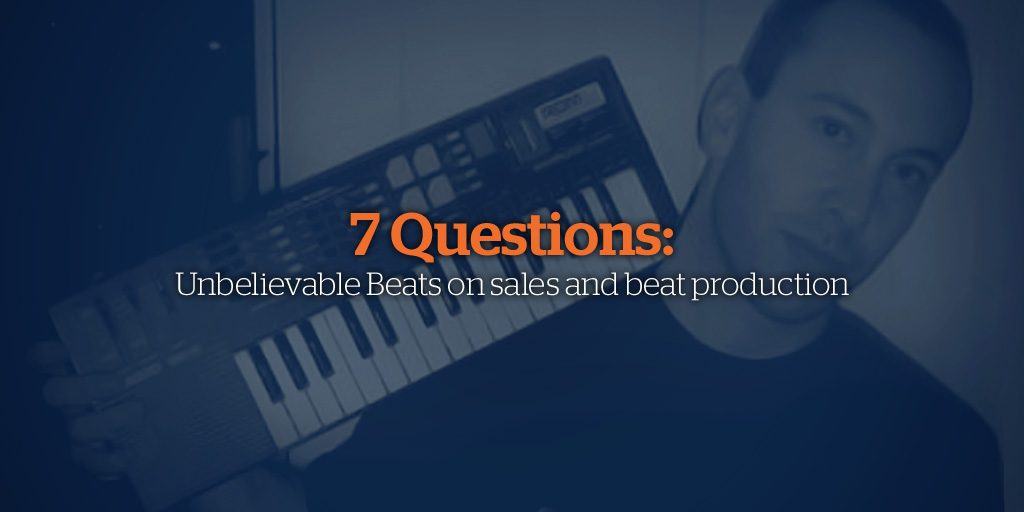 While Shaun Friedman from 'Unbelievable Beats' started as a young composer making music on his Dad's home studio equipment, he quickly became an extremely prolific beat and music producer in his own right.  
Aside from studying music, he's worked in several studios, all the while maintaining his own beat production studio and selling beats from his site on Bandzoogle successfully. We interviewed Shaun about how he makes it all happen in terms of his productions, and how he manages to do so well selling beats.
[How to Build a Website to Sell Beats Online]
Q:  Tell us a bit about yourself - how did you get into music in general?
A: My dad got me the "Casio SK-8" keyboard and I was sequencing, sampling, and creating sound effects at 5 or 6 years old.  The keyboard also taught you some classical songs where you could follow little red dots above each key.  
We also used the keyboard to prank phone call people by sampling our voice and pitching it down or up!  Besides that, we also had a real piano in the house and my dad composed jingles and jazz in the basement studio.
Q: While most of the music on your site is beat-centric, you've got a really broad range of hip-hop styles (and beyond) going on.  How important do you think it is to have musical diversity in your repertoire?
A: I think that's pretty crucial, especially if you are composing for film, tv, or any audio visual project.  When working with those type of projects, the supervisor is usually very specific about the mood and vibe they are looking for.  
Regarding hip hop and music in general, diversity adds more ability to your repertoire, so it is definitely helpful.  However, that's sort of a fine line because finding your own niche helps you focus on what you do really good.
Q: Can you tell us a bit about your studio set-up for producing your beats  - do you have any 'go-to' hardware, software, plugins? Or do you have a DAW preference for your beat production?
A: I usually sequence with FL Studio and use it with Reason "Rewired."  Reason has some great sounds and virtual instruments.  Sometimes I use VSTs from Native Instruments.  Other times, I may use the Roland Fantom X-8 keyboard and record it into FL Studio.
Q: It looks like you have beats posted to your site for free - 107!  How does selling your beats online for free help you to make more monetary sales for your tracks?
A: Well, it may or may not lead to a sale of a track, but if you "capture" their email address (by requiring an email address in order to download the track in your bandzoogle admin panel) you now have another method of building your email list.  
If the track gets used on a YouTube video, you can then use a service like AdRev who helps to monetize the video with ContentID.  
If more people are going to my site for free downloads, it inherently makes the site more popular and may come up in search results faster for actual buyers for licensing.  
Something I need to do more of (I actually haven't done much of it)  is using an Mp3 tagging/metadata program.  If you have thousands of tracks that were downloaded, depending on where the track is played back, the listener/user can see your own picture/branding, and see the artist name, composer, song name, and other metadata fields.  
Of course, that isn't actually the music making part; it's the admin and organization work that is sometimes grueling.  When you realize the impact it can have, it may be worth it for you.
Q: When checking your site out, I noticed you do really well in searches like with Google - do you have any tips for aspiring beat producers in terms of increasing their search visibility to make more sales for their beats or productions?
A: Fundamentally, make sure the title, meta tags, and description are on point for the market and niche you are going after.  Home page text and subsequent keywords within the text is pretty crucial.  
I know there are many "experts" regarding SEO and strategies are always changing, but fresh content most likely remains supreme. You can update your site and let it "marinate" for a little bit, but don't get stagnate.  You can always add new features and helpful tools for visitors.  
Information is power and "how tos" are so very popular all over the internet now. Using YouTube is majorly important; at that point, your thumbnail picture, title, and description are all factors that can actually rank pretty high in google searches, even with a video that was recently published.  
At that point, you should have your site link in the description of the video, or even use YouTube's annotations and video tools to your liking. You should also use all the tools that Google provides, like Google Webmaster Tools and Analytics.  If you use Google tools they like it. Why? Because they are Google!  There simply has to be a correlation there. (maybe not but it would be hard to convince me otherwise)
Q: How about social media or other music related services like Soundcloud or Beatport?  I'm wondering if there's another online option you use, that you feel pairs well with promoting your site and production work, that also helps with your search visibility?
A: YouTube is the best for this, especially with remixes and covers. You can direct the listener to your site in the description of the video. So, you make a remix, title it properly, have someone stream it, they go to your site for the free download (email required), and you now have an email address, built up your site ranking (and maybe gain a YouTube subscriber), and the user has the song they wanted.  
The cats meow would be having the metadata inside the track as previously mentioned with Mp3 tagging (I really wish I did that more).
I have posted some songs on Soundcloud.  I believe, based on the stats there, that the younger generation uses Soundcloud the most.  You can put your own website link in the description of songs there.
Q: Any quick pointers that you can provide to other aspiring beatmakers out there on how to succeed in music?
A: YouTube tutorials are a great way to learn production techniques.  The actual music making part and completion of a track is really just the beginning.  You should look into music publishers and libraries online and apply if they accept your type of niche.  
You should know about non-exclusive vs. exclusive licensing. I have recently had songs accepted at Soundreef.com - a new licensing model overseas and they look for hip hop tracks.  
I would also say to do some YouTube tutorials, where again you can put your site in the description.  
Teaching/tutoring is a great way to earn revenue. You can also put Google ads on your site and earn revenue from clicks. Some DAW and/or manufacturers offer affiliate programs, and I have earned revenue through that.  
If you notice, a lot of these things don't have to do with making music, but in today's day and age, there are many tangents, especially online, in which you can take advantage of.  
You should look into music libraries and get your feet wet with them.  You can also start your OWN library where YOU accept music submission from other people.  Of course, you would have to have relationships with film and tv people at that point, or just build your site up over time and establish a name for yourself.
With serious libraries, they usually request song versions that are 30 secs long, 60 seconds long, a "sting" version that is between 6-12 seconds, and a "narrative" version where the lead melody is removed.  
Again, this is not actual music making.  This is admin work after your track is done.  It's hard work.  It's filling out the moods, tempo, and description of your track time and time again. It's having the proper file and bit rate because certain libraries only accept certain formats.  It's the mundane task of constant uploading.  
The beauty of all of this is that once you set yourself up, you can reap the rewards for the rest of your life.  You can plant your seeds all over the world as long as you have an internet connection, computer, and superior work ethic.
Make more money as a beat producer! Keep 100% of your revenues when you sell your beats and music through your website. Sign up free with Bandzoogle now.
Why not share this with your friends?
Build a stunning band website and store in minutes
Promote your music on your own unique website.
Sell music & merch directly to your fans. Keep 100%.
Grow your fan base with built-in marketing tools.