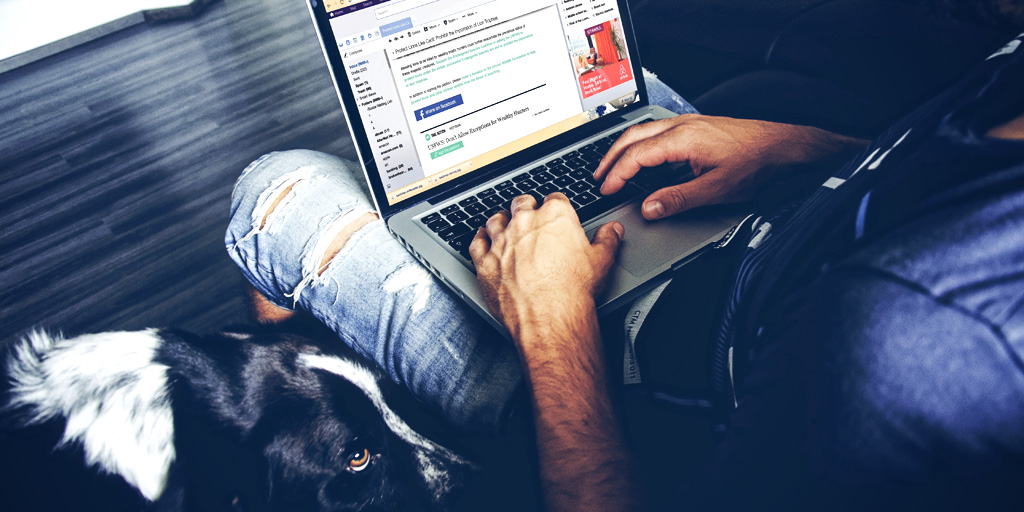 In a world of distracting social media posts, it's vital to have your own website for your music. Having a website with a custom domain means having your own space on the internet, so the focus is on you.
Once you have your own website, you want to make sure all of your branding is consistent. One thing musicians often overlook is having a custom email address. This one small thing can really make a difference. Here's how:
1. Custom Only to You
An example of a custom band email address is info@bandname.com. Since you own the domain (.com), nobody else can use it for their website or email accounts. Anything custom allows you to set yourself apart from all the rest.
Free email providers like Gmail are saturated, and finding a professional name can be daunting. Most bands and artists have to settle on something like artistname492@gmail.com, which can make you look unprofessional.
2. Stay on Brand
Branding is the marketing practice of creating a name, symbol, or design that identifies and differentiates a product/service from other products/services. In this case you are the service and your music is your product. Your name and likeness is your brand.
Having a custom email is a great way to stay on brand. Each time you use your email address it reminds people about you. Using your custom email address reinforces your brand by staying consistent in all of your marketing materials.
3. Next Level
Being a musician is not only about making music, but also marketing yourself. When you're networking with other industry professionals, it's important for you to stand out. Even something as small as a custom email can make a difference.
It will make a bigger impact if you hand someone a business card with a custom email as opposed to one that ends with @yahoo, @aol or even @gmail.com. This extra step shows your new contact that you take your music career seriously enough to cover all the fine details.
4. Stay Organized
With custom emails, you can set up an account for each member of your band. This is a great way for your band to stay connected and organized.
You can even set up different types of email accounts. You can have specific accounts for different departments or team members like booking@, manager@, press@, etc.
5. Get Better Email Results
Email providers like Gmail and Yahoo can make changes to your folders and filters without warning. This can really cause headaches when you are already busy trying to build a music career.
Many organizations block free email accounts in an attempt to block spam. A custom email address is more likely to get through the filters and into your recipient's inbox. A custom email address is also easily recognized by the recipient so they can make sure it's whitelisted to receive mail from you.
6. Consistency is Key
If you set up an email account with your internet provider (e.g. Comcast), you may not be able to take it with you if you switch providers. This would be very problematic if you've already used your email address on all your marketing materials.
With a custom domain you get to take it with you, making it possible to use it elsewhere. Your custom email account could be set up with your new provider so you won't lose access to your email.
Create a custom email address for your band
So you're sold on the idea, but don't know how to get started? No problem, this is the easy part. With Bandzoogle, you just have to head over to the Email tab. There you can add as many email accounts as you'd like, and billing is maintained seamlessly in your Account tab from year to year.
Affordable
Custom email addresses are $14.95 per inbox, per year. To give a little more perspective, Google Apps custom emails are $60 per year, per inbox.
Plenty of Storage
Each inbox gives you 25GB of storage, and you can attach files up to 50MG each. Plenty of space for all your booking forms, band correspondence, and notifications.
Syncs to your devices
Set up your email address on your mobile device, and it'll sync your emails, as well as your calendars, contacts, and tasks.
Shared Calendar
With your custom email account, you can also set up a calendar to share with the rest of your band. It's a great way to keep track of rehearsals or gigs, and you can even set reminders for your band mates.
Premium Servers
Custom email accounts are hosted on premium email servers to give you best-in-class security, reliability, and spam filtering.
Reliable, secure and affordable… custom email is the way to go for any professional musician or band!
Get your band website and email up and running in minutes! Try Bandzoogle free today!
Why not share this with your friends?
Build a stunning band website and store in minutes
Promote your music on your own unique website.
Sell music & merch directly to your fans. Keep 100%.
Grow your fan base with built-in marketing tools.