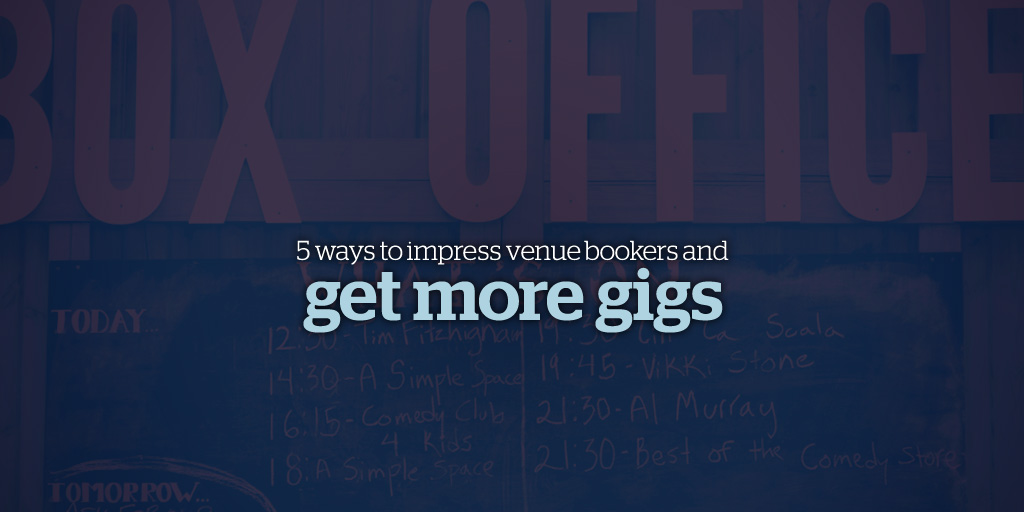 This is a guest blog post by Dave Cool. Dave is perhaps best known for having directed and produced the documentary film "What is INDIE? A look into the World of Independent Musicians". And yes, that's his real name.
5 Ways to Impress Venue Bookers and Get More Gigs
I spent three years as program director for two venues here in my home city of Montreal, overseeing 500 shows during that time. Here are 5 ways that you can impress venue bookers and give yourself the best chance to get more gigs:
1. Think 3-4 months in advance
Many venues are booked at least 3 months in advance, and the more popular a venue, the further in advance you should contact them. This is especially true if you're looking to play on a Friday or Saturday night. So be sure to contact the booker at least 3-4 months in advance.
[How to Book a Tour without a Booking Agent]
2. Be patient
Bookers are very busy people, so be patient. If you didn't get a response right away, it doesn't mean that they're not interested in booking you. Chances are, they just haven't had time to evaluate your music yet. Follow-up politely to see if your e-mail/message has been received, but whatever you do, don't try to rush them or sound annoyed that they haven't gotten back to you. Be persistent, but always be polite.
3. Be honest
Whatever you do, don't lie about your draw. You're better off being honest with a booker about what your draw really is rather than stretching the truth and disappointing them. If you tell a booker that you can pack the place and only your mom shows up, chances are you won't be booked at that venue again. But if you were honest about what your draw realistically is and you match or surpass it, then the booker will no doubt want to book you again.
[14 Ways Musicians Can Make Money from Live Shows]
4. Be respectful
No matter what venue you're playing at, whether it's a high-end club or a seedy bar, treat the staff like they're your best friends. Some of the best ways to show respect to the staff:
Show up on time: If soundcheck is at 6:00, try to show up early, and never show up late.
Leave on time: Don't make the staff stay longer than they normally would because you want to take your time having one last drink. Finish it up and get out of there on time.
Start on time: Even if there is nobody in the crowd, start playing on time like the room is packed.
Tip bar staff: Even on free drinks, and especially if it's a slow night, be sure to tip the bar staff. The gesture will not go unnoticed.
Thank staff: Every chance you get, thank the staff and especially while on stage, which is always appreciated.
Be extra nice to the sound tech: They can be your hero or your worst enemy that night, depending if you treat them with respect or not.
5. Be thankful
Sending a nice thank you note to the booker the day after the show is always a nice gesture. There is so much competition out there, be sure to let the booker know that you're thankful for the opportunity to play their venue. This will go a long way to building a long-term relationship with them that will help get you many more gigs in the future.
Start building your fanbase so you can book those gigs! Bandzoogle websites have a built-in mailing list and all the tools you need to step up. Sign up free now!
Why not share this with your friends?
Build a stunning band website and store in minutes
Promote your music on your own unique website.
Sell music & merch directly to your fans. Keep 100%.
Grow your fan base with built-in marketing tools.