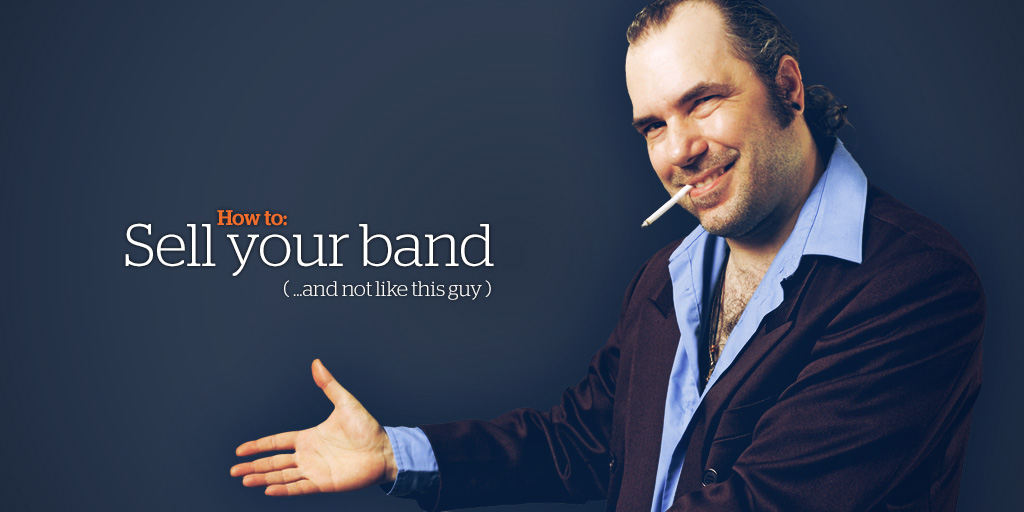 This is a guest post from Brad Lazarus. He is the founder of GiggingSuccess.com, a blog and podcast dedicated to helping musicians in cover bands increase their bookings and multiply the income they receive from them (listen to his interview with our Director of Artist Relations Dave Cool here).
Although this blog post was originally meant for cover bands, *every* band needs to sell themselves to bookers and clients at some point, so the advice he offers is relevant to all musicians. Enjoy! 
---
For many bands the thought of 'selling' and 'sales' fills them with dread and fear.
Words like pushy and sleazy come to mind. That feeling of nervousness, sweaty palms and dry mouth is enough to make you never pick up the phone again.
It doesn't have to be that way though.
In this post I'm going to walk you through a much softer and gentler approach to selling your cover band over the phone or face to face. More on that a little later.
Your band is so good it sells itself, right?
If you're reading this then it's likely that something you're doing to get bookings isn't working quite how you want it to.
If that's the case then you need to do things differently. Doing the same thing will only get you the same results.
Most bands approach 'sales' all wrong. It's hit or miss at best.
They either volunteer unwanted and mis-timed information in the form of a 'pitch', or just don't do any sales at all because they think their band 'sells itself'.
The problem is that as soon as you start to volunteer info that sounds salesy then your prospects barriers shoot up in defense.
If you could see them on the other end of the phone then you'd probably notice them recoiling backwards!
At that point they've likely stopped actually listening to what you're saying so you haven't got a hope of getting the booking!
Why You Need to Get To Grips With The Art of Authentic Sales
It's really worth taking the time to get to grips with some basic modern day sales techniques that DON'T sound sleazy or make you feel like a dodgy salesman.
When you learn and implement these techniques you can expect to:
More effectively communicate your value to your prospect
Book more clients.
Your value will be communicated without you having to explain it
You'll never get stuck with what to say
…and you'll actually have fun doing it
The 3 Pillars to Selling Without Feeling Like a Sleazy Salesman
Here's my three simple steps to getting a booking over the phone or face to face:
Ask questions
LISTEN
Be helpful
Lets go into a little more detail on each:
Ask questions: By asking questions you show you're interested in your prospects event. Moroever you actually learn about their event and how your band might work best for them. Ask questions about band related things but also ask about non band related stuff. Show a genuine interest in their event.
Listen: Asking questions only works when you actually listen to the answers. By listening I don't mean just waiting until they finish speaking and then saying your 'piece'. I mean actually hearing what they have to say and then repeating it back to them in the form of a solution to their problem. By repeating their words back to them you have demonstrated to them that you've understood their problems. This is hugely powerful.
Be helpful: Put aside your agenda for a short while and start to help your prospect. The simplest thing to do here is to just give great answers to their questions. Dig deep into your experience and pull out some insights into events that they might otherwise not have picked up elsewhere. Secondly you can refer them to some helpful blog posts or better still create a short guide that covers some FAQS they may have or offers some inspiring tips. Being helpful naturally puts your name top of their minds.
These can all be deceptively hard to do especially when you've got minimal time to speak with prospects. At first it can feel unnatural as your instinct will be one of 'I have to book this'. But when you stop thinking about selling yourself and start asking genuine questions, listening intently and helping them you'll begin to get more bookings and it will be much easier.
They will only understand the value your band brings to their event when you've taken the time to understand your prospects problems and needs. To do this you need to take the time to listen. Really listen.
Once you've listened and understood only then can you start to lead your prospect towards the sale in a way that suggests you can solve their problems.
Here's a good example:
I recently spoke with a bride who said she wanted the band to play during dinner, for an one hour after dinner and then the DJ would take over.
Nothing new there.
I continued to probe a bit and ask a few more questions:
What time did she expect guests to arrive?
When did she expect dinner to be finished?
What was her thinking behind having a full band play during dinner?
What time she did expect dinner to be finished?
etc etc.
Getting the answers to these questions enabled me to start piecing the story of the evening together.
It became apparent that there was only really going to be about 45 minutes of playing time for the DJ.
We'd been on the phone to each other a good ten minutes at this point and rapport between us was good. As a result she shared her DJ and band budget with me.
I suggested to her that rather than the band play over dinner and one set after dinner she should consider the band playing both their sets after dinner. That way she'd be getting the most value from the band.
If she did do this the DJ would only have an hour slot. She'd be better off having the band play music through their PA system for that hour.
Without hint from me she decided to do away with the DJ and put the DJ budget towards the band.
A week later she came back to me and booked the band to perform two sets after dinner. She also thanked me for being so helpful. That's a 'win win' scenario if ever there was one.
Because I'd taken the time to ask questions and listen to the answers I discovered an opportunity to help her and by doing so I'd booked the band.
There was no awkward, uncomfortable hard selling going on. I just listened and offered sensible practical help and advice.
I clearly demonstrated that I understood her and for that we were rewarded with the booking.
---
Are you ready to take your cover band to the next level? Download my free guide 'Cover Band Essentials - 5 Free & Easy Killer Tactics & Strategies To Get More Bookings & Dominate Your Competition In The Current Economy' here.
Your band works hard to put on a great show. We work hard so you can make a great band website, easily and affordably. Build your own Bandzoogle website in minutes. Sign up free now!
Why not share this with your friends?
Build a stunning band website and store in minutes
Promote your music on your own unique website.
Sell music & merch directly to your fans. Keep 100%.
Grow your fan base with built-in marketing tools.