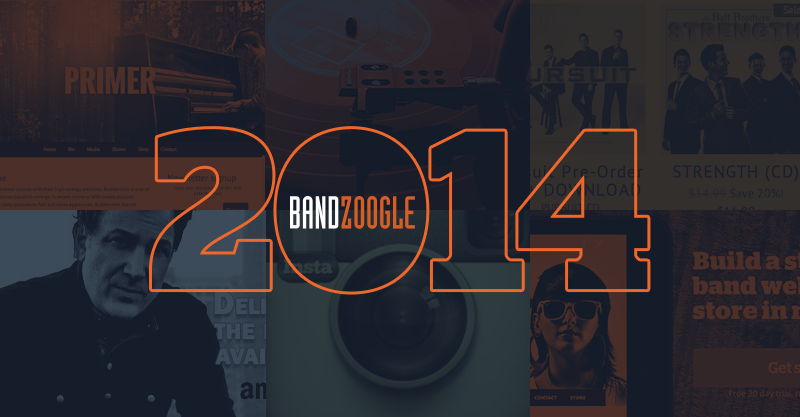 Roughly a year ago, we completed the migration of all Bandzoogle-powered websites to our new and completely redesigned 2.0 platform. This means this year we've been able to improve Bandzoogle and release new themes and new features at a pace that wasn't possible before.
It has been super fun for our awesome team of developers and designers, and we released more new features and design upgrades than ever before in our company's 10-year history.
In case you missed any of them, here's a quick recap of what was added to Bandzoogle in 2014. And don't worry, there's plenty more still to come in 2015.  We can't wait to show you guys what we're working on!
(click titles to read detailed posts about each feature):
We made all our themes responsive, which means your visitors will have a great experience even if they are on a smartphone or tablet.
We added a nice selection of slick and modern themes (with many more coming soon). As always, you can switch themes anytime without affecting your content and features. 
Your fans can now pre-order your next release (Pro only).
You can now easily link a digital release to its physical version and have your fans buy them together.
It's now super easy to discount any digital or physical item in your Music and Store features (Pro only).
You can display your store items in a nice and modern grid layout.
This was probably the most often requested design option. You can pick a few different images and cycle them for your headers (or page backgrounds, on some of the newer themes).
If you have a nice logo you can use it in your header, instead of typing in your band name.
This was also a popular request. You can display your photos in a slideshow, or one of our other layout options for the photo galleries.
If your music is on Bandcamp, you now have the option of adding our players that will stream your tracks from Bandcamp and let your fans buy or download them directly from there.
If your tracks are on SoundCloud you can quickly import them into Bandzoogle, instead of re-uploading. We added support for lossless FLAC files at the same time.
We added options to the Events feature that will make your life a bit easier if you have a regular recurring gig or residency.
We integrated with Google's Knowledge Graph so that when fans google your name, your events will be listed right on the results page.
Last but not least, we hired a new lead designer, Josh, and put him to work right away. He did a fantastic job with our own website, right in time for our 10th anniversary. The good news is that he is now applying his genius to design new themes for our members to enjoy.
Thanks everyone for a stellar year, and see you all in 2015!
Why not share this with your friends?
Build a stunning band website and store in minutes
Promote your music on your own unique website.
Sell music & merch directly to your fans. Keep 100%.
Grow your fan base with built-in marketing tools.