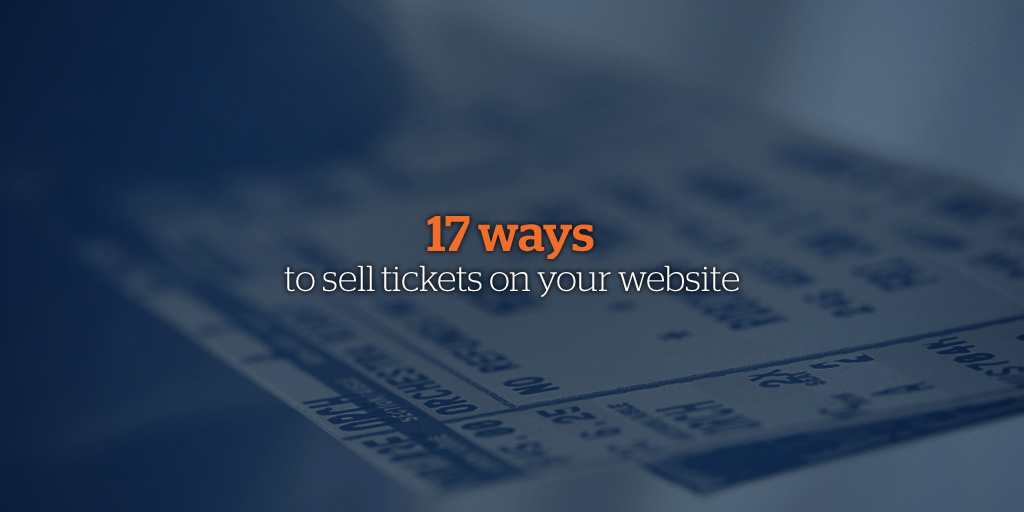 With our new built-in ticketing feature, you can now sell tickets through your website commission-free! This not only makes it easier to make more money, but also stay in touch with fans who buy tickets directly from you. Ticketing companies not only take a % of your sales, but often don't share the valuable data of who is buying your tickets.
[Sell Tickets for Shows Directly Through your Website]
Now, the first thing that comes to mind with ticket sales is selling tickets for large concerts, but that's just the beginning! Here are 17 more ways you can grow your band's bank account by using the new ticket sales feature:
Regular gigs - You don't need to be a famous band to sell tickets. You can offer tickets for any gig you'd like right from your website. As an incentive to buy earlier, you can offer a discount to those buying tickets from your website. Bandzoogle member, Michael Tracy, is also smart to mention there are no processing fees with this option. This is a big plus for customers especially if you've seen the fees some of the big ticketing companies are charging!

Ticket bundles - Another plus to selling tickets online is that you can increase the price to cover the cost of admission to the gig + a CD or T-Shirt. Bundling makes customers feel like they are getting extra value. Plus it's fun to receive something cool at the door when they get to the gig!

Special events - You can double or triple your profits by selling tickets to special events like a New Year's Celebration, St. Patrick's Day Bash, or special guest musician performances. You can even negotiate a little something with the venue if they add in a free drink ticket or appetizer for all ticket holders.

Autographs and photos - As an add-on event you can set a time at the end of the gig for fans to receive autographs or pictures. Frame it as a VIP exclusive and even if you charge $10 a person, you'll be bringing in more money that would've been left on the table.

Fundraisers and Benefits - Making money for the band is great, making money to help others is even better! You can offer to perform for free at benefit events such as Cancer Awareness Walks, Diabetes Awareness Galas, or similar events. Then on your website you can sell tickets to the event where all proceeds go towards the charitable organization like BZ member Anielle Reid has done. Heck, you can even do a regular gig every now and then and let fans know you're donating proceeds to a cause close to the band's heart. This allows them to also get to know more about you and what causes you're passionate about.

Workshops - Think of topics your band members have experience with such as how to get the press to notice your band, how to book a paid tour, how to crowdfund your next album (hint: anything that helps others make money is a hit!). At the end of the workshop, maybe play a few tunes for the participants. Who knows, you may gain a few unlikely fans there!

Group lessons - If you have teaching skills, consider setting up some group lessons and selling tickets for each event. You can even hold it in locations like a recording studio, or museum and charge a bit more for the cool factor. [10 Ways to make more money selling music lessons on your website]

Album launch - Fans love it when their favorite band or artist comes out with new music. Let them share in your excitement each time you release a new album. Plan a festive album launch party and sell tickets. During the event play a few tracks from your new album, throw in some older tunes and give out a few free CD's. BZ member Hannah Jane Kile does a great job here by including other artists at the celebration as well.

Industry mixer - If you've been in the biz for awhile, chances are you've made some great contacts. Sell tickets to a special mixer that brings all the local players to the table. You can invite music industry professionals, other artists, music engineers, venue owners and the like. This is another effective way to make new contacts and forge new partnerships in the process.

Writers lounge - Even the best writers experience writer's block, or simply need a new perspective. Hold a special invitation only night and invite (for a small entrance fee) all the songwriters in your local area. Provide some nourishing snacks and collab on new song ideas.

Fan appreciation - Every once in awhile it's nice to show your fans how much you care. Hold a FREE fan appreciation night in honor of their support. This doesn't mean you can't make money from this event though! You can sell raffle tickets for a nominal fee for things like autographed CD's and merch. You could even throw in a few one of a kind items like a rough draft of your songwriting process, drumsticks from your biggest show, or you singing their voicemail greeting.

Fan exclusives - In addition to the free fan appreciation event, you can offer a limited number of VIP tickets for advance purchase. Think about how excited you'd be if you had access to your favorite musicians studio session, backstage greenroom, or a private listening party in their home! You can provide the same feeling to your fans by offering VIP exclusives into the life of a musician. After the main free event, gather the VIP's together for a VIP meet and greet to give them a peek into your daily life as a rockstar. This is a perfect time to offer higher priced tickets to only a select few superfans.

Festivals - The festival circuit is becoming more popular every year, so now's a great time to jump on board. Once you're signed up as a performer you can sell tickets for the festival right from your website. Or if you plan your own festival, you can set it up to sell full passes to the entire event. Here's a great example by BZ member Culture Fest WV.

Local showcase - Instead of booking a bunch of shows only for your band, think about partnering up with other bands in your genre to showcase local talent. For more publicity, you can even check in with your chamber of commerce and make it a summer series.

Battles and open mic contests - Charge a competition submission fee for anyone who wants to show off their talent at an open mic event. Or for something even more interesting, follow the lead of Bandzoogle members 'That Awful Rhythm' and go head to head with other local talent. Battle of the bands or freestyle rap contests are a crowd pleaser and one many fans would love to attend.

Pre-gig meetup and after party - Give fans the opportunity to meet with the band before the concert starts. Let them be part of soundcheck, the pre-gig formalities and toast to a great show. Then afterwards, let them hang with you for the after party! BZ members, Members Only 80's Band, gets the party started with this cool festival pre-party.

Live video recording party - If you plan on doing a live in concert CD or DVD, charge a small fee and invite fans to be part of your live video audience. Promote it as a chance to be part of the video and fans will be thrilled to be involved.
Once you get in the mode of selling tickets you can even combine a few ideas together like BZ member Patrick Lehman did here for his Album Launch party.
Not only is he selling tickets from his website, but he's also setting some of the proceeds aside for charity, including special guests, and giving a free CD to each ticket holder.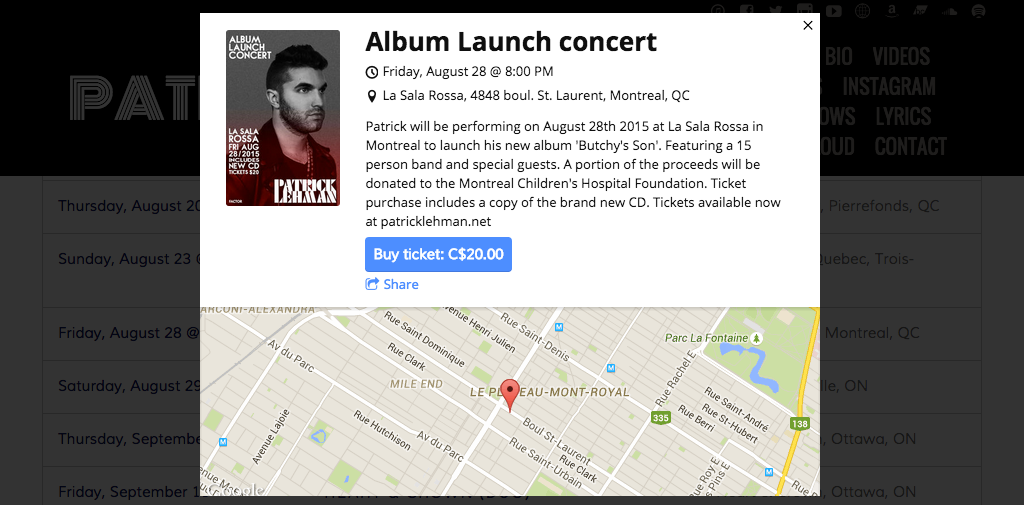 ---
Making money as a musician can be tough. That's why you keep 100% of your hard-earned revenues when you sell music, merch & tickets through your Bandzoogle website. Sign up to build a website with built-in ticket sales! 
Why not share this with your friends?
Build a stunning band website and store in minutes
Promote your music on your own unique website.
Sell music & merch directly to your fans. Keep 100%.
Grow your fan base with built-in marketing tools.