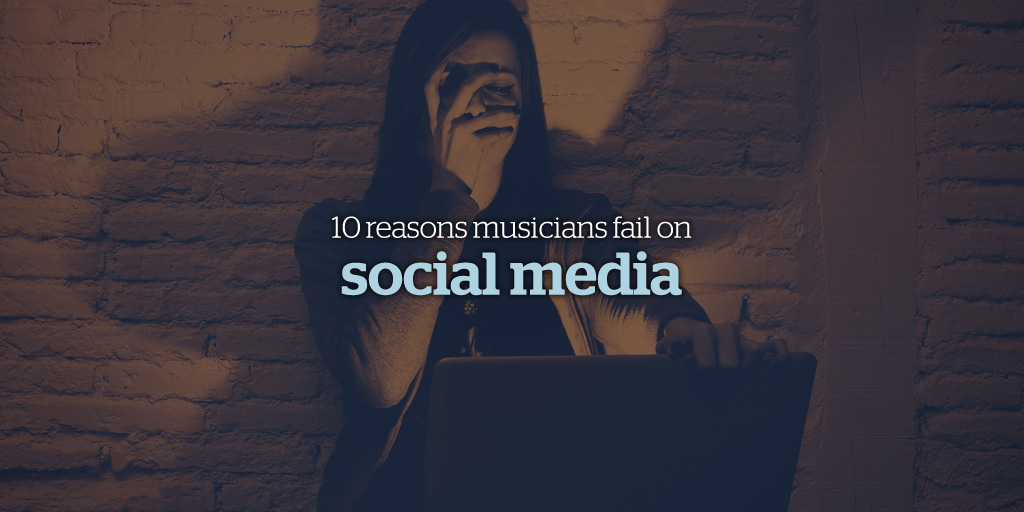 Social media. Whether you hate it or love it, it's there and it makes the world go round… at least the world of entertainment. And if you want to be on the same level as all those other artists, you have to use it to promote your music.
But, simply posting on social media isn't good enough. Here are 10 reasons why some musicians are dropping the ball with their social media marketing.
[How to Get More Fans Through Social Media]
1. You don't post enough
The average artist just doesn't post enough. Yeah sure, it can be hard to generate activity on your Facebook page when you have a Facebook profile that naturally gets more traffic.
And Twitter seems to have taken a backseat ever since Instagram came onto the scene. So why bother?
[Social Media Marketing for Musicians: How to Get More Fans on Instagram]
Well, whether you believe it or not, regularly posting (even when it feels like it's falling on deaf ears) does make a difference. It keeps people interested in what you're doing. It gives people a place to go to find out more. It reminds them that they can go directly to the source (you) for information instead of roaming the interwebs trying to figure out where you're playing and what time you go on.
2. You post too often
And then there's the band that over-posts. You share the same event three times in 3 days. You post different stuff every hour on the hour. You share the same thing on your Facebook Page, Facebook profile, Twitter, and Instagram all in the same way without taking time to make your content uniquely appropriate for each platform.
If this is you, STOP! You're trying too hard and people are starting to tune you out. Some are even unfriending you because you're blowing up their feed.
3. You post content at the wrong times
Posting at the wrong time is the average musician's biggest social media mistake. If you really want fans to donate to your Kickstarter, posting about it on a Saturday evening when they're out to dinner with friends just won't work.
Check out this Infographic for tips on when you should post what type of content. It doesn't include Instagram, but you'll get the point.
4. You think your Social Media accounts are for advertising
Your social media accounts do not exist for the sole purpose of advertising. In fact, they exist for the sake of connecting with your audience.
Forget about what makes your fans like your music. More importantly, what makes them like you?
Sharing content is (strangely enough) like being in a relationship. When your fans like you they are more likely to come to your shows, share you with their friends, and support the things you're doing – which happens to include the stuff you're advertising.
[Social media marketing for musicians: How to get more fans with Facebook]
5. You talk about yourself or your band too much
Talk about your fans. Talk about your awesome house concert hosts. Rave about the venue. Talk about some awesome new band you discovered (can't be yours)! 
There's so much to share on social media. And the truth is, when you share about others it doesn't detract from your own stuff. It may feel like it does, but it doesn't. Think of it as an exercise in selflessness.
6. Your photos suck!
If you're on Instagram, you owe it to your fans to care just a little bit about the content you post.
Gone are the days of fuzzy photos and poorly lit faces. It's not hard to grab a good shot if you have a phone made in this decade, some good lighting (open your blinds) and something worth shooting.
Give your photos a little more consideration before you post them. You'll see photo likes go up, and more fan engagement.
[How To Create a Stunning Photos Section on Your Band Website]
7. You forgot to edit
Sucky captions can totally destroy fan engagement. If your post is too long, most people won't stick it out to the end. It's why Twitter's 140 character thing is so popular. If your comment is an inside joke that only .01% of the population understands, that will also hurt you.
Spell check. Grammar check. Find ways to make your post straight, digestible, and to the point. There are always exceptions to the rule, but simple posts get more traffic.
8. You're not tagging
Tagging other people makes your information travel further. If you're promoting a show and you're not tagging other bands on the bill, the venue, or the event sponsors (if they exist), you're losing out on bigger exposure.
Each tag increases the likelihood of having your content shared, re-tweeted, and seen by a bigger audience. A venue you're playing might not tweet about your show, but they will retweet what you've posted. Funny how that works.
9. You're not hashtagging
Hashtagging is almost as important as tagging. It's a great way to share your content with people who never would have found it otherwise. It increases the exposure of your content and helps you think creatively about who might be most interested in reading what you've shared. Check out this post for some helpful and thorough tips on hashtagging: Hashtags 101: How to Use Them & Why They Matter
[Social Media Marketing for Musicians: How to Get More Fans on Twitter]
10. You think it's time consuming
You put in what you get out. Sometimes creating content can take 1 or 2 minutes. Sometimes it can take 15-20.
Doesn't really matter as long as you do it. Some weeks you won't have much to share. Other weeks you'll have a lot going on. But, like I said, you put in what you get out.
Good luck!
Joy Ike is a full-time singer/songwriter based out of Philadelphia, PA. She is also the founder and primary writer for Grassrootsy, one of the most-read music business blogs on the internet. She believes the greatest tragedy in the world is having a talent and keeping it to yourself.
Bandzoogle lets you create a professional website in minutes with all the music promotional features you need including a blog, mailing list, and social media integrations. Try Bandzoogle free now!
Why not share this with your friends?
Build a stunning band website and store in minutes
Promote your music on your own unique website.
Sell music & merch directly to your fans. Keep 100%.
Grow your fan base with built-in marketing tools.