Posted by David Dufresne
02/11/2011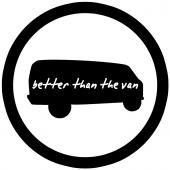 We at Bandzoogle are big fans of the boys at Better Than The Van (... ever since they tried to feed me shrimp and boxed white wine at last year's SXSW. True story.). The Austin, TX based dynamic duo of Todd and Scott created a simple service that can help lots of artists save some precious coin when touring, and involves music fans in ways that go beyond buying an oversized t-shirt at the merch table. They just did a major upgrade to their website and relaunched. And look who's sponsoring them : yes, the home on the Web for your band. I went ahead and asked Todd a few questions about BTTV.
Can you explain the concept behind Better Than The Van and how the idea came to you ?
The new BTTV allows BOTH bands and music fans to find free places to stay, shows to attend and venues to play through out the US, Canada and Europe. In short, we are music's home for hospitality. A hub for anyone traveling to see a show, looking to play a show or wanting to host a show. The idea came after spending years touring, running a small label and just realizing that having a tool like this would be really great as young/upcoming band or a music fan who wanted to travel to shows or support music in a different way.
Is it easier to recruit bands, or people offering places to stay ?
We see about a 50/50 split. I think some people who aren't in bands are a bit reluctant at first, but they get the hang of it. The nice thing with the re-launch of the service is that you don't have to be a host. You can be a voyeur of sorts. Still involved in the community but only online. Which is OK, because it's all about helping people connect the dots, whether that means landing a show or discovering a new band. Everyone plays a part.
Lots of people say that tours and gigs have become and will remain the main revenue source for the majority of musicians out there. Do you agree, and why do you think that is ?
Good question. It's tough when you're a young band. That goes without saying. But it can/does provide some revenue as the fan base grows and the band plays the right cards and tours smart. I think there are a lot of creative ways to make money alongside touring through all the direct-to-fan services now populating the web. It's really up to the band to decide if it's going to make "good" money for them. It's possible to tour, have a great time and still come home with money in your pocket. Seeing a band live is an authentic (sometimes life changing) experience that can't be downloaded for free. It's one of the largest shared experiences someone can have. As long as that remains, it will always be a possible source of cash flow.
Other than staying with friends and fans, do you have other tips for artists to help them minimize their expenses while touring ?
Take food with you and/or buy groceries and throw some stuff in a cooler in the van.
Don't buy beer in the venue. Get some before the show and keep it in the van.
If you need a hotel/motel drive about 15 minutes outside of the city you're in. It's cheaper out there.
Put all your gas on one credit card.
Live on $5 a day. (It worked for the band At The Drive-In).
Keep track of the money you make and only spend it on stuff you need.
When it comes to touring, do you think having a website, blog and an online presence on social networks is important ? Do you have specific tips ?
Yes! Stay on top of it. Remember that your band is a story, and people want to follow that story. As you tour, that story develops, so keep people up to date with quick blurbs, lots of tweets, photos and sounds, keep your website updated with the freshest content and your online store fully stocked for folks who resisted the impulse buy, but now regret not visiting the merch table. You can use so many tools like SoundCloud, Instagram, Tumblr, Facebook, Twitter and of course your Bandzoogle powered website to easily keep people interested in what you're doing. I know it's tough, touring isn't easy but here is a lot of down time, plenty of free wifi and even if you only have an iPhone or an Android phone there are a ton of apps that make keeping this story going very easy.
Thanks Todd, we'll keep an eye on how things go at betterthanthevan.com
★
Posted by David Dufresne
on
02/11/2011
|
0 comments
★